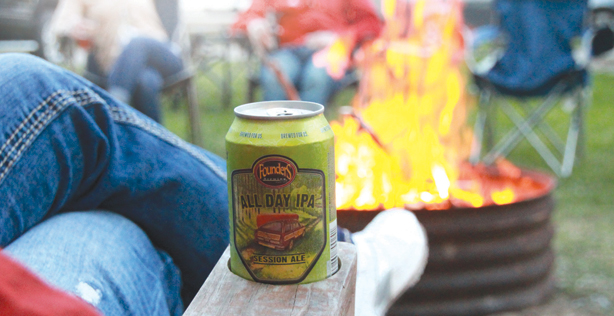 Lower-alcohol brews carve out a welcome niche in the beer world
By Jim Clarke
One of the first written records of beer consumption, from the Epic of Gilgamesh, captured the drink's effects: "Enkidu…drank the beer—seven jugs—and became expansive and sang with joy. He was elated and his face glowed."
It doesn't go on to say whether Enkidu was able to drive his chariot home that night, or how he felt the next morning. It certainly would depend on how strong those "jugs" were.
India Pale Ales, embraced widely as IPAs, are today's most popular craft beer style. The Brewers Association defines IPAs has having 6.3-7.5% alcohol. The Association defines the American Lager category as having only 3.2-4%, so IPAs offer a two-for-one return in terms of pure potency. It doesn't take advanced mathematics to realize that a couple of IPAs does not amount to the same drinking experience as a couple of lagers.
Having More Than One
That realization, especially for on-premise venues, has made the emergence of session beers a welcome relief. It's a hard category to put a label on. "What's a session beer?" says Bart Watson, Chief Economist for the Brewers Association. "There's certainly a trend there, but getting specific statistics is tough because many of the styles are sub-styles (session IPA for example), or can be interpreted differently by different people."
Overall, session beers are defined as being lower in alcohol; the name is meant to suggest that one can drink multiple beers for a whole evening—a "session"—and still feel relatively human. But "light" craft beers never took off, according to Watson, as drinkers associated them with less flavor. According to Nielsen surveys, flavor is a top priority for 99% of craft beer drinkers.
In some states brewers have always had an interest in session beers. Restrictive laws in Oklahoma, for example, mean brewers there can only sell direct at the brewery if the beer is "low-point" (under 3.2% ABV) or if they buy the beer back from a distributor; grocery stores can also sell only low-point beers, whereas one has to go to the liquor store for a stronger beer. "The state forces us to innovate on the low-point side," says Heath Glover, founder and owner of Willows Family Ales in Tulsa.
Flavor Hurdle
It's a challenge for brewers, according to Matthias Neidhart of beer importer B. United International, because flavor and alcohol both typically derive from the same thing: the amount of malt used in brewing. More malt means greater flavor intensity, but also more sugars and therefore, alcohol. So if session beers are really delivering in terms of flavor, it's a real tribute to the brewmaster's craft. "It's truly difficult to brew a 4.8 or 5% beer that's totally exciting in terms of flavor and aroma," says Neidhart. "The bigger the beer is, the more you can hide flaws and such."
More malt isn't the only way to create complexity, though. For Glover, creating exciting session beers often means riffing on sour styles like Göse and Berliner-Weisse. Sour ales can still be quite heady, but these styles call for low alcohol and, in the case of Göse, additions of coriander and, unusually, salt. Drinkers are responding; interest in Göse, based on frequency of Google searches, has leapt far ahead of interest in sours generally.
Many traditional European beer styles qualify as sessionable. Among others B. United brings in is the Nightmare Yorkshire Porter and Harviestoun Bitter & Twisted from England, and the Reissdorf Kölsch and Fritz Briem 1809 Berliner Weisse, all of which clock in under 5% ABV with no sacrifice in flavor.
Brewers are also retrofitting higher alcohol styles: Full Sail's Session IPA, Founders All Day IPA and Lagunitas DayTime IPA are all examples of brewers retaining the flavor and hoppy-bitter style characteristics at lower alcohol levels—5.1, 4.7 and 4.65% respectively.
Craft Pilseners also shot up 123% in 2015. Goose Island, known for their cultish 14.2% ABV Bourbon County Stout, recently rolled out their Four Star Pils—at 5.1%, definitely sessionable.
Seven jugs of Bourbon County Stout would leave you on the floor, but in the era of Gilgamesh, Enkidu's seven jugs might have been manageable after all…if they were session jugs.