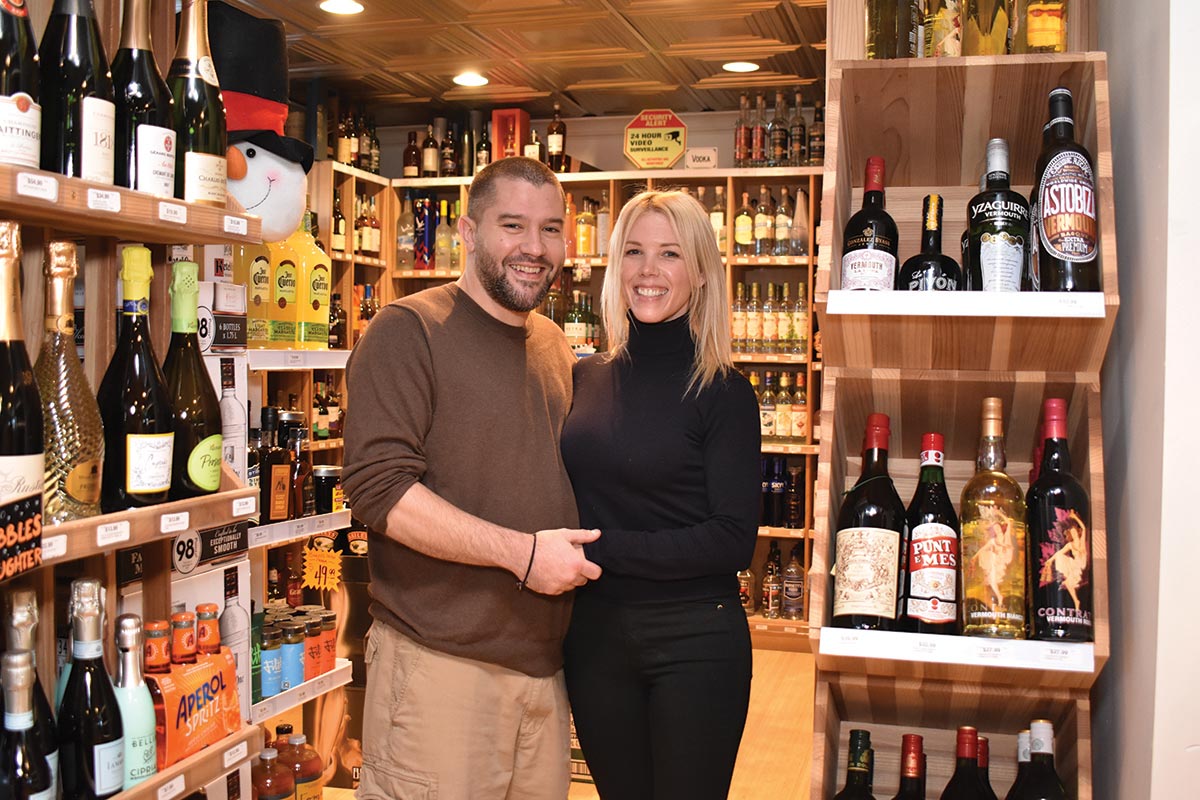 Sharon Package Store
1 Gay Street
Sharon, CT
Square footage: 4,500
Years in operation: 7 years
By Sara Capozzi
Nestled in its namesake picturesque town center, Sharon Package Store has brought its distinct selection of fine beer, wine and spirits to the community and its visitors for the past seven years. Fiancées and business partners Dylan Baker and Kirsten Haaland bring their combined decades of industry experience to the daily management of the shop.
The couple has worked both on- and off-premise and had already met before they started working at Stateline Wine & Spirits in nearby Canaan. They were able to continue their education in wine, beer and spirits there. Baker served as beer manager for seven years, while Haaland specialized in wines.
Then, in 2015, they learned of a unique opportunity in the area: a family friend was looking for a partner and manager at Sharon Package Store and it was an endeavor they both wanted to pursue. "We couldn't resist," Baker said. "It was bold, it was a big step, but we were ready to take on the challenge. And I'm grateful that we did."
Sharon Package Store's previous owner, Jack Murtagh, offered to stay on-site for a while as the couple acclimated to their new store. Murtagh passed away in 2019, but his coaching during that time was invaluable. "Knowing I had to fill his shoes was a huge commitment and also the community welcoming a new person into his establishment, that was tough," Baker said.
As store co-owners, Baker and Haaland got to know the community and the types of shoppers who came in: those from Sharon Mountain and Sharon Valley, and the nearby New York State border, with weekenders a boost to foot traffic. They gradually added to the store's inventory to accommodate the changing demographics of the town, as more newcomers gravitated toward the area.
"When we took over, the store was very much formulated for the working person," Baker said. "Sharon was starting to evolve into a destination for a lot of city people, a lot of New Yorkers, so we, at the same time, adapted the store," he said, explaining that the duo refined the selections, adding more boutique and fine wines to straddle the balance. "We still keep our middle ground."
Each year, the couple focused on a different area of inventory to expand. "The first year was the beer, because it was my specialty, so we incorporated a lot of craft beers, expanding it from one door to three doors in the cooler," Baker said.
"I'd say the wine was next … we did a lot of rearranging and reorganizing. Kirsten has a very good background with wine from Stateline, so she had a good palate and could sell wine. We started incorporating more distributors and more salespeople into the routine."
Among the craft beer and wide-ranging wine selections, shoppers will also find higher-end, allocated whiskey releases such as Buffalo Trace's Eagle Rare. Liqueurs, cordials and spirits are artfully arranged, making it easy to spot and choose a range of brands and price points.
Baker also credits the shop's 11 employees with their success and the welcoming atmosphere that is created. "One thing we pride ourselves on is our customer service," Haaland said. "We're like 'Cheers,'" Baker continued. "You know everyone's name who walks in the door. You know what they drink, you know everything." "That's what I like, that small-town vibe," Haaland said. "That's one thing I enjoy so much about it—all the new relationships and the people you meet."