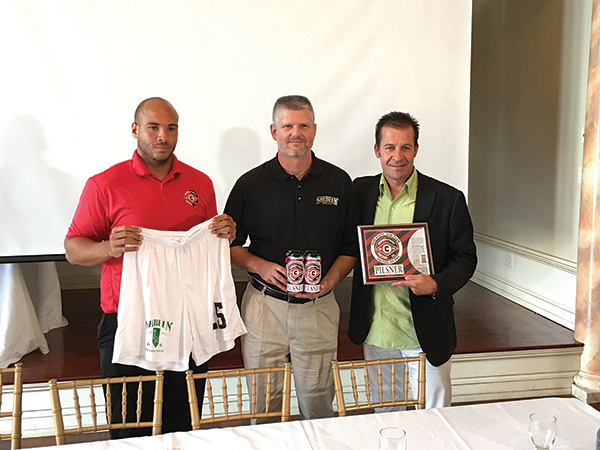 Shebeen Brewing Company and the Connecticut United FC American Soccer League partnered up to create a signature beer, the Connecticut United FC Pilsner. The beer is described as a "crisp, clean, and smooth take," honoring the Polish pilsner and the team's New Britain home. The beer is available in 16-oz. cans and can be purchased at CT United home matches at Veterans Memorial Stadium in New Britain. Shebeen brews are distributed via Cellar Fine Wines in Connecticut.
James Perkins, General Manager, CT United FC; Rich Visco, CEO, Shebeen Brewing Company; Greg Bajek, Owner, CT United FC, during an August press conference and product release in Berlin, Connecticut.
Omar Tall, University of Hartford soccer player and current CT United FC player with Richard Visco, CEO, Shebeen Brewing Company, showing off the Shebeen Brewing logo on the CT United uniform.
The Connecticut United FC Pilsner collaboration between the CT United FC team and Shebeen Brewing Company.