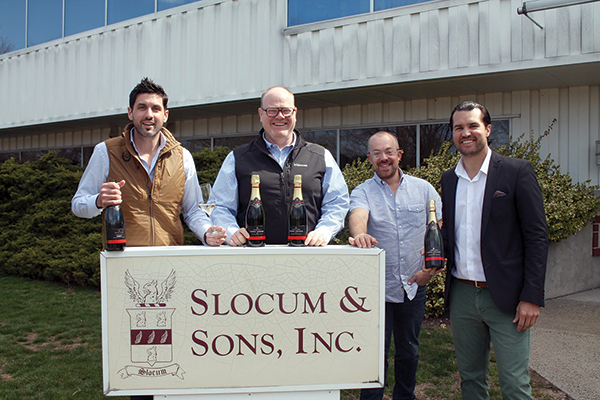 Slocum & Sons added Chapel Down, an English sparkling wine producer, to its fine wine portfolio. Brenton Blanchard, Business Director at ABCK Corp., presented Chapel Down Three Graces, Rosé Brut and Reserve Brut to the Slocum & Sons salesforce in April. "One of the growing categories is the new raft of sparkling wine producers from England's southeastern coast. The soil there is primarily chalk, think of the White Cliffs of Dover, the same as Champagne," said John DeChello, CSW and Wine Director at Slocum & Sons. "And, in recent years they've been able to ripen grapes in every vintage. Chapel Down is one of just a few wineries that have achieved great quality and critical acclaim out of the gate." Chapel Down selections are made under Winemaker Josh Donaghay-Spire.
Brenton Blanchard, Business Director, ABCK Corp., presenting Chapel Down wines to Slocum & Sons on April 14. Three Graces is a blend of 60% Chardonnay, 33% Pinot Noir and 7% Meunier, sourced from vineyards in Kent, Essex and Sussex on chalk and clay soils. The Rosé Brut is made from 100% Pinot Noir grapes and sourced from Kit's Coty Vineyard near Aylesford in Kent. Reserve Brut is made of 44% Chardonnay, 38% Pinot Noir, 11% Pinot Blanc and 7% Pinot Meunier from vineyards in Kent, Essex, Sussex and Dorset.
Noah King-Smith, Key Account Manager Hartford/New Haven, Slocum & Sons; Paul Burne, Key Account Manager Fairfield/Litchfield, Slocum & Sons; Alex Meier-Tomkins, Boutique & Craft Brands Director, Slocum & Sons; Brenton Blanchard, ABCK Corp., outside of Slocum & Sons with Chapel Down wines.