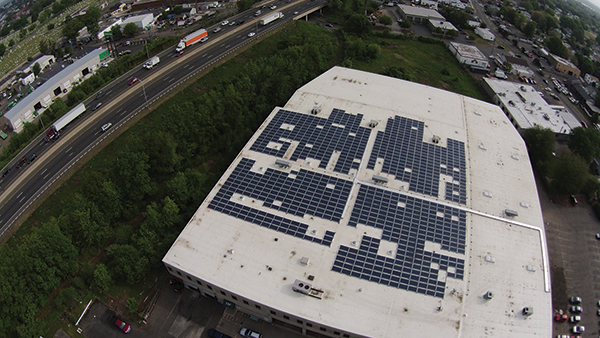 Two more Connecticut distributors, Hartley and Parker, Limited, Inc. and Rogo Distributors, recently added solar power systems to their respective energy strategies, joining efforts by others such as Eder Brothers, Inc. and Allan S. Goodman. This is good news to Tracy Babbidge, Bureau Chief for Department of Energy and Environmental Protection, who said at the Rogo ribbon-cutting ceremony in June, "Connecticut is seventh in the country for producing clean energy – and sixth for efficiency. Along with business and industry, Connecticut is looking to have more residential installations – which will reduce air pollution globally."
Hartley and Parker
Hartley and Parker Limited, Inc. installed a 265kW solar energy system on its roof in Stratford, consisting of 880 panels. The panels were installed on June 15 by Dynamic Energy, a solar energy company headquartered out of Pennsylvania.
The panels take up about 40 percent of the roof. "It covers 100 percent of the needs we have. It's something we all should be doing," said David Rosenberg, Vice President of Hartley and Parker. "We are producing what we use and reducing our footprint; there's a big impact on what we do," he continued. A computer display terminal in the lobby shares information on energy output and other data.
Along with the solar panel installation, David Rosenberg said they also added 10 solar tubes on the roof. The purpose of the tubes is to "harvest" light, bringing the light directly down into the warehouse. He said the tubes create a portal for natural light to shine efficiently into the warehouse.
In other efforts to conserve energy, Hartley and Parker have replaced their oil-based heating system to a gas system, which "burns cleaner and is more efficient," said Jerry Rosenberg, President of Hartley and Parker. The company has also deployed more fuel-efficient trucks and is in the process of learning more about hybrid trucks as another measure of reducing their carbon footprint.
Rogo Distributors
Rogo Distributors, a division of Allan S. Goodman, cut the ribbon on their new installment of solar panels on June 10, 2015. The 400kW solar energy system, which is made up of 1,600 panels, will account for 75% of the electricity at the East Hartford distributorship, according to David Heller, President, Allan S. Goodman.
"Allan S. Goodman is proud to continue our commitment to sustainability with the completion of our second rooftop solar photovoltaic project. These panels will last 25 years, but will pay for themselves in five years. We are already seeing benefits from the first system and are now pleased to be converting the Rogo facility to solar power as well. We even have quite a few of our own employees investigating having them installed on their own homes."
East Hartford's Mayor, Marcia Leclerc, was also on hand to convey the town's excitement to be championing solar energy, as "it sends a message to other businesses to follow suit." Senator Paul Doyle, Deputy Majority Leader and Chair of the Energy and Technology Committee, was in attendance and said, "As a lawyer I never got to see [impacts of] businesses. Businesses like Rogo and Allan S. Goodman, having invested lots of time, utilizing state and federal incentives, are helping the environment and saving
money, too."
"We were delighted to be working again with Allan S. Goodman and congratulate them on the completion of their second solar installation," said Paul Ahern, President, EnterSolar.