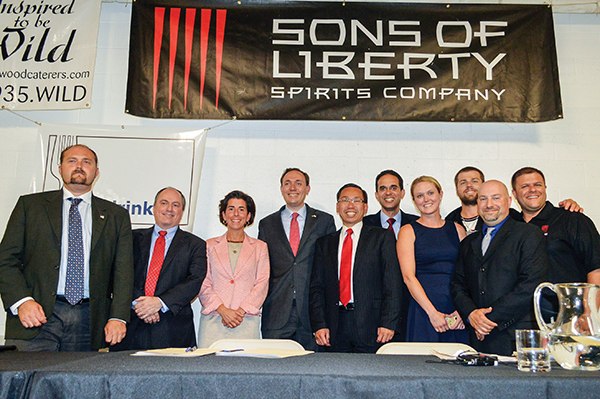 Food and beverage forum is the focus
By Lauren Daley
All six of Rhode Island's gubernatorial candidates discussed the state's beverage and food industry in a town hall forum at Sons of Liberty Spirits Co. in South Kingston on Aug. 13. The event, "Eat Drink RI's: Food Will Help Rhode Island Grow," drew some 200 members of the food and beverage industry.
The forum was hosted by Mike Reppucci, owner of Sons of Liberty, and moderated by David Dadekian, owner of Eat Drink RI, and Jess Wood, owner of Wildwood Catering. The candidates — Ken Block, Allan Fung, Todd Giroux, Clay Pell, Gina Raimondo and Angel Taveras — all agreed that Rhode Island needs to make it easier for small businesses to start up and thrive.
Reppucci said he wanted to host the event because, "Rhode Island is amazing at food and drink. In New England, you have Portland, Maine, and you have Providence — those are the two big food scenes right now. We have Johnson & Wales students making amazing cocktails; we have all these breweries popping up — but I didn't feel like when you talk to people in government they thought, 'Oh, food and beverage is an industry we really need to support and cultivate.' I didn't know if we were on their radar. So I thought, 'Let's have the candidates here.'"
Candidates discussed, among other issues, zoning and permitting laws, food economy, food trucks and local farms. Reppucci said farms are key in the beverage industry; for instance, he recently ordered 32,000 pounds of pumpkins from Carpenter Farms in Tunic, R.I. for his critically-acclaimed Pumpkin Spice Whiskey.
Zoning and permitting were hot-button issues, Reppucci reported, as small businesses often struggle with miles of red tape to start up in Rhode Island. "Block made a good point; he said, 'Anyone who had an easy time with the Department of Labor raise your hand.' And nobody raised their hand." All candidates agreed that the process of starting a small business in Rhode Island needs to be more streamlined.
"We need to cultivate ways to make it easier to start up," Reppucci explained. "In terms of candidates with pointed answers, Gina Raimondo seemed to be ahead of the curve on zoning issues. She also mentioned marketing [the state] as a 'Food Valley.' I'm not super political and I don't have a favorite candidate, but I would say Raimondo, Taveras and Fung had good things to say."
At the meet-and-greet reception that followed, beer was provided by Newport Storm, Grey Sail Brewing, Revival Brewing, Foolproof Brewing and Narragansett Beer, along with whiskey from Sons of Liberty and local foods by Wildwood. "It was really cool to see all these products made in Rhode Island being demonstrated to the next governor," Reppucci said.
Dadekian, who also spearheaded the event, said, "The next revolution in jobs and new businesses will be in the food and beverage industry, and Rhode Island is poised to be at the forefront of that economic growth through our restaurants, agriculture, aquaculture, food and beverage producers, distributors and much more." 
Repucci said campaign workers told him afterwards that they hadn't realized the food and beverage industry was "that big of an issue, but that it was something they need to focus more on."  He continued, "I hope the [candidates] went away thinking, 'Holy cow; there's a really strong group of small businesses here in Rhode Island that we need to support.'"