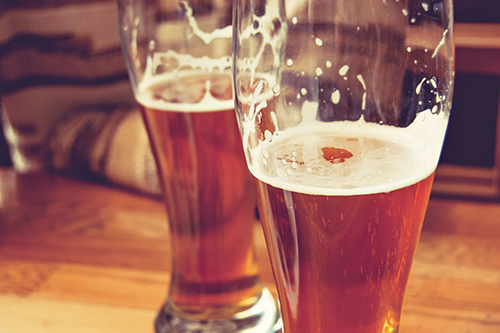 By Jack Kenny
"Sour" does not come close to describing the flavor of what we know as sour beers, but it's the best word for lack of another. A sour beer can be tart, dry, funky, tangy, tannic, sweet, bitter, sharp, soft, woody or fruity. Flavor can be mild or intense. Varieties are wide ranging. One thing can be said for all of them: They are not hoppy.
The great sours come from Germany and Belgium and are available here to a fair degree. The popularity of Belgian sours far outpaces the German Berlinerweisse and gose, though the latter show up from time to time on menus and shelves of venues that cater to an educated and discerning clientele. American sour ales are a growing craft brew specialty, though only a few have become visible in Connecticut.
Sours differ from all other beers in fermentation and aging. Whereas our lagers and familiar ales are brewed under controlled conditions using yeasts kept in sterile environments, sours employ three species of bacteria – lactobacillus, pediococcus and acetobacter – and brettanomyces yeast for fermentation. These, it must be said, are difficult to control. Sours also are aged, mostly in wood, for both short and long periods of time, sometimes for years, and blended together to achieve a desirable flavor.
That's the simple explanation. The reality is far more complex.
While sour ales can be brewed using controlled yeast and bacteria, the big challenge for any brewer is to take advantage of ambient fermentation agents, those organisms that share an environment with us. Belgium's lambic beers, the best known of the sours, are fermented solely by yeast from outside.
When the wort is cooked – the first stage of brewing in which the ground barley malt and wheat are boiled – it is pumped upstairs to a shallow pool called a coolship. The brewer then opens the windows, turns off the light and goes home. The next day he drains the coolship into barrels below and the beer begins to age. At some point, fruit can be added to impart flavor and to stimulate further fermentation (fruits are home to many a yeast and bacterium).
Lambic producers were fortunate centuries ago to have discovered that they occupied a place that is perfect for creating fine sour ales. Brewers around the world are searching their neighborhoods to see if they, too, have the right wild yeasts. Two Roads Brewery in Stratford, CT, worked closely with the microbiology department at Sacred Heart University in Fairfield to isolate wild yeasts for some sour beers that they have brewed over the past couple of years. They trapped yeasts inside and outside the brewery, and worked with many unsuccessfully until they discovered a strain that was hearty enough to endure the fermentation process.
The beers we consume today taste different from those that our ancestors drank, even up to the 1800s, and that's because of the invasion by ambient yeast. Brewers didn't really know what yeast was up until Louis Pasteur figured it out, so they didn't exercise rigid environmental control over the brewing process. That meant ambient yeasts and bacteria always found their way into the brew, contributing their various pedigrees to the liquid.
Here are the basic styles of sour beers available today:
Lambic: The classic sours from the Lembeek Valley south of Brussels. These are often fruited with cherries (kriek) and raspberries (framboise) to varying degrees of sweetness or fruitiness to balance the sour and acetic aspects. Unfruited lambic is called gueuze (say "gooze"). Try Hanssen's, Cantillon, Boon or Lindeman's.
Flanders ale: The red ales are the most popular. These are acidic and tannic, but are softened by aging in giant wood tuns, and are redolent of various fruit characteristics. Rodenbach is the oldest and most well known. Also try Monk's Café and Duchesse de Bourgogne. Flanders brown, also called oud bruin (old brown), is a darker sour and less acetic. Two of my all-time favorites, perfect for hot, humid weather, are Petrus Oud Bruin and its sibling, Petrus Aged Pale, a light-colored, tart delight once used only as a base beer and now available widely.
Berlinerweisse: A low strength wheat beer with a grainy flavor, usually served with fruit syrup in Germany, or woodruff syrup, which is hard to come by in the States.
These few words about sour ales hardly begin to tell the story. It will be a good topic to revisit in a future column. Meanwhile, enjoy them cold during the warm months.
Jack Kenny has been writing The Beer Column for The Connecticut Beverage Journal since 1995. Write to him: thebeercolumn@gmail.com