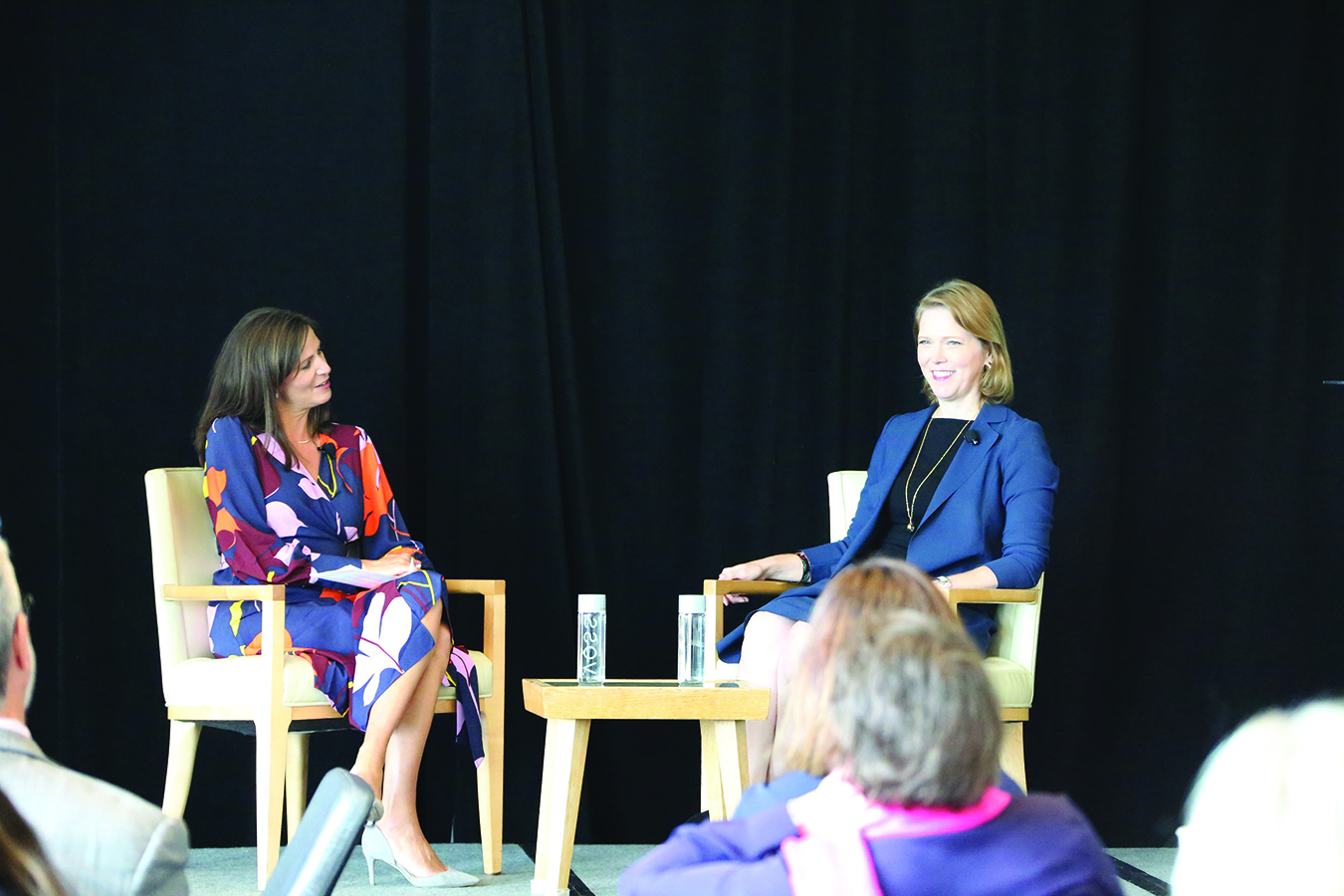 Joining—and Leading the Cause
Speak Easy: In Conversation with Michelle Korsmo, President and Chief Executive Officer, WSWA
By Kristen Bieler
---
Just two weeks into her new role at the helm as President/CEO of the Wine & Spirits Wholesalers of America, Michelle Korsmo sat down with us to discuss her first impressions of the wine and spirits wholesale industry, upcoming changes for the WSWA Convention and how she plans to encourage diversity across the industry.
On the Industry
Beverage Media Group: Can you share some of your initial observations of this industry and how it is unique?
Michelle Korsmo: I have been struck by just how calm, rational and steady the leaders in this industry are. These are people who have a thoughtful, confident approach to their businesses which I believe comes from decades of experience and the multi-generational history of many of these companies. It's wonderful to be in an industry with smart, impressive people who have a great ability to compete.
That's another thing I've enjoyed observing: There is robust, intense competition in this industry, which I believe is ultimately good for everyone, especially consumers. Most highly regulated industries do not have this level of tough competition.
On the State of WSWA
BMG: What are some of your priorities as you lead WSWA in the coming years?
MK: I'm still getting up to speed on the myriad challenges that face this industry and the decades of business practices that have been successful historically. What is most important to me is that we ensure that this trade association is reflective of our members' needs and what is in the best interest of the three-tier system.
One thing I care a lot about is making sure that the association really strives for excellent product delivery: In our day to day operations, are we an exceptional and professional organization for our members? We are a staff of 23, so we are small but mighty. I want to really evaluate the way we interact with members, how we provide networking opportunities, execute live events and collectively tackle difficult topics.
BMG: What are some of the critical issues WSWA faces?
MK: I want to keep my eye on where we are going as an industry. There is no denying that we are operating in a disruptive economy and we need to work with our members to prepare for the future. Finding consumer-focused solutions for these challenges is a major priority for the Association right now.
For example, the members have been talking a lot about the consumer demand for direct-to-consumer rapid delivery, the growth of big box retail, the influx of data and technology and the way it's changing the business. It's fun to talk about these increasingly automated warehouses and how companies are evolving.
Another major focus is the preservation of the 21st Amendment and the regulatory structure of the three-tier system which are consistently threatened.
BMG: Given the significant consolidation that continues to occur in this industry, how can WSWA remain relevant and grow membership?
MK: Currently, WSWA has really solid, energized and politically engaged membership, and I think that's a tremendous base from which to grow. When an industry faces consolidation and a few large players emerge, it's even more important to have a platform for all businesses in the marketplace.
Every state is so different and the business environment works better if there is a platform where companies of all sizes can engage. What different wholesalers need from the trade association certainly varies, and we need to be responsive to all types, because we have something to offer everyone.
Also, policy outcomes impact wholesalers of all sizes—from fine wine single market players to large multi-state operators. We need everyone in this conversation, particularly with major issues like the upcoming Supreme Court decision on state residency requirements for licensees.
On the Convention
BMG: You've hinted at changes ahead for the WSWA Annual Convention. How do you envision that evolving?
MK: I feel at a tremendous disadvantage because I have not attended before. Right now I'm working with the executive committee and board on a strategic plan to growing and evolving the Convention. First, it's important for us to define who our targeted audiences are and who is getting the most out of the convention. When people come together in person it has to be a really special experience compared to what they could learn online. We need to think about how people want to use the convention and guarantee they have natural spaces for meetings and build in time for networking, interaction and relationship-building. How can we build a flow so that there are opportunities for people to rest, nourish, chat and check emails? Attendence has been stronger than ever in the last three years. How can we capitalize on the power of the Convention to create a larger experience throughout the rest of they year? Convention 2019 won't be too different, but perhaps by 2020 you will see a lot of significant changes and hopefully improvements.
On Cannabis
BMG: WSWA has publically stated it will support a state's right to legalize cannabis provided it is strictly regulated, with restrictions similar to the distribution of wine and spirits. What's your opinion of this issue?
MK: I've been really impressed when talking with our members about how they view cannabis policy moving forward, and how much work they have collectively done over several years on this issue. It's tough to get all these businesses to say yes. We think long-term this is really better for the industry, for society, for our businesses to provide the model of the beverage alcohol industry as an example of what effective safety and regulation looks like.