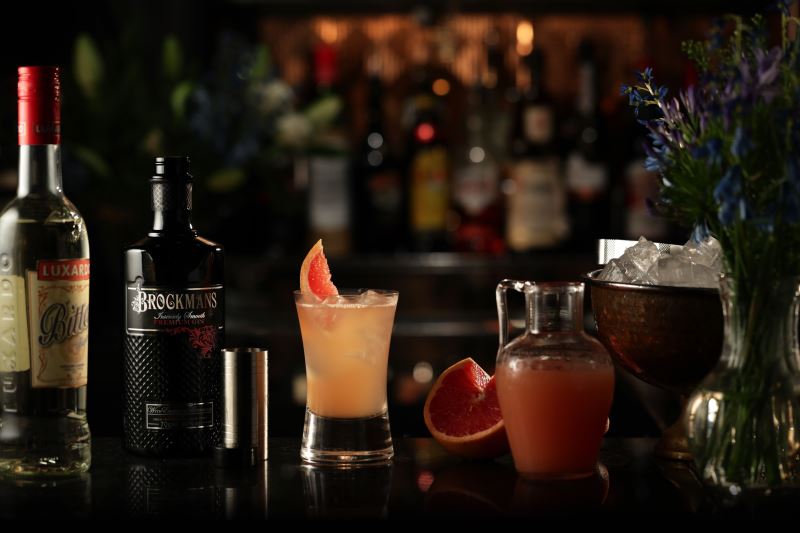 The snow is melting, the bulbs are blooming and it's the perfect time to celebrate with a seasonal menu of fresh and fruity cocktails for spring—try your hand at some new combinations or stick with a new variation an old favorite.

Frozignon Blanc
1 bottle Kelvin Organic Citrus Slush Mix
4 bottles Sauvignon Blanc
½ liter Gin
1½ gallon Water
Method: Combine all ingredients and freeze in a slush machine.
---
Mexican Mule
1¼ oz Kahlúa
¾ oz Altos Plata Tequila
3½ oz Ginger Beer
Method: Build ingredients over ice. Serve in a Mule mug with a lime garnish.
---
Tito's All-American Lemonade
1½ oz Tito's Handmade Vodka
Lemonade of choice
Method: Pour vodka over ice in a glass and just add lemonade. Garnish with berries or other fruit.
---

What's Up, Brock?
2 parts Brockmans Gin
0.75 part Apricot Liqueur,
2 parts Fresh Carrot Juice
Fresh Cilantro leaves (Optional)
Method: Add ingredients to a shaker with ice and shake vigorously. Strain into a highball glass filled with ice.  Garnish with the green stem of a carrot.
---
Riondo's Sgroppino
1/3 cup Lemon Sorbet
1 oz Vodka
3 oz Riondo Prosecco
Method: In a shaker, whisk together sorbet and a few drops of Riondo Prosecco until fully blended. While continuing to whisk, pour in vodka slowly. Pour into a coupe glass and top with remaining Riondo Prosecco.
---

Ginger Iced Latte
2 oz Sailor Jerry Spiced Rum
½ oz Ginger Syrup
1 oz chilled Espresso
1 oz Half & Half
Method: Fill a glass with ice cubes. Combine with Sailor Jerry Spiced Rum, ginger syrup, and espresso, then top off with half and half.
---

Signature Mint Julep
2 oz Woodford Reserve Bourbon
1 oz Mint Simple Syrup
Mint sprig garnish
Method: Fill a tall glass or julep cup with crushed ice. Add the syrup and then the bourbon. Top with more crushed ice, and add a mint spring for garnish.
Mint Simple Syrup:
1 oz Sugar
1 oz Water
1 oz packed Mint leaves
In a small saucepan, over medium heat, combine the sugar and water until the sugar has dissolved. Remove the pan from the heat, add the mint leaves, and let the mixture steep for 20 minutes. Strain before using.
---
Garden Gimlet
The Harvey WIlliamsburg
2 oz Bulldog Gin
½ oz of Simple Syrup
½ oz fresh Lime Juice
2 slices of Cucumber
2 Mint leaves, muddled
Method: Combine ingredients and thoroughly shake over ice. Serve in a chilled martini glass.
---
Watermelon Smash
1 oz Seagrams Watermelon Vodka
1 1/4 oz Templeton Rye
3/4 oz Demerara syrup
2 Lemon wedges
6 Springs Mint
Method: Muddle the lemons, mint and syrup. Light shake the liquor and pour in a rocks glass. Garnish with mint.
---

 Little Red Corvette
Created by Robert Campbell of Café Birdie
1 oz Martini & Rossi Riserva Speciale Bitter
3/4 oz Fresh Blood Orange Juice (or Orange Juice)
3/4 Fresh Lemon
1/2 oz Peach Liqueur
Method: Shake and strain over rocks in Old Fashioned glass and float Fernet on top. Garnish with candied blood orange wheel.