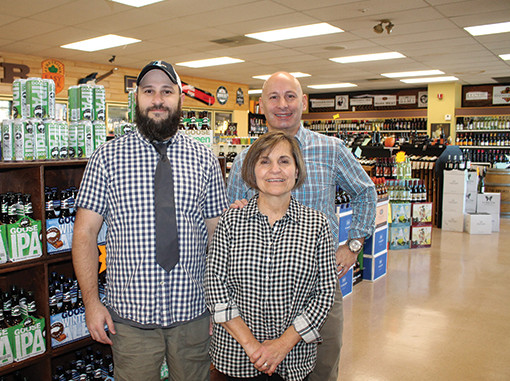 Standard Liquors
829 Eddy Street
Providence, RI
Square footage: 6,000
Years in operation: 80
By Savannah Mul 
The phrase "it runs in the family" comes to mind when describing the legacy behind Providence's Standard Liquors. The store, which is currently in its third generation of family ownership, is now bringing in the fourth generation of family members.
Owner Jim Iezzi's grandfather, Pasquale Rainone, opened the store shortly after prohibition in 1937, Iezzi said, because he saw the industry as a "profitable and good business to be in." It was then passed down to Iezzi's father, Donald, who took over during the 1960s, and now to Iezzi, who manages the store today. With help from his siblings, nephews and sons, the store operates on strong family values, he said.
Iezzi said this legacy also resonates into the community. "We have generations shop here, people love this area and if they move away and come back for visit, they always come to the store to say hello. It's like we all grew up together," he said. The original store sign, featuring a vintage Narragansett Lager Beer logo, hangs above the cooler doors in the store today.
"We've gone through a lot of transformation," Iezzi said. His nostalgia takes him back to when the store was located on the first floor of a tenant house across the street from where it is today. In 1989, the Iezzi family moved the store to 829 Eddy Street and built upon the lot to expand the store.
With the transformation came a new store design. "We wanted to have the wide aisles and easy-to-see displays." The low shelves give customers a full view of the store so they can find products easily, he said. Beer brings in the majority of the store's sales, followed by spirits and wines.
Iezzi reads beverage publications, industry trade magazines and asks for customer feedback and recommendations to properly stock and manage the 4,000 SKUs offered in store. Specifically, he's seen red blends, craft beers, bourbons, cognac and Scotch as popular sellers over the previous year. He said the store has increased its keg selection too, catering to the college community, as well special orders placed per customer requests.
Standard Liquors hosts in-store tastings on the weekends to promote brands and new products. Iezzi finds store tastings help with sales due to the consumer purchasing multiple bottles of the featured wine, beer or spirit.
A larger transformation within the community is the loss of manufacturing in the area. Iezzi was concerned he would lose business from the customer base those businesses supplied. With friendly customer service and adapting to the changing demographics in the town however, Iezzi said Standard Liquors has "evolved to be the best [we] can be … Customer service is important; that's why this is a great place."