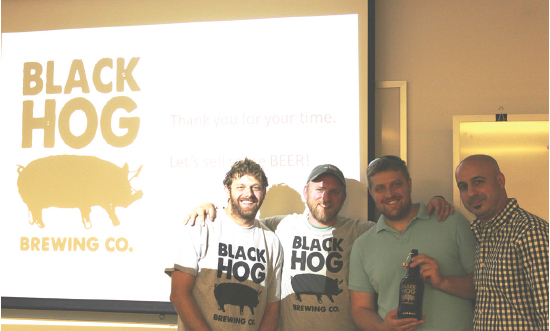 Black Hog beer is now available through Star Distributors, Inc. and HDI/Franklin. Brewed in Oxford, Conn., the local beer company offers four styles: S.W.A.G., a Summer Wheat Ale with Grapefruit; EASY RYE' DA, a Session Rye IPA; GRANOLA BROWN ALE, brown ale brewed with granola mix; and GINGA' NINJA, a red IPA brewed with fresh ginger. Black Hog started operations in May 2014 and uses local and organic ingredients whenever possible. Currently found on draught, canned packages will be offered in the September/October timeframe, with full distribution throughout the state via Star and HDI/Franklin Distributors.
From Black Hog at the Star launch: Tyler Jones, Owner/Lord of the Liquid; Tom Sobocinski, Owner; Jason Sobocinski, Owner; and Chris Charest, Marketing and Sales.
Star Distributors staff at the launch food truck: Sales representatives Rick Scirocco, Brian Reher, Chad Jones, Merchandiser Kishan Fernando and Jason Foster.