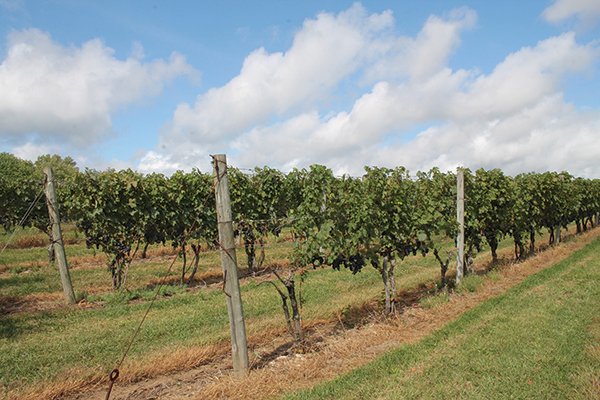 A long-deferred dream becomes reality
By Nancy Kirsch
While patience is a virtue for grape growers and vintners, Nick Smith, co-owner of Stonington Vineyards, is extraordinarily patient. It took more than two decades for Nick to achieve his dream. In the mid-1960s, while working in Washington, D.C., he had said, "Someday, I would love to have my own wine in my glass." After retiring from his career in international finance, Nick discovered that Stonington Vineyards was for sale; he and his wife, Happy, bought it in 1987.
Already familiar with the southeastern Connecticut area, they were delighted to find it a fertile area for new wineries. The Smiths hired vintner Mike McAndrew – who planted many new vines – and built the winery in 1989, said Nanci Waugh, director of operations.
Although the entire property is 58 acres, only 10 acres are devoted to grape growing; with that, they can better maintain the vines and produce more bountiful grapes. "All of our wines produced here now are from Southern New England grapes. We don't grow enough grapes to sell, [and] we bring in Cayuga grapes from Ledyard [Connecticut] and Vidal Blanc grapes from Massachusetts," she said.
"Our Seaport White is a blend of Chardonnay, Vidal Blanc and Cayuga grapes, and Triad Rose is a blend of Chardonnay, Cabernet Franc and Vidal Blanc grapes." Stonington Vineyards' Sheer Chardonnay, aged in a stainless steel tank, is very light and crisp; while its Classic Chardonnay, aged in an oak tank, is more traditional, with vanilla and buttery aromas. Both are estate wines, as is the Cabernet Franc, said Waugh.
Its wines – described as "elegant, food-friendly European-style wines," including Cabernet Franc, Classic Chardonnay, Seaport White and Sheer Chardonnay –have racked up awards from the International Eastern Wine Festival and the NEXTCEN Wine Competition for Millennial Wine Drinkers.
Nick, who helped establish the Connecticut Wine Trail, always envisioned Stonington Vineyards as a desirable destination for people to learn something about the winemaking process, and "enjoy our delightful wines and our premises," said Waugh.
Open year-round with the exception of major holidays, Stonington Vineyards welcomes guests for daily tours, wine tastings, picnicking and special events, such as concerts, movie nights and a weekend harvest festival in September. The tasting room is popular, even during the winter; people spend the afternoon before the fireplace, playing backgammon or cards and enjoying their own food or "light bites" sold by the vineyard, said Waugh.
The shop sells wine, wine-related paraphernalia, specialty food items and Stonington Vineyards' T-shirts and sweatshirts. With its gazebo, deck and expansive lawn, Stonington Vineyards is a popular venue for private events, such as bridal showers, weddings, corporate events and holiday parties.
Grapevines are pruned, hedged and harvested by hand, and the vineyard aims to be as organic as possible. "We don't use pesticides, but sometimes we have to spray fungicide when there's a lot of rain and humidity," said Waugh. Linda Mason, vineyard manager, and her crew work through the winter clearing brush and cutting back vines; the nearby ocean waters create a microclimate similar to that in Bordeaux, France.
Buy a case of wine and become a lifetime member of the Cellar Society, which began many years ago. Its 9,000 members receive discounts on special events and cases of wine, and invitations to taste new wines.
In 2014, a new program, Premium Wine Club, launched for members who commit to purchasing eight bottles of wine during a year – two bottles sent out four times a year. "I'm shipping wines now to California, Ohio, Florida … people on vacation want a little bit of Stonington Vineyards in their homes four times a year," said Waugh. Most of the 6,000 cases of produced each year are sold onsite.
What does the future hold for Stonington Vineyards, now that the Smiths are in their 70s? "The future is bright … our Stonington Vineyards family keeps this place running and provides a wonderful experience for all who come to visit," said Waugh.
Stonington Vineyards is located on 523 Taugwonk Road in Stonington, Connecticut.