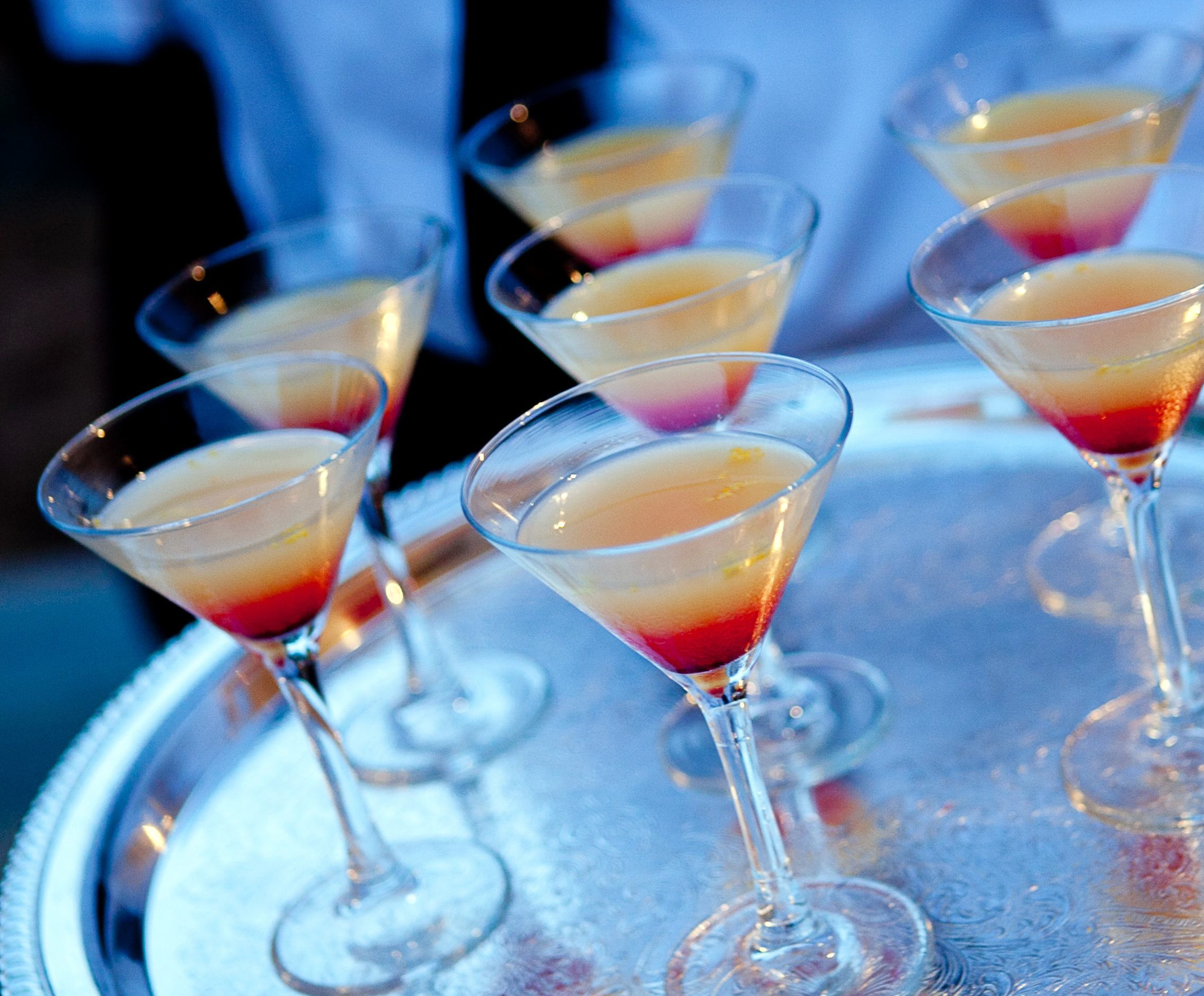 By Marji McClure
This summer, brides and grooms will most likely say "I do" to a drink menu of fresh, local offerings. According to a sampling of bar services and catering companies in Connecticut and Rhode Island, brides and grooms want their guests to experience the local region through their drink choices.
"Our goal is to provide flavors that are seasonal," said John Edick, general manager of Rhode Island-based Blackstone Caterers. "In most of the inquiries, people are looking for seasonal. People are always interested in local." "We're seeing a huge trend toward organic and local," added Amy Miller, a bartender with Hartford-based Choice Bar Services. "Couples are looking to add their local touch." One example, said Miller, is Onyx Moonshine, which is produced by West Hartford's Onyx Spirits Co.
Miller said the organic theme comes from the influx of farmer's markets in the area, which inspire Choice Bar Services to offer such drinks as cucumber martinis and other drinks using fresh berries.For Edick, since his company is near Newport, he has many different local drink offerings to choose from including those from Newport Storm, a local microbrewery. Many weddings he serves are destination weddings and brides and grooms typically want their guests to experience the local flavors of the region, Edick said.
Making it Their Own
As a wedding day is a reflection of the couple, brides and grooms are putting their personal touches on every aspect of the ceremony and reception, including the drink menu. John Arcangelo, co-owner of Two Pour Guys in Connecticut, said brides and grooms are picking out a couple of signature drinks to offer. "Now, we're into the sweeter drinks," said Arcangelo. Among those include a sweet tea with vodka. Other popular drink choices these days include pomegranate martinis. Sometimes, brides will choose a drink to match the bridesmaid dresses, he added.
Paula Garelick, owner of Garelick & Herbs in Connecticut's Fairfield County, will use pomegranate in some drinks "because it brings in a color, and a lot of brides and grooms are following a color." Miller said, "Couples come to us and say they want a drink in a light pink color." Other times, they will seek to share their passion for a particular liquor with their guests. Kia Martinson, owner of ESTOccasions, a wedding planning service in Storrs, Conn., said if a couple likes vodka, they will pick four different types of vodkas to offer.
Traditional and Simple is Another Choice
Brides are also choosing traditional drinks for their cocktail and bar menus. "We see a lot of things that are making a resurgence, like classic drinks with a twist," said Edick. Martinson said she has noticed a preference for classic mixed drinks, such as the Old Fashioned and the Tom Collins. Garelick said mojitos are always a popular choice; she will make them with raspberries or even offer another summertime drink, a cucumber spritzer.
Rodney Green, president of Olde Tymes Restaurant, Inc. in Norwich, Conn., said he has noticed brides and grooms are choosing to offer a selection of martinis and some are asking for just beer. For both, Olde Tymes will get special requests, but perhaps surprisingly, "more on beer than on liquor," said Green. Martinson said that for summer weddings, she suggests offering guests lemonade and iced tea and allowing guests to add a shot of vodka or gin to the summer beverage if they choose. "It's nice when guests arrive to be able to welcome them with a nice, cold lemonade," said Martinson.
Garelick said hard lemonade has been very popular, along with bourbon iced tea. "They go for both men and women," said Garelick, who serves them in tall glasses. She said it is important to make the drinks appealing for both sexes. To change up the traditional, Garelick likes to have fun with glassware. For example, she will serve prosecco in a double shot glass.
Wine Tastings Provide an Interactive Touch
"There is a tendency not to be flamboyant," said Edick. "Rather than be showy, they tend to be creative." One way they are doing that is having wine tastings as part of the wedding reception experience. "We're noticing that a lot of couples want to give a tasting to their guests," said Martinson. Arcangelo has also noticed that wine tastings at weddings are getting more popular. They usually take place between the cocktail hour and the reception.
Budgets Drive Choices
Tighter budgets are also having an impact on what brides and grooms offer their guests.Arcangelo said many brides are choosing to offer beer, wine and some signature drinks instead of a full bar. "I ask for budgets nowadays," he said. "That's my foundation." Arcangelo said that even without a full bar, some brides will ask for a bottle of a particular name brand of liquor for a grandfather, for instance.
Green said he has noticed that brides and grooms seem to make plans for other parts of the wedding reception—from booking a hall to choosing a florist and music—before they worry about catering. "They're doing the catering as the last thing," he said. As they talk about pricing for catering and bar service, "they're trying to save as much as they can," he added.