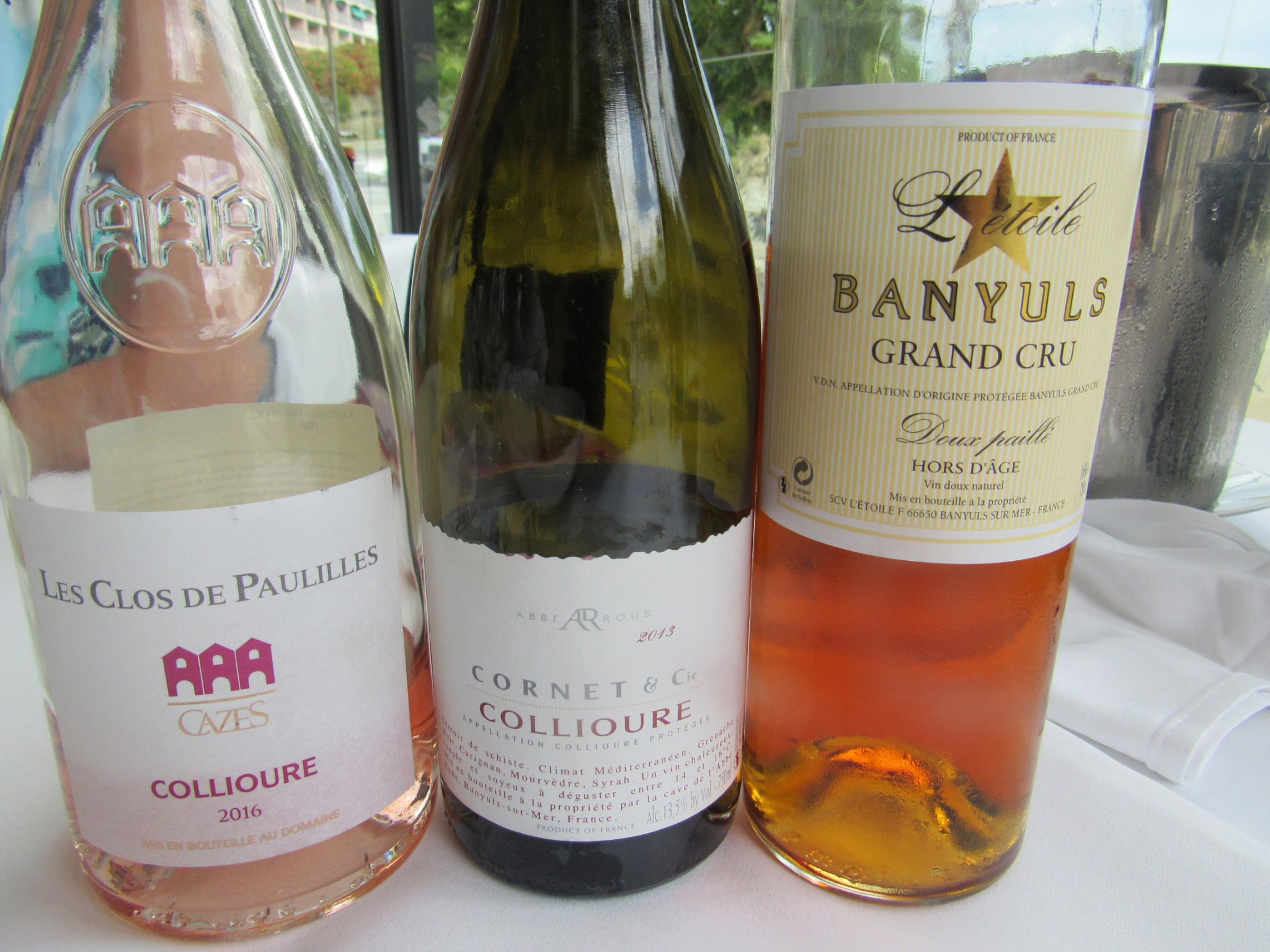 By Linda Pettine, CHE, CWS, CS
Ask a wine drinker to name a famous wine region in France and inevitably they will respond with Burgundy or Bordeaux. Dig deeper and inquire about a region in Southern France and they might mention Provence or possibly, Languedoc. Seldom will anyone offer Roussillon as a famous French wine region. Oh, but what a diverse and beautiful region with a multitude of wine offerings it is! Having experienced Roussillon firsthand this past summer, it opened my eyes and palate to an array of tantalizing sights and taste sensations.
Roussillon has 28 centuries of wine history dating back to vineyards established by Ancient Greeks and developed further by the Romans. Its beauty is self-evident, with an amphitheater opening to the Mediterranean Sea to the East and surrounded by the Corbières mountain to the North, the Pyrenees with Mount Canigou to the West and the Albères to the South. Roussillon is a majestic and beautiful region in the southernmost part of France, heavily influenced by its Spanish Catalunya neighbors to the west.
For such a small region, it is amazing how diverse the wine offerings are. Delicious whites, fabulous reds and rosés, from both recognized and lesser-known varieties, and its true specialty, the sweet, fortified, Vins Doux Naturels (VDN).
The production of Vins Doux Naturels began in the mid-13th century and today Roussillon garners five different VDN appellations for the production of this luscious, sweet wine. Banyuls and Banyuls Grand Cru, Muscat de Rivesaltes, Maury, and Rivesaltes are all AOP regions for the production of Vins Doux Naturels. The red VDNs are primarily produced from Grenache Noir and Carignan, and the whites from Muscat, Grenache Blanc, Grenache Gris, Macabeu, and Malvoisie. The wines are fortified with high proof grap
e spirits, resulting in the grape's natural sugars remaining in the wine.
The process is similar to Port and Madeira fortification but the finished alcohol level is lower, around 15%, and the wines are amazingly complex and bright. They are showcased in two distinct styles; oxidative and non-oxidative fortified, sweet wines. The non-oxidative wines of Muscat de Rivesaltes are sweet, but not sugary, at 8 to 10 percent residual sugar. They are fruity, floral and lively with notes of stone fruits, candied citrus, white flowers with a hint of honeysuckle. They are a lovely accompaniment to a cheese course or a light dessert, or dessert itself.
However, the most unusual of the sweet fortified wine is Banyuls, a reddish or amber colored wine made principally from grenache. It is not massive like port or overtly dense in texture. It is elegant and easy to sip, thanks to its intoxicating aromas and flavors of dried fruits, coffee, mocha, tea, nuts and dried orange peels.  For me, Banyuls is the ultimate wine to pair with chocolate or chocolate-based desserts or those featuring dried fruits.  For a sweet/salty pairing, try Banyuls with blue cheese or other strong, salty cheeses.
The fully oxidized style of Banyuls Grand Cru is a Roussillon treasure. Matured for a minimum of 36 months and upwards of 20+ years, these VDN wines are aged inside or outside cellars in containers that are not completely filled. The vats can be wood (foudres, demi-muids, barrels) or sometimes in glass bonbonnes or demi-muids kept outdoors for 9 to 12 months. The color hue and intensity depend on the time of maceration, the aging and the elements. The wines offer a range of aromas from black fruits and dried fruit such as black cherries, fig and dates to spice rack aromas, cocoa and nut combinations. They are bright and fresh on the palate with a complexity that correlates to their aging and oxidative exposure.
Equally extraordinary are the Rivesaltes Ambré, also an oxidative style that may be aged 10 to 60 years or more in barrels. What I find most remarkable, is their price point. These Vin Doux Naturels offer such value for their fairly inexpensive price.
Roussillon has it all: history, beauty, culture, diversity and an array of wines for all palates. For a truly sweet treat, taste the decadence of the Roussillon's VDN wines. Vin Doux Naturels – or – Very Decadent Niche!
Linda Pettine, CHE, CWE, CSS is an Associate Professor at Johnson & Wales University, College of Culinary Arts.