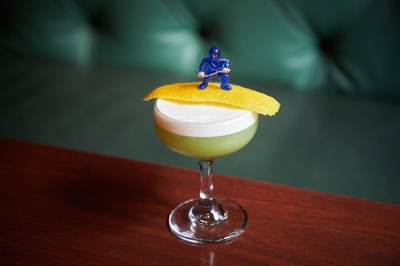 The newly released "What's on Tap for 2016 Tastemaker Survey" features results from master mixologists, bartenders, bar and retail store owners, spirit reviewers and authors, as well as many trade and industry experts across the United States.
The survey stated that aromatized wine, sherry, amaro, flavor-forward whiskey, scotch, rum and mezcal, are emergin as "intriguing" spirits. Newcomer spirit Baijiu from China was also highlighted and Gaz Regan, cocktail author, said this spirit is, "funky. It's weird. It's challenging, and it's exactly the kind of spirit that bartenders love to play with."
The survey also reports of cocktails, Moscow Mule and The Negroni, will continue to surge in popularity, as well as lower alcohol and agave-based cocktails.
In the survey, mixologist Pamela Wiznitzer of Seamstress in New York City said, "I will be searching for cocktails that take sustainability into account. I hope to see the growth of drinks that show a commitment to less wasteful garnish, as well as better ice and water usage."
Brian Means of Dirty Habit in San Francisco said, "I hope to see Calvados continue to grow. It's cocktail- sipping- and wallet-friendly. Sherry and other fortified wines will become increasingly popular."
Frank Giresi, retail owner of Whiskey & Wine Off 69 in New York City said consumers are driven more so by app-related technology. "It's all about apps. The new delivery apps have become a vital part of our retail business," said Giresi in the survey. "Recommendation apps are providing discernment where and when consumers need it the most, for example, at retail stores when they're about to make a purchase."
David Wondrich, spirit and cocktail author of Imbibe! and Punch, said "I'll be fighting for simple classics, subtle stirred drinks, pleasant, bright sours and properly-aged whiskeys." Wondrich said he will also be watching out for Americanos with Italian Vermouth.
While the survey highlights brown spirits and vermouth at the forefront of popularity, Paul Clarke, spirit and cocktail author of The Cocktail Chronicles, said he wants to revisit gin. "It's been such a dramatic few years for the spirit—with some of the older, mainstay distillers introducing intriguing approaches to Gin, and with small distillers around the world starting to put out some immensely fascinating spirits—that it seems high time to venture into the Gin aisle with renewed interest," said Clarke.
Nicholas Bennet of Porchlight in New York City said when guests come to the bar he wants to focus on the "celebratory aspect of drinking. Liquor and bars are meant to facilitate a good time and our cocktails should reflect that."
Hanna Lee Communications, a public relations and social media agency, fostered the report.