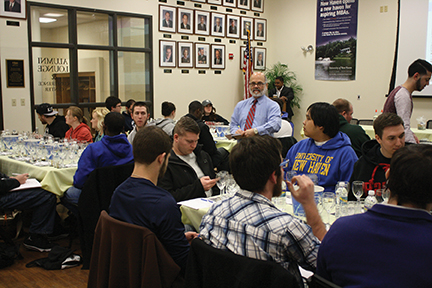 UNH Program Stresses Beverage Expertise
The classes Greg Altieri teaches at the University of New Haven are a huge hit. The course titles are enticing: "The Story of Rum," "Wine Appreciation," and "Mixology." Altieri, director of learning and development for Stratford-based Connecticut Distributors, Inc. (CDI), is an industry expert, and he aims to impart that deep knowledge as part of UNH's Hospitality and Tourism Management program. "The History of Beer" and "Bar and Beverages Management" round out the program.
"Through the Hospitality and Tourism Management program, we aim to groom the next generation of specialists and managers for the food and beverage, tourism and hotel industries," says Altieri, who is in his fourth year as an adjunct professor at UNH and has worked for CDI since 1997. "From CDI's point of view, the graduates of this program are a potential pool of talent for current and future careers in our company."
"Students who aren't hospitality majors can do a minor in the beverages portion of the program, as well as the hotel and restaurant management portion," said Dr. Juline Mills, the department's chair. "Just knowing about wines and beverages is an impressive thing to have in any type of business career."
"The beverage industry has grown tremendously over the past few decades, with wine especially becoming popular," Mills said. "By offering this course concentration, we are preparing students for careers in that growing business segment."
The University of New Haven prides itself on experiential, hands-on learning — and each of these courses is a prime example.  "Wine Appreciation" is the "hands-down" favorite course throughout the UNH campus, year in and year out. The school offers two sections each semester. The beer-history course, also popular, will run in both the fall and spring semesters for the first time next year.
All classes enroll 40 students, and all max out every semester, even with enrollment limited to students past the legal drinking age of 21. The "Story of Rum" is a spring course offering. Altieri and special guest, Bacardi USA Brand Master David Cid, led the class through a tasting of the rum line on March 25, 2014, (see more photos in Around Town).
In addition to special guest access to experts like Cid, classes explore the geographical influences on particular kinds of beverages and how such drinks have evolved over centuries. "The Story of Rum" traces rum's evolution in the Caribbean islands and how that region's tumultuous history influenced its consumption and export. Students were also able to sample centuries-old drink recipes and more recent brand innovations. In Colonial times, warm rum mixed with molasses was all the rage. This contrasts with lighter, chilled present day cocktails such as the Mai Tai and Mojito.
Class segments also explore food pairings. Jeff Trombetta, a chef and full-time professor at the university, also teaches in this program, and is currently leading this semester's wine-appreciation class. The first half of each semester is usually devoted to classroom lectures and demonstrations, while the second half involves more field trips and hands-on exercises.
For their part, beverage companies appreciate having new graduates with a high level of professionalism and the beginning of industry expertise to meet the growing business demand. For its part, CDI, part of The Charmer Sunbelt Group, has more than 250 employees and the talent pool is an important part of its continued growth. "The industry is constantly changing," Altieri said. "And this requires the people who work — or want to work — in the industry to constantly learn and re-learn the ropes."
To this end, CDI's "Building Leaders" internal-training program is widely considered a model for the beverage and spirits industry. Altieri explained, "The goal is to train all CDI people in forming partnerships and consulting relationships with CDI's business accounts. By successfully doing that, CDI expects to continue its upward growth trajectory."
"We know that when staff and salespeople increase the knowledge they bring to the table, they become much more credible to our customers, and thus, more effective at what they do," said Altieri. "Programs such as those found at UNH are a great thing for our company and the industry as a whole."