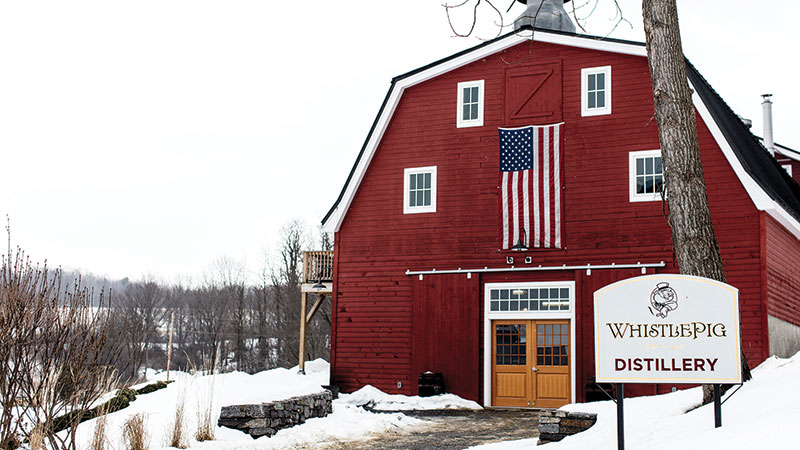 Bourbon has company as Rye advances, embracing both tradition and innovation
By Tess Rose Lampert
---
What a difference a decade can make. In 2018, rye whiskey topped 1 million cases and generated over $200 million for suppliers of the American-made spirit, according to the Distilled Spirits Council. Back in 2009, just 90,000 cases yielded $15 million in supplier revenue.
All told, rye grew over 1,000% in ten years, and rye has continued to soar to new popular heights, breeding innovations within the category like higher-rye mash bills, regional spirits, and new applications behind the bar.
Rye, say historians, was the original spirit of the United States, with producers extending across northeastern states until around 1800. After the Whiskey Rebellion and Prohibition, most American whiskey production had moved down south, where corn was the grain of choice. Spicy rye was soon eclipsed by sweeter bourbon as the nation's spirit for the last near-century.
Rye Reclaims its Origins
"Old rye to many consumers is still a novel thing," shares Nima Ansari, Spirit Buyer for Astor Wines & Spirits in New York. "I think the bits that have trickled out have been unequivocally well received."
One of the most significant ways rye is returning to its origins is regionally, specifically in Pennsylvania's Monongahela Valley as well as Virginia and Maryland. Sagamore Spirit, based in Baltimore, MD, erected a billboard (over Kentucky Derby weekend) declaring Maryland Rye "Bourbon's Older Brother." In Virginia, Catoctin Creek Distilling Company bottles multiple ryes and even trademarked their membership club as the "Rye Society." Another small Virginia company, KO Distilling, released Bare Knuckle American Rye Whiskey as their second aged spirit. In Pennsylvania, Dad's Hat founder Herman Mihalich (who grew up above his family's bar) was inspired by a 2006 story about the reemergence of rye; he and John Cooper went on to distill the first rye in the state since 1990.
As small distilleries return to these regions for the first time since Prohibition, they aim to preserve tradition, starting with local grains. Empire Rye, established in 2015 by a coalition of New York producers, mandate that 75% of the mash bill must be New York grown rye. Jay Erisman, Co-Founder and Distiller of New Riff Distilling, which uses 95% rye in its mash bill, notes that the "attention paid to the agricultural beginnings of American whiskey, with more distilleries choosing heirloom grains, is a terrific trend. In addition to a diversity of flavor, it promotes biodiversity in our fields and farms."
Joe Magliocco was one of the first to predict—and subsequently fuel—the rye resurgence when he resurrected the Michter's brand. Today, their five distinct ryes are among the most coveted, with the Barrel Strength Rye at $200 selling out on release. Templeton, a resurrected rye brand from Iowa (now produced in Indiana by MGP) has also found success in high-proof limited releases; their 2019 Barrel Strength Edition clocked in at 57.9% ABV.
WhistlePig also anticipated rye's resurgence; the distillery started growing their own Vermont rye in 2007 (using Canadian rye until their own distillates came of age). In July 2019 they released their Farmstock Rye 3rd Edition, featuring 52% of their home-grown spirit. WhistlePig Master Blender Pete Lynch also experiments broadly with barrel finishes. WhistlePig 12 Year is aged in three different casks—Madeira, Sauternes and Port—before blending and bottling.
Perhaps the most experimental rye offering yet is Basil Hayden's Caribbean Reserve Rye released in June; a blend of rye, bourbon and a dash of black strap rum.
Come For The Bourbon, Stay For The Rye?
Rye's growth is not just from historical regions reclaiming their whiskey heritage; it is also from established bourbon producers, large and small. As Ansari notes: "If you ask around to some of the biggest names in Kentucky, they'll tell you the most noticeable change in the past decade is how much more rye they are making compared to the past." With the whiskey pie growing robustly, the optimistic view is that rye complements bourbon, offering another authentic American whiskey.
Clyde May's launched a Straight Rye toward the end of 2018, noting that the spirit tied in nicely with their origin story of the famous bootlegger, who apparently preferred the spiciness of rye himself. Roy Danis, President & CEO of parent company Conecuh Brands, doubts that rye will ever be as large as bourbon, but agrees there is "little question that rye will see continued double digit growth."
Craft distillers across the nation are now working with rye; 291 (CO), Balcones (TX), FEW (IL), Five & 20 (NY), Hillrock (NY), Taconic (NY) and Traverse City Whiskey Co. (MI), to name a few.
And big suppliers are making sure they have seats on the rye bus. Bulleit introduced their first rye in 2011, Woodford Reserve added one in 2015, and Knob Creek in late 2016. Heaven Hill Brands' whiskey portfolio is quite rye-rich, with Henry McKenna, Rittenhouse and the revived (2015) Pikesville Maryland Rye.
In 2017, Jim Beam released a Pre-Prohibition Style Rye at 90 proof, up from 80. Old Forester released a 100 proof rye in February 2019, marking their first new mash bill in over 100 years. Old Overholt and Rittenhouse are among a handful of Bottled in Bond ryes. Wild Turkey's August 2019 release of a limited 109 proof Master's Keep Cornerstone Rye is yet another sign that rye is regaining ground.
The Next Chapter
Critical to rye's success has been its enthusiastic adoption by the mixology community. Justin Lane Briggs, Spirits Specialist & Educator for Skurnik Wines & Spirits, notes that as savory cocktails have become more fashionable, rye has stepped into the spotlight, as an ingredient that adds earth and spice, rather than sweetness.
Looking forward, Briggs highlights transparency and consumer education as driving forces: "The sudden growth of rye has led to some awkward young spirits being released by inexperienced distillers for uncomfortably high prices, and consumers who were giving those bottles a chance a few years ago are becoming less inclined. Brands with a cute story are becoming less important than brands with a clear story."
One thing is certain about the current state of American rye, according to Ansari: "The growth of rye compared to where it was over a decade ago has been exponential… but it still feels like we've barely begun to scratch the surface."