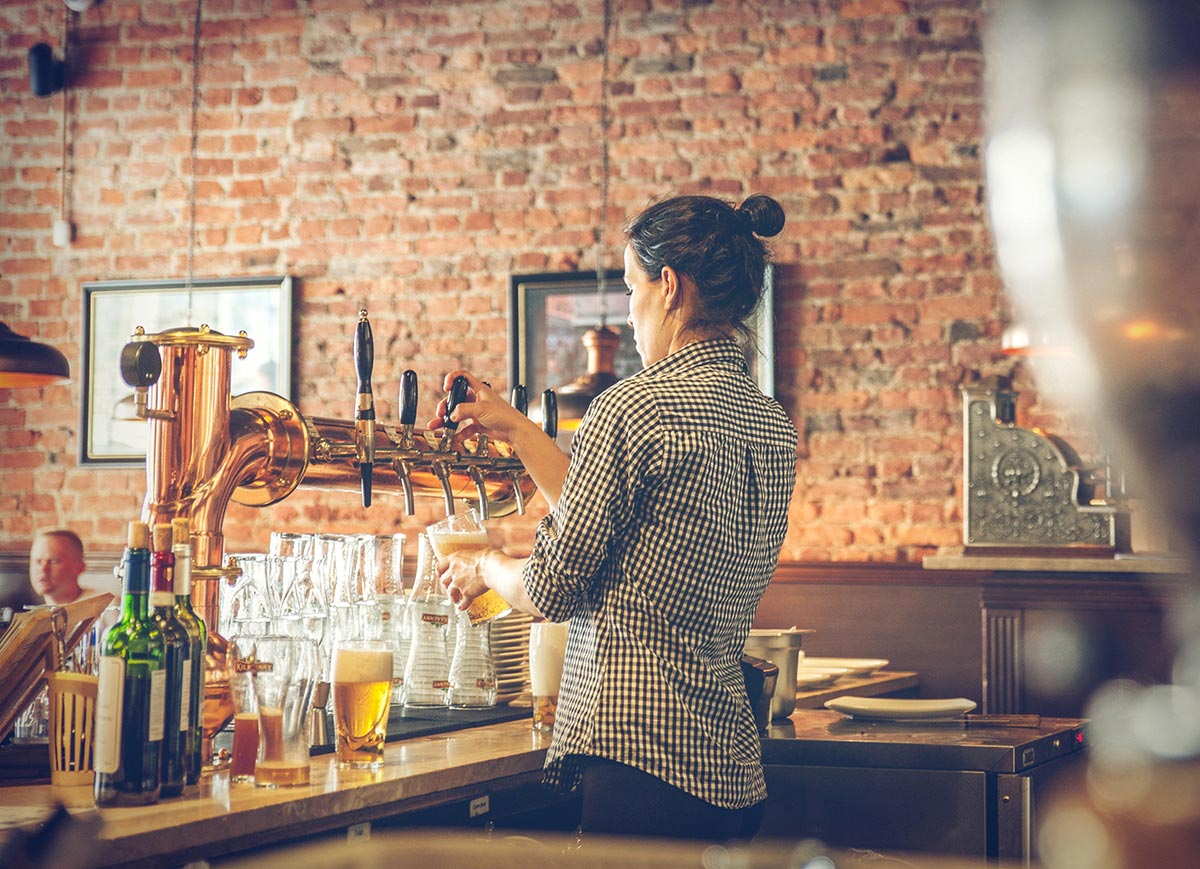 By Jack Kenny
In 1957, the Brickskeller restaurant and bar opened in Washington, D.C., with a menu of 50 beers. At the time, that was the largest selection of beers offered at any drinking place in the world. It was also the first restaurant on earth to offer a beer list. Craft beer didn't exist. The founding Coja family and descendants kept the place going until 2010, by which time it featured more than 1,200 beers.
In a neighborhood of office buildings in Brussels, Belgium, is a nondescript place called Bier Circus. The food menu is extremely limited (have the spaghetti bolognese), but the beer list, all Belgians, is 60 pages in a loose-leaf binder.
The Brickskeller and Bier Circus are legends, meccas in rare air, where beer worshipers go/went to pray and be anointed. Having visited both, I can attest to the aura of sanctity. The saying "so much beer, so little time" never meant more once you crossed those thresholds.
Few beer halls, however, can claim legend rank today. As the industry goes, so does the craft beer bar. Sure, they are ubiquitous; they are for the connoisseur and the fledgling beer lover. But like everything, they change. The multipage beer list is not a thing anymore. There was a time not long ago that the sight of 50 taps would send a shiver up and down the spine (so little time). That pursuit appears to have flagged.
We've seen craft beer pubs rise, change hands, change looks and focus, and fall. What's the formula for success? It's regional, of course; not every town has colleges, government seats and the magic societal something that makes it work. But there are some benchmarks which, if applied, can help set a beer bar apart from others. Here are a few ideas that work.
The staff. Hire people who drink craft beer and who study it, or who want to know more, fast. Being able to talk with customers about styles and specific beers is required. Effective communication is a must. It's okay to hire beer snobs as long as they leave the attitude outside. At the Brickskeller, new hires had to learn everything about beer and the beer list. After six months they were tested, and if they passed, they could keep their jobs.
The taps. Those 50 taps, or 30 taps, no doubt are part of the mystical craft experience for some, but they are costly, right? That much draft beer requires a capacious cellar, a person who spends a great deal of time managing and rotating a large stock and keeping the lines working and clean. (Clean! Always clean!) If your customers are funding that large a draft bill, more power to you. But do you really need 11 IPAs? Eight stouts? Fourteen seasonals? It might be worth considering an option that has become workable.
Beer list: Shrink the draft beer list and change it often. You can have a dozen or so taps and change half of them weekly, maybe more beers one week, fewer the next. This will make your stock and hardware far more manageable, enable you to gauge consumer reactions and preferences far more quickly and easily, and expose your customers more readily to styles they might not yet be familiar with.
Use chalkboards for the draft menu – many already do – and list them and your bottled beers on a printed sheet or two. Nothing fancy. That will tip them off that things change often at your place. If you want to provide info about each beer on the menu, keep it really short.
The pour. Make sure staff knows how to pour properly. Beer styles differ in more than just ingredients. Keep glassware spotless. Use glassware specific to each style, at least for the most popular. Serve at the proper style temperature. This is not a casual suggestion. The right temp is right for good reasons. Look them up.
Important: Sell half pints of everything. Do this if you want to appeal to everybody, my wife included.
A jog around the beer web revealed some customer suggestions about good beer bars. Some are wishful thinking, but others are wise.
• Low-volume music
• No TV
• Reasonable prices
• Hold craft beer events
• Work hard on establishing relationships with customers
• Welcome criticism. If you can do this, you'll attain enlightenment sooner.
Jack Kenny has been writing The Beer Column for The Connecticut Beverage Journal since 1995. Write to him: thebeercolumn@gmail.com.