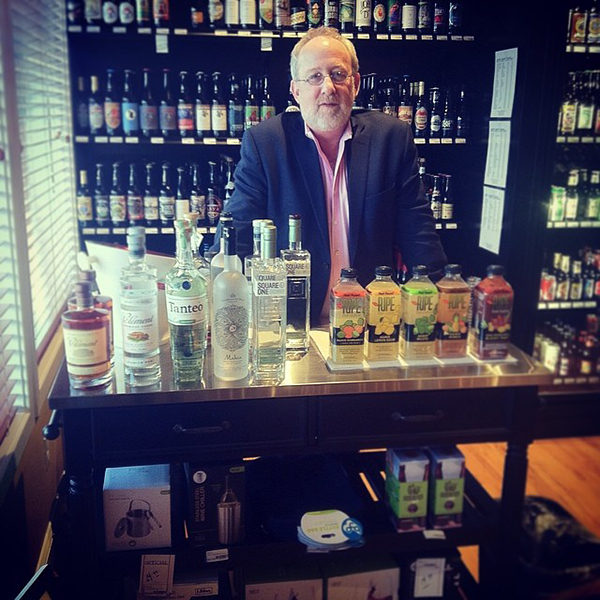 New products find legs in "dynamic" cocktail scene
By Lauren Daley
For the past few years, Providence, R.I. has been evolving into a hip and lively cocktail scene, one that's looking to rival Boston or New York in terms of quality and individuality.
With talented bartenders at stylish bars like The Eddy and The Dorrance, the state capital has become the go-to spot for companies looking to launch to a cool new product to the market.
"Our brands do very well in Rhode Island, and it has to do with the bartenders. The Providence bartenders are very receptive to new products, as long as they're quality, well-made products. They don't just take a bottle, they create a great cocktail and feature in on their menu," said Alexei Beratis, a partner at Inspired Beverage Inc.
"Although it's a small state, [Rhode Island} is a key state for us because their talented bartenders are receptive to new brands, unique products, and they're not afraid to take the first step with it. They don't wait to see what everyone else is doing first," continued Beratis. "Lots of times, we launch a product in Massachusetts and Rhode Island simultaneously, and sales will be ahead in Rhode Island. If you nurture the Rhode Island market, they'll thank you by using and building your brands. A little love goes a long way."
He said the old rule of thumb in the industry is Rhode Island sales should be at 10 percent of your Massachusetts sales, but "we have brands in Rhode Island that are at 80 percent of our Massachusetts salesdue in large part to the lively Providence bar scene," Beratis said. He said Inspired has had steady growth in Rhode Island—each year for the last three years, sales in the state have doubled, he continued.
Providence's market is "dynamic," he said. "There's a brotherhood. Everyone is willing to help each other. There are no little cliques battling each other; it's whole. There's some great talent down there, people working with great spirits and putting out great cocktails. Dynamic sums it up. There's a dynamic culture in Providence."
He mentioned The Eddy, Cook & Brown, The Dorrance, The Grange and El Rancho Grande as spots where his products do particularly well, especially with a few new brands he's launching, including El Buho Mezcal, Rhum Clement, Merlet cognac and Mahia—a new fig-based liqueur he launched in February to "incredible" success, selling out all 50 cases almost instantly.
FROM MOROCCO TO PROVIDENCE
Baron Nahmias, Inc. started making Mahia in 2009; Inspired Beverage brought it to Rhode Island this past February. Beratis said Mahia has found legs in Providence because the product is so unique. "Providence loves unique, quality products with no artificial flavors."
Baron Nahmias President Dorit Nahmias said, "Mahia is unique in that it is distilled from only figs and in small batches. We don't add sugar or enzymes in the fermentation and don't use any neutral spirits in production. This, along with its back story and wide range of mixology applications, make it stand out from the crowd. I also believe that 'foodie' cities like Providence are great places to showcase our product."
Mahia originated in the North African country of Morocco and means "water of life." The liqueur, made of distilled from figs or dates, was traditionally made by the Jewish people of Morocco. Dorit's husband, David, who immigrated to the U.S. in the 1970s, and married her 18 years ago, comes from a century-old family of mahia distillers from his village of Taznakht. Together, David and Dorit made mahia at home in New York until deciding to launch it to the public in 2009 using a craft distillery in Yonkers.
Mahia has wide range of mixology applications—it's a great replacement for rum or tequila or can be enjoyed with something  as simple as lemonade, she said. Both Nahmias and Beratis mentioned the "Sun and Moon" Mahias-based cocktail from The Dorrance as being "particularly outstanding."
 FOAM FUN
Mahia is not the only unique product to find huge success in Providence—far from it. Northeast Regional Manager for Lucas Bols USA Stefanie Melchert said Lucas Bols has had great sales with Bols Yogurt and Bols Foams in Providence."Providence is an up-and-coming cocktail scene with lots of up-and-coming talent. It's a great place to get our products in the hands of people at the forefront of innovation," she said.
"They're open minded in Providence. There's a buzzing scene here," Melchert said. "There are such great (bartenders) in Providence, and it's so under the radar. They're doing very innovative and creative things, but they don't necessarily get the recognition of the larger markets."
She said Bols Natural Yoghurt Liqueur and Bols Foam have both done well in Providence. "The Eddy has a cocktail called The Bottle rocket using our foam, and that's probably the best use of all natural ingredients with something innovative and fun."