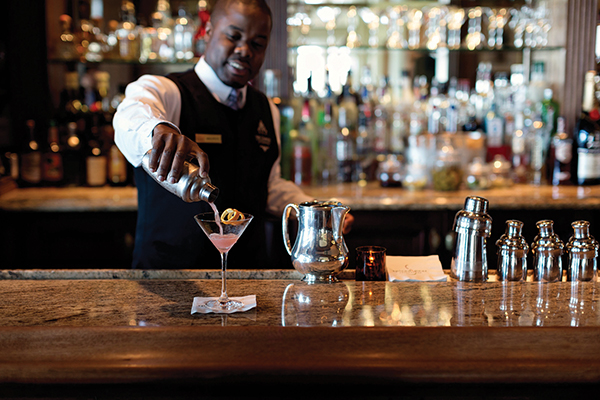 The Spiced Pear at The Chanler, 117 Memorial Blvd, Newport, R.I.
The Spiced Pear is located at The Chanler, a historic, european-styled, five-star luxury hotel on the Cliff Walk in Newport. The mansion hotel rooms are opulent and the ocean view is spectacular. The Spiced Pear, known for its open-air kitchen and New england Tasting Menu, also features an award-winning, extensive wine list and specialty drink menu.
SENIOR MIXOLOGIST: Maurice Taylor
DRINK NAME: Maurice's Cosmopolitan
RECIPE:
1.5 oz. vodka
¼ oz. lime juice
¼ oz. triple sec
¼ oz. cranberry juice
and the "secret ingredient"—a splash of raspberry vodka
"It's sweet like a traditional Cosmopolitan but with a bit of a tart and fruity kick, " said Taylor.