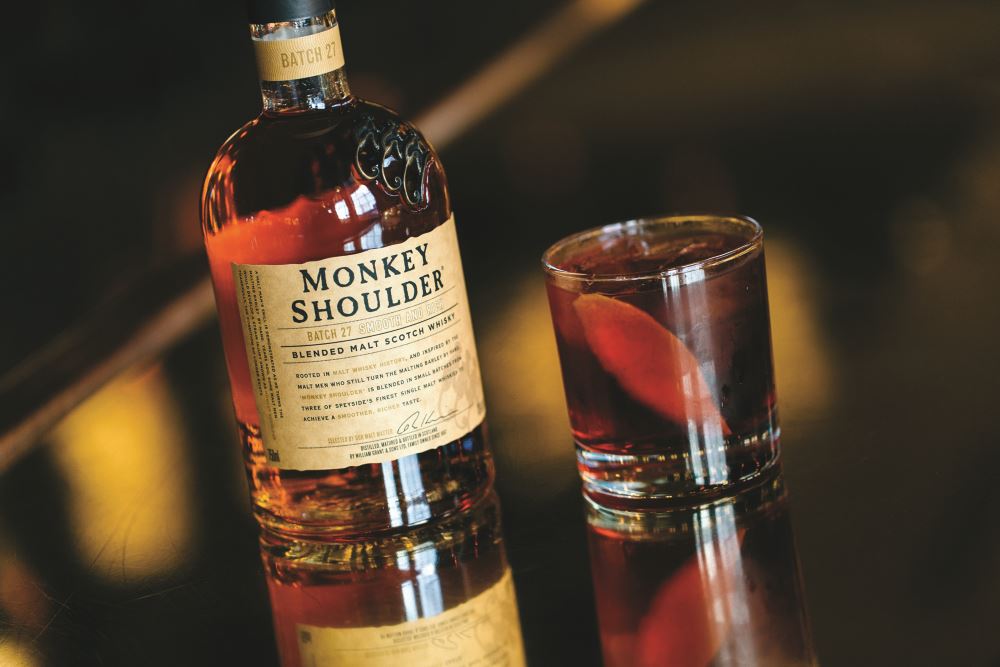 Premiumization Lifts Blended Scotch; Pure Malts Add To The Momentum
By David Lincoln Ross
While single malts have enjoyed much of the Scotch whisky spotlight in recent decades, blends still rule Scotch volume in the U.S. And recent patterns are worth watching. With an uptick in releases of cask-conditioned Scotch aged in Port or Sherry barrels, new bottlings of 12-, 15- and 18-year-old blends, plus a growing array pure malt offerings, premiumization is energizing the blended Scotch category in ways not seen in at least a generation.
For the first time in years, blended Scotch is on the rise, says Kevin Doherty, Beverage Director at Tanner Smith's, a bar and restaurant located near Broadway in New York. "Sales of pure malts or vatted malts are on the up and up. They fill a gap in cocktail bars where you want a single malt flavor without paying a higher price." Tanner Smith's features Pig's Nose and Monkey Shoulder, both at $15.
Merchants, too, see gains for premium and above Scotch blends and pure malts. Calling attention to pure blends is key to generating sales, says Hudson Funk, Manager of Hokus Pokus Liquors, Alexandria, LA: "I promote blended malt Scotch whenever possible; they're maltier, more approachable and more affordable than many single malt Scotches."
Yet there remain real challenges. When total Scotch whisky imports in the U.S. dipped from 7.4 million cases in 2016 to 7.1 million in 2017, according to the Distilled Spirits Council, single malts held tight at 2.1 million cases; the decline came from blends. Yet within that dark cloud, a silver lining is emerging: an uptick in the premium and super-premium sub-categories, says Shefali Murdia, Brand Director for Chivas Regal, Pernod Ricard USA. "It is promising to see the 'Premium and Above' price tier growing [+1.5%], which clearly represents a growth opportunity for Chivas."
Scotch marketers add that blends at all price points are well positioned to capitalize on broader whisky trends. Brian Cox, Bacardi's Vice President, Dewar's, observes: "When you take this premiumization dynamic and combine it with the current continued brown spirits renaissance across all whiskies—North American Whiskey, Scotch, Irish, others—it is abundantly clear that blended Scotch is well positioned to grow through numerous bright spots of untapped opportunity."
Diageo USA's Johnnie Walker Senior Brand Manager Sandhya Padmanabhan, also sees evidence of greater consumer interest in Scotch blends, which has revealed the strength of name brands in the category: "While the blended Scotch category has lagged in industry growth, Johnnie Walker remains leader of the pack, maintaining consistent growth and a steady performance."
And when one looks at the growing importance of Latin/Hispanic demographic, Buchanan's Senior Brand Manager Tara King, also of Diageo USA, is likewise upbeat: "Buchanan's has experienced continuous growth in the past 10+ years. More recently, since the launch and continued momentum against its powerful campaign 'Es Nuestro Momento,' Buchanan's saw its largest share gain in 14 quarters."
Viewed from a global perspective, blended Scotch sales are poised for a welcome worldwide rebound. Eileen Livingston, Senior Director Scotch, International Marketing, Beam Suntory, says of Teacher's and the overall Scotch market; "For the first time in five years, blended Scotch is returning to growth in 2017 (+0,7%); expecting to further grow +2% in the future (CAGR 2016-2021) led by Premium and Blended."
Millennial Matters
As Millennials represent the largest drinking demographic segment, courting them seems natural, although they are notoriously resistant to overt marketing.Pricing comparisons help, notes Steven Rubin, owner of Boston's Huntington Wine & Spirits. "Millennials are drinking less, consumption is down and bourbon has definitely cut into blended Scotch," says Rubin. "While it's hard to promote to Millennials, [we] put vatted, pure and blended malt Scotch brands right next to the store's single malt shelves, so customers can see the price advantage."
Smart merchants also recognize the importance of staff training and tasting. At Pop's Wine & Spirits, Island Park, NY, Manager Victor Doyle applauds the Diageo team and its distributor, Empire Merchants' United division, for hosting a session in which the staff tasted through the entire Johnnie Walker range. Doyle adds that even though blended malts may cost a bit more than a standard blend, "pure blended malts fit in nicely to the store's Scotch section and most Millennials are willing to spend a little more."
Blended Scotch cocktails remain "very popular with our customers," says Sharif Nagaiya, bartender at Bemelmans Bar at the Carlyle Hotel in New York City. He adds the best-seller is the house Whiskey Sour, which features Johnnie Walker Black, simple syrup and fresh-squeezed lemon juice ($24). The bar also stocks Dewar's ($17) and Red Label ($16).
With classic cocktails humming along and premiumization and innovation enlivening the category, Scotch blends and pure malts are far from "on the rocks" these days, and savvy retailers and beverage pros should look forward to profiting from these brands, especially during the upcoming holidays.