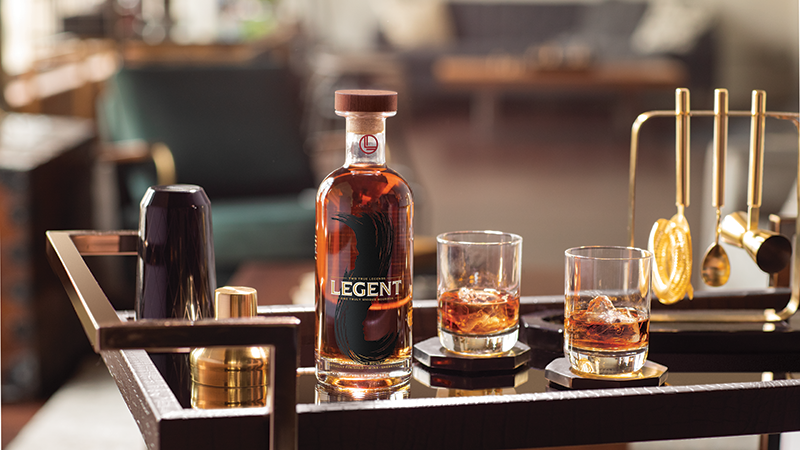 As distillers embrace blending, a new genre of American Whiskey emerges
By Jack Robertiello
---
If you want to start an argument among whiskey fans, begin by taking about rules. There's a great confusion among consumers about what can be called bourbon for example—many still stick to the notion that it must be made only in Kentucky. But few argue over the rules of the big basket called "American Whiskey," mostly because so much attention has been focused on bourbon and rye.
But ever since 2009, when High West Distillery in Utah made a splash with first its Bourye, a blend of bourbon and rye whiskies, many new whiskey fans responded, "Rules? Screw the rules, I want something new!"
Other suppliers followed, with blends of different American whiskies, finishing protocols and other tweaks that moved the result out of the straight bourbon realm and closer to a blended bourbon, a sub-category few people discuss. Clearly it's time to start. Some of the most creative whiskey being crafted in America today is not happening in one type or another, but rather by combining types. With demand strong and aged supplies finite, this new route to market is bound to become even more traveled.
In the blended bourbon arena, distillers are exploring opportunities for innovation. Eight & Sand Blended Bourbon Whiskey is the newest member of MGP's Rack House Series, a mix of bourbon, corn, rye and light whiskey meant to appeal to category newcomers. "The overarching business idea here is that with premiumization of beverages, the blended bourbon category is an opportunity for that premiumization," says Andy Mansinne, MGP's Vice President of Brands. He cites the evolution of boxed wine from shameful habit to holding Napa appellations as evidence of a disregarded category's potential.
Big Names, Bold Ideas
Mega-distiller MGP first created a blended bourbon with Tanner's Creek, available only in Indiana and the first product bottled with the distiller's brand. From that flowed the Rack House Series as an outlet for brainstorming.
William Grant & Sons jumped in not long ago with Fistful of Bourbon, a blend of five bourbons from five sources. "The goal was to tap into the dynamic American whiskey tradition to create a perfectly balanced bourbon with sweet and buttery flavors from the corn, spicy flavors from the rye, and an incredibly smooth mouthfeel and finish," says Kelsey McKechnie, Grant whiskey blender who worked with Grant's Master Blender Brian Kinsman.
"While Scotch whisky and American whiskey are similar in many ways, they're also quite different when it comes to the set of rules within each category and the flavor profiles you find in each. We wanted to introduce a new take on an already well-known and well-established category here," she says.
Blackened, a collaboration between heavy metal band Metallica and the fertile mind of the late distiller Dave Pickerell, not only gets a special sonic treatment, but Pickerell blended bourbon, rye and "whiskey" and then finished it in black brandy barrels.
Many others have played around the edges, and as Roy Danis, ceo of Clyde May's Alabama Style Whiskey's Conecuh Brands, says, "The consumer today is much more about discovery and experimentation. They don't seem to demonstrate the same kind of brand loyalty as previous generations when it comes to spirits."
Clyde May's is an homage to the late moonshiner who dropped baked apples into his barrels to enrich its flavor, and now offers cask strength and reserve iterations. It's something Danis prefers to call whiskey with flavor—apple, cinnamon and vanilla are added at less than 1%, he says.
Styles that disappeared with Prohibition are emerging elsewhere—Oloroso Sherry was once a once-common coloring agent, and Rieger's Kansas City Whiskey includes some 15-year-old from Bodegas Williams & Humbert along with sourced corn, malt and rye whiskies aged a minimum of seven years.
Beam Suntory has long explored this sub-category, notably a few years ago when a limited time offering topped off bourbon with Spanish brandy. Lately they have launched Little Book, an annual expression that recently included Canadian and Kentucky ryes of various ages.
Now they are about to release Legent, a collaboration between master distiller Fred Noe and Suntory's Shinji Fukuyo, Suntory's chief blender—it starts as a Jim Beam recipe bourbon and is aged in wine and Sherry casks before being blended with more bourbon.
Golden Brown Age?
"We are in an exciting golden age of whiskey in which we're continuing to experience high demand, with consumers actively exploring the category and seeking out new, unique whiskey styles and taste profiles," says Rob Mason, VP Whiskey North America, Beam Suntory. "The introduction of high quality, blended whiskies is one exciting trend addressing this consumer demand. We consider the product to be an extremely unique American Whiskey—or, more technically, a Kentucky Straight Bourbon partially finished in Sherry and wine casks."
Whiskey makers, unlike the nerdish connoisseur, have always made clear whiskey of any type is best judged by drinking it however you choose and rarely reverentially. In the case of these many new avenues producers are taking, new flavors and not old rules are key.
As McKechnie says, "Our audience is pretty savvy and can make those connections without taking the whole thing too seriously – at the end of the day, good whiskey is good whiskey."