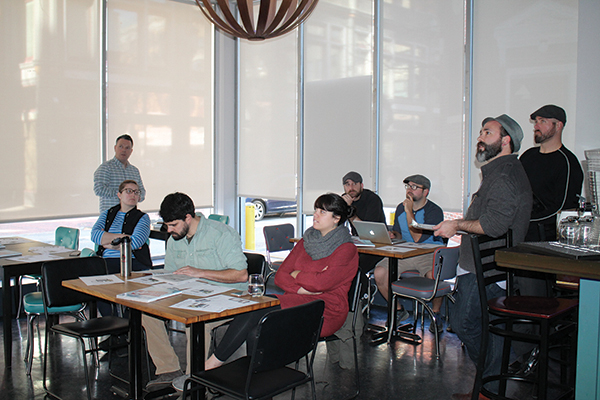 The United States Bartenders Guild Rhode Island (USBG RI) chapter presented an educational seminar on November 14, at Aurora in Providence. The Rhode Island Beverage Journal and Atlantic Importing Company sponsored the seminar, which featured an introduction to The Beverage Journal's market-specific, trade-only product site. Topics included using ordering and order management tools; accessing ratings, tasting and pairing notes; how to use search, price and order features; building portfolios; managing order history and more. Nathan Popinski, Sales Manager from Atlantic Importing & Distributing led an educational tasting of Wigle Landlocked Buckwheat Honey Whiskey, Perc Coffee Liqueur and Garrison Brothers Texas Straight Bourbon Whiskey.
The educational seminar showcased The Beverage Journal's trade-only product search and ordering site focused on finding products and tips for use.
Brian Slone, Subscriber and Account Services Manager, The Beverage Journal and Chris Almeida, USBG RI, presenting to USBG RI members.
The interactive session allowed USBG RI members to access The Beverage Journal's suite of online tools and ordering site from their smart phones, iPads and laptops.