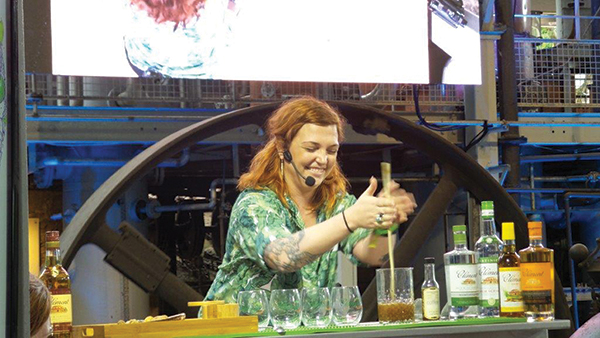 United States Bartenders Guild Rhode Island (USBG RI) chapter member Kayleigh Speck was selected to compete in the World Finals Ti' Punch Cup hosted at Rhum Clément in Martinique. On March 11, Speck competed against 17 other bartenders from 10 different countries across the globe, including the United Kingdom, Switzerland, Italy, Hong Kong, Greece and others. More than 1,400 guests attended the event to watch the global bartenders perform. The three finalists in the competition represented Hong Kong, Italy and Switzerland. Ultimately, Dirk Hany from Switzerland won the Ti' Punch Cup 2016.
Competitor Kayleigh Speck of The Grange representing Rhode Island at the international competition in the first round of the event.
Peter Hollands of the United Kingdom, Competition Judge; Dirk Hany of Widder Bar in Switzerland, Winner; Frank Martucci Twin River Casino's General Manager of Beverage Operations, Competition Judge.