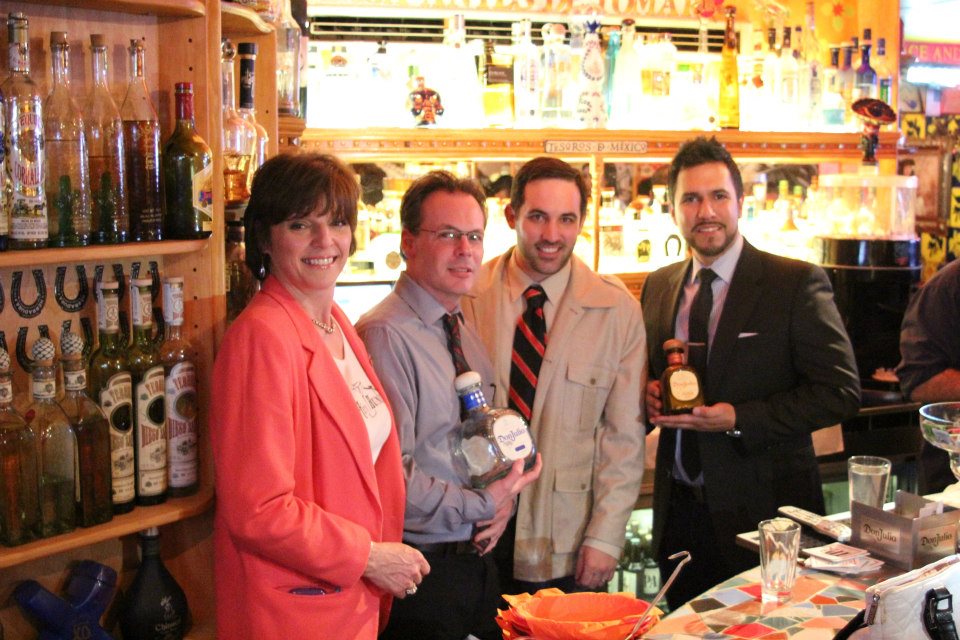 The Three Things I Learned at the USBG 2013 Bartender's Tequila Challenge  and Don Julio Portfolio Tasting
By Tammy Torres, President  & Founder MartiniHunter.com
I recently had the pleasure of judging the Don Julio Tequila cocktail competition and also participating in the Don Julio portfolio tasting and mixer.  Hosted by the United States Bartenders Guild and sponsored by Don Julio Tequila, the event was held at Tequila Mockingbird, a colorful little Mexican restaurant in downtown New Canaan, CT.
Manuel Aczualdez, Brand Ambassador for Don Julio, poured samples of the entire portfolio from Blanco to Real while extolling the virtues and nuances of each variety to the 30+ attendees.  Aczualdez's extensive knowledge provided an impressive history lesson on Don Julio, agave and the art of tequila making.
The Bartender's Tequila Challenge was round one on the way to the final competition later in May.  USBG-CT President Anthony DeSerio, Brand Ambassador Aczualdez and I judged the cocktails in seven categories including, Taste & Balance, Appearance, Creativity, Presentation and Expression of Spirit among others.  The USBG has strict guidelines on the technical aspects of cocktail making so USBG-CT member Carl Summa handled that piece.
Here's my top three take-away's from the event:
There's a lot of Tequila out there.  I found my head spinning trying to remember the subtle differences between them all as Aczualdez continued to toss out his tidbits of spiritual enrichment.  Añejo, Blanco, 1942, Real are but a few of the hundreds of grades and brands for the true tequila aficionado.
These people are serious.  And creative.  They have to be to come up with creative, original recipes that incorporate predetermined, specific ingredients.  They juggle, too.  Explaining the inspiration for their drink to the panel of judges while carefully measuring ingredients; shaking, stirring and pouring; it's quite an accomplishment to get the drink made, tell your story and achieve a high technical score at the same time.
And passionate.  About their cocktails that is. These guys and girls are passionate about what they do and they have a lot of fun while doing it.  Bartending "brothers-in-arms", they share their craft with those wanting to learn and are always thinking ahead to the next concoction.  Tending bar isn't easy, but I doubt they'd trade it for anything else.
 Oh yeah!  You want to know the winner, right?  Dimitrios Zahariadis with his Yale Beet cocktail. Congrats, Dim, and good luck on the next round!  Cheers!
The Yale Beet Margarita
By Dimitrios Zahariadis
 1 oz. beet infused Blanco Don Julio"
 .5 oz. Pierre Ferrand Dry Curracao
 .5 oz. fresh lime juice
 .5 oz. agave nectar
 1 egg white
 Lagavulin spritz
 Lime zest
Combine all ingredients minus the Lagavulin and dry shake (no ice) for about 25 seconds, then add ice and shake for about another 15 seconds and strain into a chilled coupe glass. Spritz cocktail with the Lagavulin and garnish with lime zest. Zahariadis said he flash-infused beets into the Don Julio Blanco by slicing them thin then putting them into an iSi canister and charging them twice with nitrogen cartridges. "I strained out the beets and what's left is the infused ruby-colored tequila that tastes of beets," he added.
Tammy Torres is President and Founder of MartiniHunter.com, a Connecticut focused website. MartiniHunter.com discovers new places to enjoy great cocktails, good food and great bartenders in a comfortable atmosphere while also supporting cocktail culture and related industries in general: "It's like getting a recommendation from a good friend." Photos provided by MartiniHunter.com.