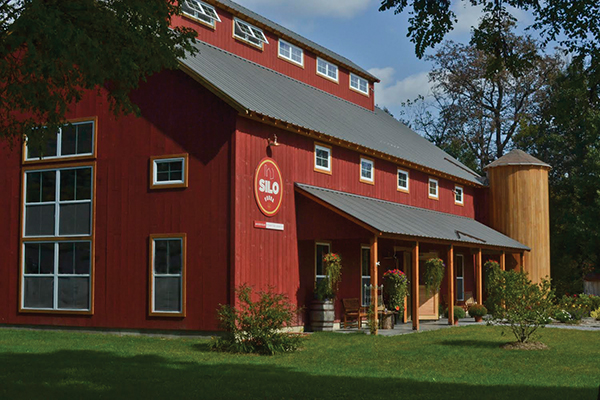 Brand association goes a long way with consumers
By Lauren Daley
The majesty of the mountains, the serenity of the flat, green lakes, the ever-changing colors of the maple trees, skiing — let's face it: there's just something romantic about Vermont. Everybody loves a road trip through the Green Mountains; but more and more frequently, the flavors of the state have been traveling south. Vermont beverage producers say there are a number of reasons why their products are gaining momentum in Connecticut bars, restaurants and liquor stores.
"Vermont has a great brand association. People see the Vermont brand as high-quality, authentic, well-made, sustainable, green," said Mimi Buttenheim, general manager of Vermont Spirits in Hartford, Vt. Vermont Spirits are made from local agriculture, which is another aspect consumers love, she continued.
"We're taking local sugar sources — vodka is maple and whey, our gin is flavored with wild Vermont juniper, the bourbon with maple syrup, the Black Snake Whiskey is from Vermont corn — so we're using local agriculture," Buttenheim said. "We get a lot of vacationers up here from southern New England who have great associations with Vermont."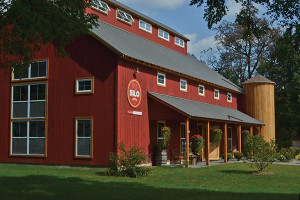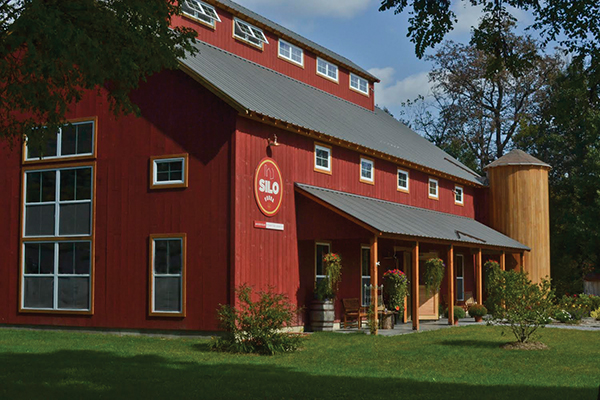 Anne Marie Delaney, co-owner of SILO Distillery in Windsor, Vt., said the locavore and farm-to-bottle movements "have paved the way for people to become interested in what they're drinking. They want to know, 'Where does it come from?' just like they'd find out about the food they're eating. I see that evidence first-hand. We get an enormous number of visitors from Connecticut. Every day, it seems, I get people in here from Connecticut looking to buy our spirits. They like that we use local grains and ingredients. People from Connecticut, in particular, appreciate that." SILO won a bronze medal for its bourbon at the 2014 New York Spirits Competition, where they were also named Vermont Bourbon Distillery of the Year.
Michael Hodge, sales manager at WhistlePig Rye Whiskey in Shoreham, Vt., said Vermont is slowly developing its own terroir in the beverage industry. Terroir, a French term, is loosely translated as "a sense of place," which is embodied in certain characteristic qualities, the sum of the effects that the local environment has had on the production of the product. WhistlePig is set on a 1,200-acre farm and with plans to distill its own rye.
"Vermont is a leader in the farm-to-table movement, a leader in the slow food movement, and now we're bringing that concept to spirits. Vermont products are very much identified by their connection to the land. Location is so important to spirits, and you can certainly apply the concept of terroir — that distinct character or flavor from where it's made, how it's produced — to Vermont beverages," Hodge said.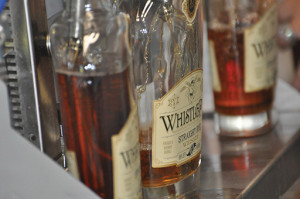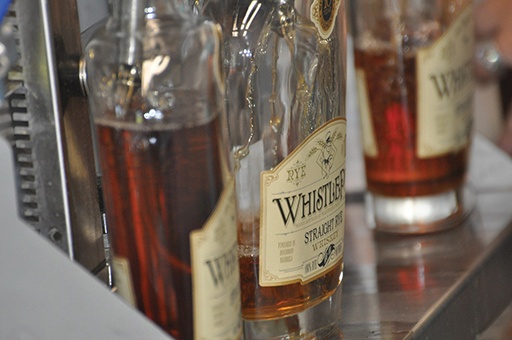 Founder Raj P. Bhakta purchased the farm in 2007, and joined forces with Master Distiller Dave Pickerell of Maker's Mark fame. "We're a young company, but our vision is to eventually become a grain-to-glass, single-estate whiskey, where we grow all our rye right here on the farm. We're even looking into harvesting our own oak to make our own aging barrels," continued Hodge. He said WhistlePig sells well in Connecticut, and business in southern New England is up 60 percent over the past few years due to growing interest in both whiskey and Vermont brands.
Eleanor Leger, co-owner of Eden Ice Cider Co. in Newport, Vt., said Vermont products in general, and Eden in particular, "get lots of receptivity in Connecticut. They totally get it. We walk into a restaurant in Connecticut and owners say, 'Vermont? Oh, I'm interested in this.' We get a lot of people from southern New England in our tasting room who take the cider back with them."
Cider in general is also gaining a foothold in the beverage industry as a whole, said Nate Formalarie, communications manager at Woodchuck Hard Cider in Middlebury, Vt. "Cider is a rapidly-growing product in the beverage world right now. The craft beer movement expanded people's pallets and the gluten-free movement is booming. Cider is naturally gluten-free, so it's growing in popularity."
Formalarie said Woodchuck started near the Okemo ski resort in Ludlow. Vacationers from southern New England "were picking up six-packs, taking them home and telling their friends, and we really grew" into Connecticut. He continued, "The idea of Vermont carries a general feeling of quality and craftsmanship. People from Connecticut come up here to ski, try us, and they like that they can get Woodchuck back at home."
In 2005, visitors made an estimated 13.4 million trips to the state, spending $1.57 billion, according to The Chronicle of Vermont. In 2011, the state government earned $274 million in taxes and fees from tourism, with 89 percent of that from out-of-state visitors.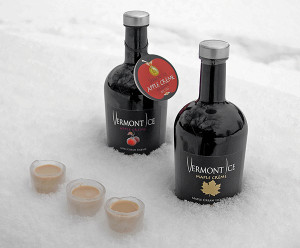 David Boyden, co-owner of Boyden Valley Winery in Cambridge, which produces Vermont Ice Cider, said he has a distributor in the Washington, D.C./Maryland area that groups all Vermont products together under a "Vermont" brand. "There are five of us from Vermont, and it made it easier for them to say to clients: 'OK, this Vermont product had really good success, here are some other Vermont products…' [Clients] identify… Vermont as a brand, with 'Oh, that's the place I like to vacation!' I thought that was a savvy move on the distributor's part," he said.
Michele Noonan, director of marketing for Magic Hat Brewing Company in South Burlington, said she hears anecdotally that finding a beverage from Vermont back home in Connecticut is exciting for consumers. "People from southern New England tell us they love when they can go home and can find Magic Hat No. 9. It's like taking a piece of vacation home with them."
Magic Hat's head brewer Chris Rockwood added that the Green Mountain state has "a lot of younger and up-and-coming brewers that are extremely talented. You know the saying, 'We're from Vermont; we brew what we want.' There's that arrogance to push the envelope in flavor. That kind of confidence can go a long way in brewing." But he also attributed much of the flavor to Vermont's water. "The pH of the water can impart drastically different flavors into a beer," said Rockwood.
Matt Nadeau, founder of Rock Art Brewery in Morrisville, Vt., agreed that there's just something in the water. "Our special treat here in Morrisville is our water. It's some of the best I've tasted. And as we all know, great water is the key to great beer."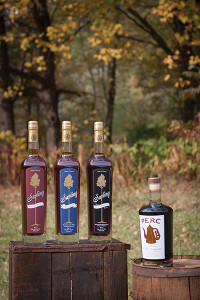 Connecticut native Christian Stromberg fell in love with the state about 12 years ago, and founded Saxtons River Distilling in Brattleboro, where he produces the Sapling family of liqueurs, made with Vermont maple syrup, and Perc, a coffee liqueur. "What Ben & Jerry's did it with ice cream, I [aim] to do with maple liqueur. My maple is tapped from trees that are right here, from a guy who goes snow-shoeing to set up his sugaring lines. There's a true authenticity here in Vermont," said Stromberg. "If people make something up here in Vermont, they want it to be high-quality.  There's nothing explicitly saying 'You can't make a whole, natural product,' but it's frowned upon up here if you don't."
"Vermont has a long tradition of agriculture and farming. With a shorter growing season and longer winter, it has inherent challenges, but it's given rise to a resourceful and creative community that makes maple syrup from tree sap, transforms milk into cheese, makes vodka from honey, and whiskey from organic grains," said Todd Hardie, founder of Caledonia Spirits, a distillery that sits on the banks of the Lamoille River in Hardwick, Vt.
Caledonia partners with local farmers and beekeepers to source organic grains and raw honey to make their gin, vodka and cordial. They also source local white oak and hire a local cooper to make aging barrels. Their Barr Hill Gin won a Gold Medal and was named "Gin of the Year" at the 2013 Hong Kong International Wine and Spirits Competition; and it won Double Gold at the 2012 New York International Spirits Competition.
"Connecticut has been a strong state for us," said Alex Weiss, Caledonia's director of sales. "There are so many Connecticut folks who vacation in Vermont, eating and drinking the local flavor, that we've seen some really positive cross-pollination and ever-growing sales in Connecticut."
Editor's note: Whistlepig is made in Canada and aged and bottled in U.S.