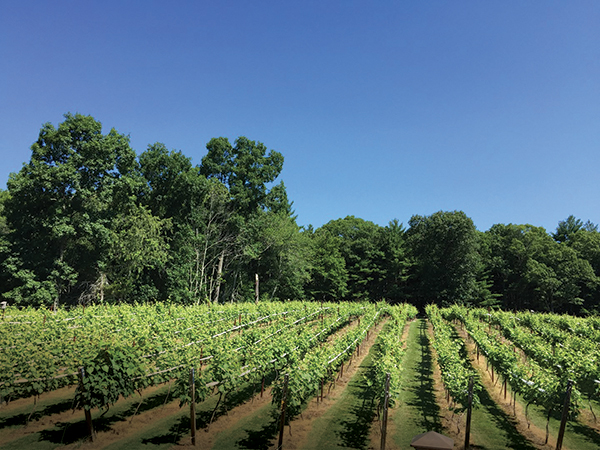 Education creates constants for the O'Connor family
By Nancy Kirsch
When Nickle Creek Vineyard won The Providence Journal Summer Guide Reader Challenge in 2015, no one was more amazed than vineyard owners Steve and Sheri O'Connor. Throughout its brief history, Nickle Creek has surprised them. "We've had success beyond what we envisioned; I thought someone would stroll in once in a while and I would talk … about the bottle of wine I made," Steve said. However, during their first year selling wines in 2011, people waited 40 minutes for a tasting – even without advertising.
The couple has other commitments alongside their wine. Steve works full-time for Pfizer in Groton, Connecticut while Sheri homeschools their sons, Nicholas, 13, and Kyle, 11. "I take care of 90 percent of the vineyard. I do the tying, tucking, cutting and maintenance of the vines," said Sheri. "…Steve does the spraying. Picking is a family effort. Sometimes, it's just the kids and me planting; sometimes, it's the four of us." Steve makes the wines at night and on weekends, said Sheri. "I don't do anything with the winemaking, except when I'm the 'go-fer' … go for this; go for that."
Steve's desire to have their sons grow up on a farm, as he did, was the inspiration for a winery, though neither he nor Sheri knew what to expect. "The biggest learning curve was growing grapes, and it still is," said Steve. "There's always something new and innovative, and more to learn."
Just as the couple learned grape growing and winemaking from others through informal apprenticeships, their sons are learning from them. Intimately involved in all aspects of the business, both boys enjoy handpicking the grapes and making the wine. "We get them up at 5 a.m. on a harvest day," said Sheri. "We have to start that early."
Once heavily wooded and rocky, their 10-acre property, ensconced in rural Foster, includes three acres planted with vines. They plan to clear and plant an additional two or three acres, with a goal to cease purchasing grapes from other New England vineyards. "We've been planting pretty steadily," said Steve. "Last year, we  got 12,000 pounds [about 5,500 bottles of wine] from half the vineyard."
Although Nickle Creek has not yet entered any wines in competitions, feedback has been positive from customers who sample their wines. Sheri's favorite is their Foster White, while Steve, who gravitates toward reds, can't choose just one. His favorite is the wine he's working with at the time. "A lot of folks say they get headaches with reds, but I leave the 'headache-makers' out," he said, laughing. "There's no rhyme or reason for what sells. The Cabernet sells consistently through the summer, but the Foster Red, a heavier red, sells more in fall and winter. We do fruit wines in the summer; those are seasonal. When they sell out, they're gone."
The vast majority of their wines are sold at their onsite shop, which hosts wine tastings and sells some locally made honey, chocolates, maple syrup, candles, soaps, lotions and wine accessories. The O'Connor boys help deliver cases of wine to four area liquor stores that stock Nickle Creek.
The vineyard's "outside-the-box" gift for oenophiles is an additional source of funding: Nickle Creek offers an "adopt-a-vine" program. "It costs $65 to adopt one of the white grape varietal vines for three seasons," said Sheri. With that, a purchaser receives one bottle of wine each season for three seasons, an adoption certificate and a special seasonal gift. "A lot of people like this for gifts for Christmas, weddings, anniversaries, etc.," she said.
Nickle Creek Vineyard is located on 12 King Road in Foster, Rhode Island.