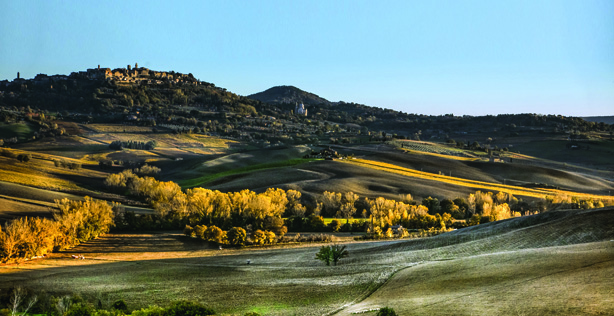 New reasons to rediscover Montepulciano's noble wine.
By Kristen Wolfe Bieler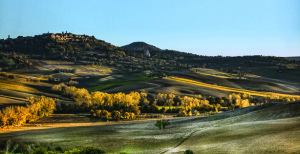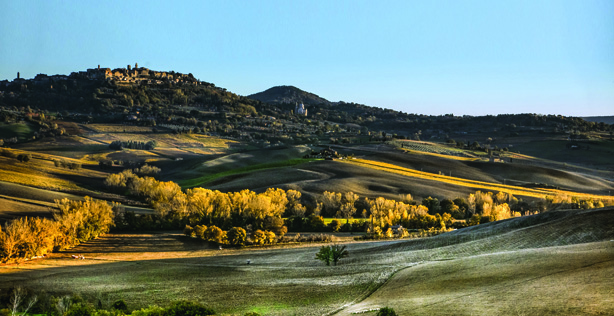 In the Tuscan trifecta of great wines, Vino Nobile di Montepulciano suffers from middle child syndrome—it's largely ignored and often passed over. It's a dramatic role reversal for a region that once dwarfed its neighbors—Chianti and Brunello di Montalcino—in both pedigree and esteem.
Vino Nobile (Vee-no NO-bee-lay), Montepulciano's most important wine, got its name in the 1800s from the Medici family (it translates as "wine for nobles"); and the small region in Southeast Tuscany was the first in Italy to attain the prestigious DOCG status, in 1980.
During the second half of the 20th century, however, Chianti and Brunello di Montalcino ascended in fame and fortune, a result of outside investment and marketing savvy. Montepulciano slid backward. Quality slumped and the spotlight faded.
Yet a closer look at Montepulciano today reveals a more dynamic landscape. Younger winemakers, new ownership and a more international outlook are helping Montepulciano reclaim its reputation as one of Italy's best sources for Sangiovese. The challenge remains getting people to recognize it.
"I've always felt a little sorry for Montepulciano," says Ed McCarthy, author of Italian Wine for Dummies. "There are tons of great producers there and quality is better than ever, but they suffer from lack of recognition." There are only about a dozen producers of Vino Nobile with good distribution in the U.S. And it doesn't help, he adds, that the region gets confused with the grape Montepulciano grown in southern Italy's Abruzzo region. The bulk of Montepulciano d'Abruzzos are of the cheap and quaffable variety, and Vino Nobile does not benefit from the association.
Fresh Twists, Old Roots
Sometimes a sleepy wine region needs a shot in the arm, and for Montepulciano, that would be Virginie Saverys. From a Belgian shipping family, Saverys bought the declining Avignonesi estate in 2009 and has become one of the most important ambassadors for Vino Nobile. She turned around the winery, purchased scores of new vineyards and converted the entire estate to organic farming. Avignonesi is the largest producer in Italy practicing biodynamic viticulture today (though not certified due to the use of  machine harvesters).
With her goal of "marrying the best of  the technology and biodynamic techniques," she hired Australian winemaker, Ashleigh Seymour. Ironically, the foreign approach has restored an authentic Italian taste profile, and Avignonesi's wines are some of the area's most soulful and terroir-driven. Thanks to organic farming and a clean winery, the wines are more alive, says Seymour: "Hygiene has been a big problem in Montepulciano historically. When wineries are dirty, it mutes the fruit character that Sangiovese expresses."
The Montepulciano Signature
Some describe Vino Nobile as less tannic and structured than Brunello and less acidic than Chianti Classico, and while this may have something to do with the region's particular clone of Sangiovese (called Prugnolo Gentile) it's likely more a factor of terroir and climate. With high average elevation, Montepulciano is more Mediterranean than Chianti, which gives softer acidity and riper fruit flavors, says Seymour, yet it's not as warm as Montalcino, so the wines are lighter-bodied. "The signature profile here is spice, herbs, bright fruit and earth," she describes.
Balance sets the region's wines apart, says Giulio Caporali, who purchased the Valdipiatta estate in the 1980s and runs it with his daughter, Miriam. "Brunello has more muscle and Chianti can be tart; here we have balanced wines that are elegant and feminine," he says. Vino Nobile's aging requirements—just two years in cask compared to Brunello's four—adds to their approachability, Caporali adds. While in general Brunello may achieve more complexity and have greater aging potential, Vino Nobile is fresher and more consumer-friendly out of the gate.
Montepulciano's heavy clay soils also play a role. "The red soils in Montepulciano allow the roots to go very deep, which brings more minerality and fruit flavors than other parts of Tuscany," says Luca De Ferrari who heads his family's legendary Boscarelli estate with his brother, Nicolò, and mother, Paola. Boscarelli's traditionally-styled wines are made in the family's tiny, ultra-old-school, low-ceilinged winery which hasn't changed much since the 1960s. (Boscarelli's smoky, perfumed Il Nocio 2011 is particularly exquisite). "Yet we still have much to learn about these soils," De Ferrari explains. "What is Vino Nobile? We are still defining."
Nowhere is the balance between tradition and modernity more visible than at the ultra-sleek, brand new winery at Dei, run by Caterina Dei, a professional opera singer and granddaughter of the founder. The facility is gravity-fed, geothermal-heated and built out of travertine stone (the other Dei family business) and resembles a Roman amphitheater. Dei's organically grown wines are lush, aromatic and fruit-driven; they are more modern for sure, yet still supremely elegant.
Sangiovese Reclaims Center Stage
The experimentation with international varieties, which held sway throughout Italy in recent decades, has been at work in Montepulciano as well. In fact, denomination rules recently increased the amount of non-Sangiovese grapes permitted in Vino Nobile to 30%. Yet quality producers today lean much more towards 100% Sangiovese for their Vino Nobile—a critical step for the region's resurgence, believes Jeff Porter, the Beverage Director for Batali & Bastianich Hospitality Group: "People today don't want a homogeneous flavor profile, they want distinct expressions and the return to classic production styles. Focus on Sangiovese is key to expressing Montepulciano's terroir. The region has stopped trying to be something they thought people wanted in the past."
Young winemakers are passionately driving this trend. Alberto Brini, whose family acquired Il Conventino in 2003, was among the first in Montepulciano to farm organically. "Now that we better understand how to work with Sangiovese in the vineyard to tame its acidity and tannins, we don't need grapes like Merlot," Brini says.
Michele Manelli, who founded Salcheto winery in 1997, takes a high-tech approach to the challenges of Sangiovese. "The soul of Vino Nobile is freshness—the biggest problem is greenness and rough tannins," he says. Manelli worked with a scuba diving company to help design a system that traps CO2 given off during fermentation and pumps it back through the tank where it bubbles gently through the grapes—extracting more fruit flavors and less tannins. (Partially underground, Salcheto is 100% energy self-sufficient and is lit entirely by natural light brought through a system of pipes with mirrors.)
Along with the renewed focus on Sangiovese, another important shift is restraint in oak. "In the past five years, I have seen producers here really come to understand how to use oak barrels to highlight, not dominate the wines," Porter observes. A legitimate criticism of Vino Nobile for years was that the fruit was drowned out by extended oak aging—or too much new French oak—but the pendulum has swung back.
Owner Frederico Carletti, whose family purchased Poliziano—the closest thing Montepulciano has to a household name in the U.S. market—made the decision to dial back on the oak in 2008 in favor of larger, more neutral casks for his Vino Nobile, and single vineyard trophy bottling Asinone. The wines are still bolder, darker and more powerful than many in the region, but fresher and more terroir-driven. "Like everyone, my palate evolves and we wanted a less oak influenced taste profile. People really want taste terroir today," he says. Poliziano also made the move toward organic viticulture, and is experimenting with native yeasts. "The best expression of terroir isn't always by sticking with tradition—we want more technology and less chemistry," he observes.
Finding the Spotlight
Still, the region's reputation has yet to catch up to the wine quality. There is a lot of discussion in Montepulciano over how to best achieve this. McCarthy recommends a name abbreviation: "For Americans, 'Vino Nobile di Montepulciano' is a mouthful—they should be marketing these wines simply as 'Nobile.'"
One helpful selling point is their value. Most Vino Nobiles retail for less than $30, about half of what you would pay for Brunello in any vintage (and the region's lesser wine, Rossi di Montepulciano, is more affordable still). "They offer terrific value for retailers and restaurants," says Porter. "If someone wants a Brunello but has sticker shock, they can still have the identity of great Sangiovese with Vino Nobile," says Porter.
Plus, they tend to be more reliable than Chianti, says McCarthy: "Because there is far less Vino Nobile produced, and even fewer that are exported here, they represent very solid quality. Compared with other parts of Tuscany, you're not going to find too many dogs in Vino Nobile."