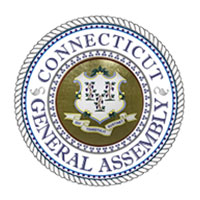 Wine in grocery stores draws debate
By Sara Capozzi
The issue of whether the expansion of sales of wine, mead and beer to food stores and "big box" stores is before the Connecticut General Assembly, as part of the omnibus bill H.B. 6101. While all sections of the bill were subject for public testimony, it was Sections 55 and 56 that drew the lengthiest comments and exploration for a proposal that otherwise saw support in its legislative updates.
The myriad testimony of package store owners, winery and brewery representatives, industry experts, lobbyists and consumers converged during a live virtual hearing with the General Law Committee on Feb. 4, led by State Rep. Michael D'Agostino (D-Hamden) and State Sen. Kevin Witkos (R-Canton).
If passed, supporters say the measures would offer consumers more convenience and choice of where to shop. Opponents are concerned the proposed law will eventually leach sales and force closures within the state's more than 1,250 package stores, many of whom are small family-owned operations. The committee has until March 30 to act.
Monica McCall, Wine Buyer for Kindred Spirits & Wine – which has four locations in Fairfield County – testified that if the bill were to pass, "There's no doubt that numerous stores, wholesalers, importers will close their doors. It will take sales away from one group and then just give it to another group," she said. "These big chains will not be adding more square footage, they will not need to hire anymore people, they'll just use the current employees that they have. Money will flow to the big corporations who do not reinvest in our state. Allowing wine to be sold in other outlets will not provide more state revenue through more sales."
In response to a question about the argued benefit of shopper "convenience," McCall said: "There's over 1,200 wine shops and package stores in the state. That's one for every 2,500 people. Not one person has ever complained that there's not enough outlets to purchase their wine, beer or spirits."
Adam Sass, Co-owner of the family-owned Sassy Liquors in Southington and Spendless Discount Liquors in Manchester, echoed the thoughts that the proposed law change would negatively impact small-business owners in the state and the many people employed through those businesses. "Almost all of the state's politicians say we need to keep small businesses going, and when I see a bill like this, I am amazed," he said.
"You want to give it all away to the likes of Walmart, ShopRite and [CVS], allowing these corporations to take money away from the state's economy. None of the people that own or run these corporations spend their money here in Connecticut. This is a change to the regulation that would hurt all of these Connecticut small-business owners and the families we employ. This sort of change would cost jobs all across Connecticut and this is a fact – if you need evidence simply look at any other state that has made a similar change to the distribution model and repeatedly you see that the mom-and-pop shops close," said Sass.
Stephen Downes, Owner of the CT Beverage Mart and President of the Connecticut Package Stores Association, stated his "strong opposition" to the bill. "In today's unfavorable retail environment, which is incredibly competitive, any loss of sales at grocery stores will have a tremendous impact on our bottom line," he said. "This will cause hundreds of stores to close. I know this because I just had this experience in New Britain, my New Britain store, which I had to close … it's like pulling the rug out from underneath people by changing the laws in a haphazard method, especially during a pandemic when we all work so hard to survive.
"Package stores have done a tremendous job making it work … I think it's extremely unfair to change laws willy-nilly that will impact thousands of livelihoods throughout the state of Connecticut. Besides just the package store employees, it will impact the thousands of workers at the wholesale end and business, including salespeople and drivers … I don't want the disruption of our industry. I want to keep the Connecticut model, not the Florida model," Downes said
Several consumers spoke in favor of the proposed law during the hearing, expressing their desire for more convenience, saying that being able to buy wine while food shopping would result in fewer stops during their shopping routines. Tricia Levesque said, "Many states in our nation allow wine to be sold in grocery stores, 32 to be exact. I hope that Connecticut would have the foresight to catch up with our neighboring states and allow our citizens the same choices that they get elsewhere and help our retailers do what they can to remain viable." Levesque disclosed in a follow-up question asked by Witkos that she is employed by the Connecticut Food Association, which supports the bill, but was offering her testimony as a shopper.
Salvatore Abate, Secretary Treasurer and Principal Executive Officer of Teamsters Union Local 443 New Haven Chapter, said, "These proposals would be an economic disaster for thousands of women and men, our Connecticut teamster members that are engaged in the supply, delivery, distribution and picking of these products in the state of Connecticut. These two sections assure that hundreds of package stores will close and that thousands of our members will be out of work."
And in response to what one consumer mentioned earlier during the hearing about wanting "one-stop shopping," Abate said: "In response to 'one-stop shopping,' if that doesn't scare you as a committee, what that could do to us as a state, one-stop shopping will destroy the package store industry, along with thousands of jobs, not just my members, but all Connecticut people. And it's not just the individual that loses his job, it's the family that loses it."
Representatives from several state wineries also gave testimonies in favor of the proposed legislation, citing their hardship from COVID-19's impacts on tourism and visits. Jonathan Edwards, Owner of Jonathan Edwards Winery in North Stonington, argued that since breweries have had the opportunity to be placed in supermarkets, wineries deserve the same chance.
"It's time to create full parity between the brewing industry and the wine industry," Edwards said. "It's time to take the straitjacket off of Connecticut farm wineries and allow us the same opportunity that the brewers enjoy, and that means sales in grocery stores. We applaud our partnerships with package stores, we appreciate those that have supported us, but we'd really like the same rights that the brewers enjoy and having equity in the marketplace for our products."
Jamie Jones, Owner of Jones Family Farms and Winery, also supports Section 55 of the bill. "Farmers in Connecticut have struggled, mainly because they lack market access," Jones said. "The past two years have been very transformative to the Connecticut farm winery. Unfortunately, not in a positive way. Two years ago, Public Act 19-24 was passed. Intended or not, it eliminated the benefits to wineries that grow their crops in Connecticut and put us in parity with all Connecticut manufacturers who do not need to grow their ingredients within our state. The reality is now we need to compete in a new marketplace."
Along with restrictions brought on by the pandemic, the winery was forced to close its tasting room and its sales have declined almost 25%. Jones said about 10% of its wine sales are attributed to package store sales in approximately 30 retail locations in the state but have never grown beyond that. "I'm enormously grateful to the handful of liquor stores that have embraced locally grown and our farm; however, I would say that's been the exception and not the rule," he said. "If their industry had embraced the local movement, why couldn't they have offered an allocation of shelf space like what's being proposed for small manufacturers in this bill?"
Later in the hearing as the question came up, State Rep. D'Agostino said the committee would mandate delegated shelf space, be it 10% or another percentage, to smaller state wineries to be circulated in as part of the process in reviewing the final for any passage.
Designated shelf space specifically for wines from smaller wineries, who produce less than 100,000 gallons per year, is the reference in question. Larry Cafero, Executive Director and General Counsel of the Wine & Spirits Wholesalers of Connecticut, argued that the proposed law as it is written will not guarantee Connecticut wineries placement on grocery store shelves.
Proponents think this part of the law could help give Connecticut's smaller wineries more exposure in the market. However, the legislature cannot dictate state-specific product sales, Cafero said, due to the U.S. Constitution Dormant Commerce Clause, which he explained "ruled that no state can mandate different treatment for in-state or out-of-state economic interests.
"Do not believe for a second that that will assure Connecticut wineries to be in that 10%," he said. "It will not. Here's some facts that I think might interest you: There are 11,000 wineries in the United States of America, 10,750 of them make 100,00 gallons or less. There are a lot of California wineries out there that fall right in line with our small Connecticut wineries. You should know that there's a lot of small wineries out there that are owned by the big boys; [they] produce only 20,000 cases per year … If the best you could do to protect Connecticut wineries is to put in a 100,000-gallon limit or below, do not think for a moment that that will assure Connecticut wineries to be on that shelf."
In response to a question from State Rep. Holly Cheeseman (R-East Lyme) about whether allowing wine in food stores would give consumers more choices, Cafero said: "We have more variety per capita than any other state in the country. We have more brands, SKUs, sizes, than many, many states that are much larger than us." Cafero referenced Tennessee and Florida, states which have allowed the sale of wine in grocery stores and now have very little product diversity in terms of SKUs. "The economics of a liquor store is that wine drives the biggest profit, but within the wine family that allows them to carry these rare, esoteric or even Connecticut wine is the profit they make off the big sellers, the national brands," he said.
"Proceed with caution," Cafero said in his final comments to the General Law Committee. "Having been a legislator myself, I know that sometimes with all the best of intentions we draft pieces of legislation that have these unintended consequences. I don't think anybody on this committee is trying to hurt package stores, I don't think anyone's trying to hurt supermarkets or help them at the expense of anyone else, I think we're trying to make a good system better. I just ask you two things: Take stock of what we have. It's a unique and very successful form of alcohol beverage delivery … please be aware of [what] you think might be helping someone could turn around and hurt them."