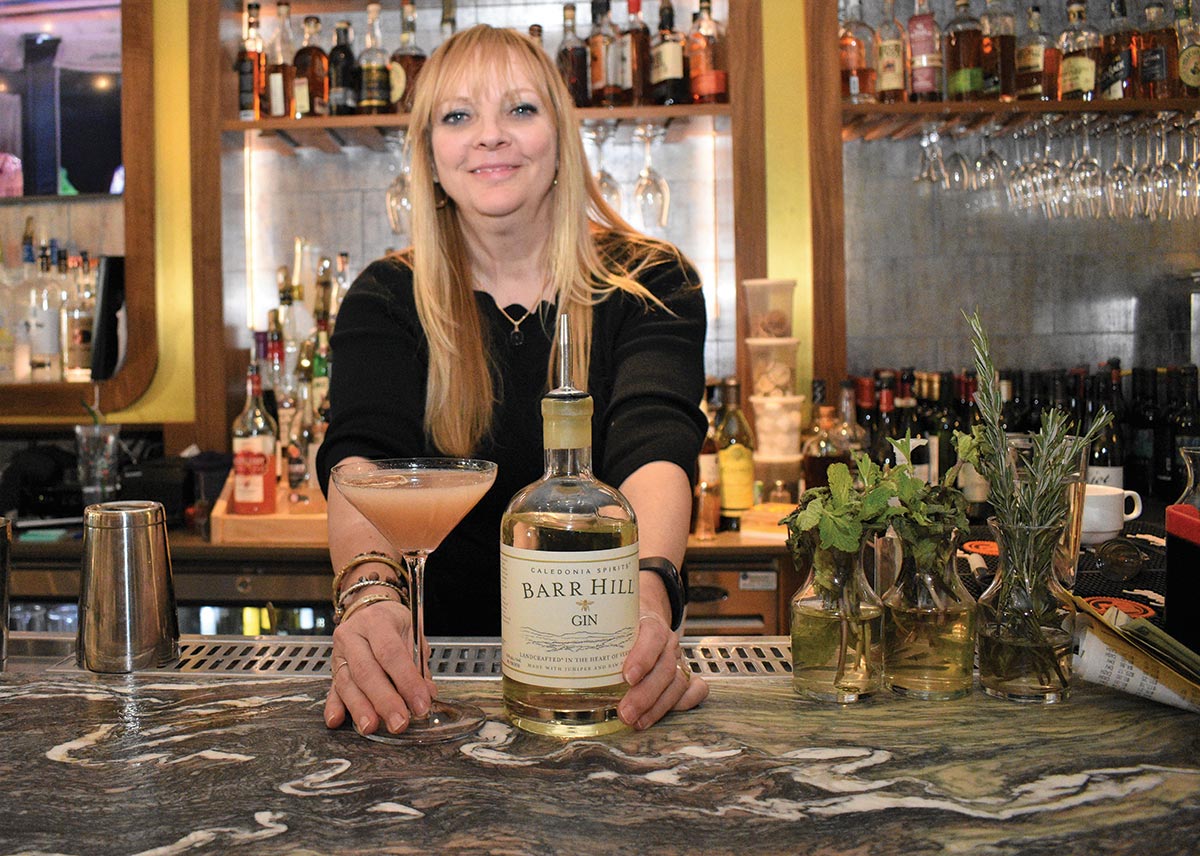 Vyne Restaurant & Bar
1365 Whittemore Road, Second Floor
Middlebury, CT
Opened in 2018, Vyne Restaurant & Bar is a destination venue owned by the Yimoyines family who have also owned and operated Middlebury Consignment furniture store since 2009. Guests will find an upscale atmosphere, with design and décor possessing a modern but "country-chic" aesthetic including its pickled wood walls, marble tables, a "Green Garden" wall and open display kitchen. Vyne specializes in inventive American cuisine with Mediterranean flair, led by Executive Chef Philip Polzella. The venue also offers an extensive wine list, beer and specialty craft cocktails. "We have quite a few great drinks, but one that is near and dear to our hearts is our Lavender Bee's Knees," said Beverage Coordinator Bonnie Sharon. "Just prior to COVID, I met the brand ambassador for Barr Hill Gin from Montpelier, Vermont who supplied us with lots of honey to use in our cocktails. When I learned that pollinators are responsible for one out of every three bites of food we eat, I became devoted to the cause, and the fact that Barr Hill has apiaries and makes their own honey made me love them unconditionally." Each September, Vyne has participated in Barr Hill's annual Bee's Knees Week, an effort to raise funds for honeybee preservation. Last year, the venue hosted a kickoff event on its patio, serving Barr Hill Gin Bee's Knees cocktails paired with cuisine featuring Barr Hill honey.
Beverage Coordinator: Bonnie Sharon Lavender
Cocktail: Lavender Bee's Knees
Ingredients:
» 2 oz. Barr Hill Gin or Barr Hill Tom Cat Reserve
» 1.5 oz. Lavender syrup*
» 1 oz. Freshly squeezed lemon juice
» Optional garnish: Dehydrated lemon slice, fresh lavender sprigs
*To make lavender syrup, steep fresh lavender in hot water for an hour. Then, combine the steeped lavender water with an equal quantity of honey.
Method: Add gin, lavender syrup and lemon juice to a shaker over ice. Shake and pour into a martini glass. Garnish with lemon slice and lavender sprigs.
As a complement to the lavender-infused honey syrup, during warm weather months, "We add lavender sprigs right from our garden over lemons we dehydrate in-house for the garnish," Sharon said. The traditional Bee's Knees cocktail, a classic made with gin, lemon and honey, dates back to 1921. At Vyne, creative variations are ready for the next round of fundraising for the good of bees with Barr Hill. "I have such a passion for anything that brings awareness to bees and pollinators since so many things are harmful to them and they are rapidly declining."