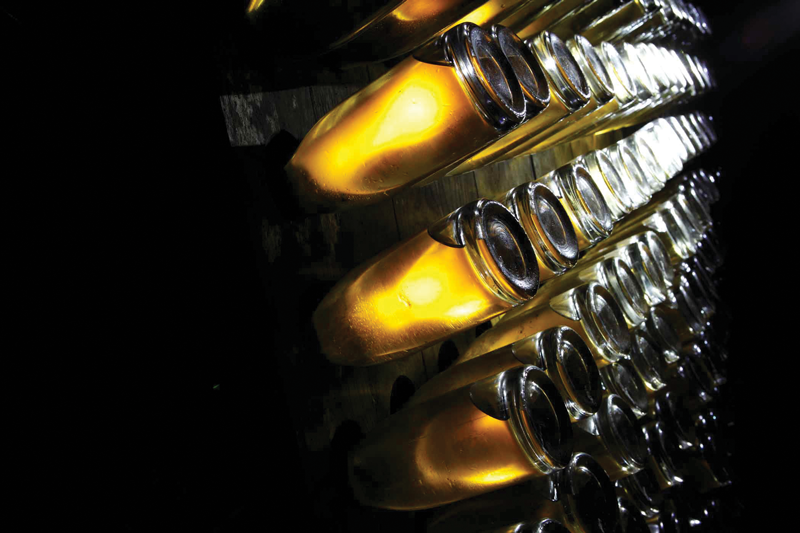 Shifting Conditions Create An Opportunity For Vintage-Dated Bubbly
By Jim Clarke
For many, thinking about Champagne has long been simple: It's bubbly, it's French, it's celebratory. But as sparkling wine grows more and more popular, the details are becoming more apparent, and more important. The production technique behind Champagne has become more emphasized, especially in contrast with Prosecco. The grapes and regions are more well-known, too. And finally, vintage character has come into play.
Vintage Champagne is not exactly new; Moët & Chandon has been making their Grand Vintage since 1842. But in Champagne's cool, unreliable climate, blending vintages has long made sense, both for consistency of product and focus of message. In turn, Champagne marketing messages gravitated toward brand, and house (non-vintage) style.
Vintage Champagnes were true variables, coming along a few times each decade when a producer felt they had something exceptional. But as with wines from other parts of the world, style could vary. For instance, while the NV Louis Roederer is remarkably consistent in style, their vintage 2003 is ripe and lush, and the 2002 powerful and crisp. Both are excellent, but may not appeal to the same drinker, just like a fan of 2011 Napa Cabernet may not care for the 2009.
Climate Change Brings New Dynamic
Much as modern viticultural and winemaking techniques have smoothed out vintage variation in other regions, it has also become easier to make vintage Champagnes more frequently. Global warming has played a part. "It is clear that climate change has an impact on quality in Champagne," says Benoit Gouez, Chef de Cave at Moët & Chandon. "It is easier and easier to reach high level of grape maturity. Thus, we tend to harvest sooner and sooner to preserve some freshness in the grapes."
Moët had never started to harvest in August before 2003; since then, 2018 has been the fourth time they began so early. Gouez sees the positive in this: "We have more opportunities to declare vintage years, and to craft vintage champagne with more individual personality."
Finding Its Place
Price-wise, vintage Champagnes fall in a no-man's land in between non-vintage and top-end prestige cuvées like Cristal and Dom Pérignon. The latter have seen steady growth in the U.S. market since 2008. "In the context of the larger Champagne market there has been a trend over the past 20 years to increase the value of the Champagnes on offer," says consultant and author Charles Curtis, MW. "I definitely think that vintage as a category, as opposed to prestige cuvée, has struggled a bit to find the identity that I always thought that it deserves," says Curtis. That's despite the fact that most prestige cuvées are indeed vintage wines—a fact lost on more than a handful of fans.
Since they fall in that middle ground, selling vintage Champagnes calls for an attentive, informed staff, and often, a step-by-step approach. Bodhi Landa, sommelier at Effervescence, a sparkling wine-themed wine bar in New Orleans, confirms that most guests try their first vintage Champagne by trading up from their "regular" non-vintage Champagne, staying within the portfolio of one of the larger houses. Fans of grand marques like Moët & Chandon, Charles Heidsieck, Piper-Heidsieck and Veuve Clicquot—as well as labels like Nicolas Feuillatte, Bollinger and Krug that are best-known for their non-vintage blends—are ripe candidates for conversion.
On the other hand, Landa also says they see more and more guests with an interest in grower-producers as a catgory, which lends itself to selling vintage Champagnes: "They'll taste, say, a Pierre Gimonnet and a Gaston Chiquet from the same vintage to try and see the differences in style."Food can often provide the impetus to pop open a vintage Champagne. "Let's say young or non-vintage Champagnes are about freshness," says Landa. "With age they start to show tertiary character or notes like ginger or smoked tea. I don't find these things in a lot of non-vintage bottlings and that can be super interesting with lots of different foods."
Ready for Prime Time
While the minimum aging time for vintage Champagne is three years, up from 15 months for non-vintage wines, most houses age their vintage bottlings substantially longer. Henriot, for example, just released their Vintage Brut 2008 in November.
At the same time, more and more producers are offering library releases, providing further bottle aging above and beyond that of the original release; Lanson, Krug and others have all increased the availability of older vintages imported direct from their cellars. While much of Champagne marketing has been lifestyle-focused, many companies are putting more emphasis on education, which makes sense.
Knowledgeable Champagne fans are the ones getting exciting about the growing number of vintage products, so there's plenty of motivation to spread the word.It helps that the distinction of each vintage plus the individualistic approach taken by producers makes for succinct yet powerful selling hooks: the palpable elegance of all-Chardonnay Blanc de Blancs by Ruinart; Piper Heidsieck's "Rare" cuvées, whose grapes are culled from more than a dozen top-rated Crus; the added depth and complexity of Bollinger "R.D." thanks to it being "recently disgorged" after extended time on its lees.
Vintage Champagne takes years of work in many senses, but given the multitude of great examples on offer today, it makes sense to give them more attention.