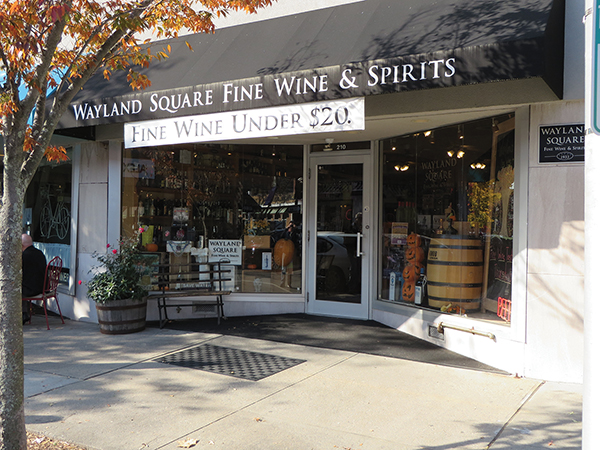 Wayland Square Fine Wine & Spirits,  210 Wayland Ave., Providence, RI
By Bob Sample
Square footage of store: 900
Years in operation: 81
The saying is that good things come in small packages. This holds true for one Ocean State package store, which combines its small size with both style and substance: Wayland Square Fine Wine and Spirits on Providence's east side.
The store is 900 square feet – but beneath it is a wine cellar that houses a trove of rare and often-expensive vintages. Wayland Square has built a niche as a boutique spirits shop with an educated, affluent customer base – many of whom work at nearby Brown University, Johnson and Wales University, and Rhode Island School of Design.
"We have a lot of older specialty wines for sale that you won't find anyplace else in the U.S., let alone in Rhode Island," says the store's owner, Bob Russell. Wine accounts for about 60 percent of store sales, with the rest evenly divided among beers and spirits.
Here, too, Russell aims for the unusual – focusing heavily on lesser-known beers and spirits that deliver both value and quality. As the number of craft beers has multiplied, there are plenty of little-known gems to select from he said. In the past couple of years, the store's spirits section has followed suit, with old standbys sharing shelf space with small, boutique bottlers.
Russell purchased Wayland Square Fine Wine and Spirits seven years ago after owning a steel business for 31 years. Wine has been a lifelong passion for Russell. He was retiring when the old owner put it up for sale. He tends shop with the help of two full-time salespeople who are wine experts in their
own right.
"The store's former owner wanted to do something different, and I saw that it would be a great fit for my retirement," said Russell. His dedication has also made Wayland Square Fine Wine and Spirits something of a "destination store." That's often a tricky proposition, but this store has a bit of history behind it.
"We were established a week or two after Prohibition was repealed in 1933," Russell explained. "The founders were issued one of the first liquor licenses in the city of Providence, and the store has been in the same place for 81 years."
The surrounding Wayland Square area is known for quaint architecture, gentrified homes and fine dining. The district was named for Francis Wayland, the fourth president of Brown University. "Wayland Square is one of the city of Providence's best areas for shopping and restaurants, and attracts a lot of visitors," said Russell. Those visitors will often enjoy an unusual vintage when they're eating out, and they'll stop at Russell's store to see if they can purchase it.
"Chances are, I'll have it," said Russell. Wine lovers who want to further broaden their horizons have an opportunity to do so every Thursday from 6 to 8 p.m., when Wayland Square Fine Wine and Spirits holds its weekly wine tastings – giving locals and tourists alike a taste of its great vintages.