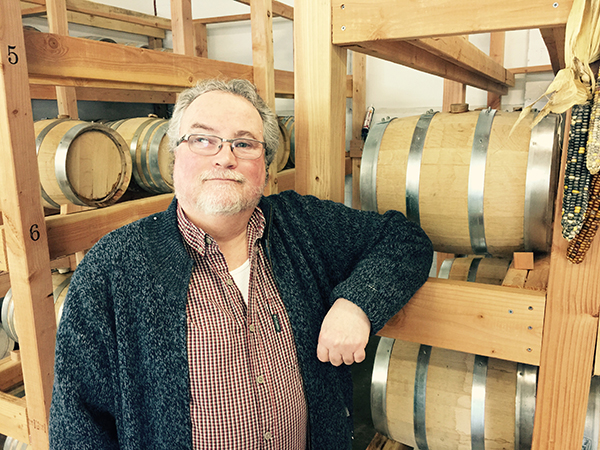 By Kent Harrigan
There sure has been a lot of talk lately about NAS whiskeys. For those of you not familiar with the term, NAS refers to No Age Statement. Most of the modern whiskey drinking population has always considered age statements to equate with quality; you know, 12 year old this, and 18 year old that. It does seem that the red label of a famous scotch is not as refined as its 12-year-old brother dressed in black, but did it need to be 12 years old to become smoother than its younger sibling? And just how old is little brother anyway? He's still a decent dram even without the birthday card.
Sure, the number on the bottle can give us an idea how long the spirit rested in the barrel, but does it mean that the whiskey is better than the one that doesn't reveal its age? Back in the mid eighties, I had started a culinary career in the kitchen of a famous Connecticut inn. One day, the chef told me to get a couple of sheet pans of scrubbed potatoes into the oven for baking. After an hour, I pulled them out as I felt that they were finished. The chef asked me if they were done, and I replied that they had been baking for an hour. "But are they done?" he asked. As it turned out, they were not and had to go back into the oven. I had assumed that an hour was plenty of time and was prepared to serve our evening guests half-baked spuds. I think that you can see where I am going with this.
If it were whiskey instead of potatoes and I assumed it to be ready just because it had been in a barrel for 12 years, I could have been just as wrong. It may not be ready, but by the same token, it may have been ready years ago and lost some of its magic. Whiskey is becoming so popular that there just isn't enough to go around. As a distillery, if you are getting orders for bottles that have, say, the number 12 on them, you had to have planned for that order 12 years ago and planned on the barrels two years before that. Who knew we would see such demand? Still, you have to release something.
As such, younger whiskeys are being bottled and blended with some older whiskeys and no age statement is found on the label. This does not have to be a bad thing, if the whiskey is ready. Fifty years ago you rarely saw age statements on whiskey bottles. Then the "Mad Men" convinced us to look for the number if we wanted quality. My advice would be that if you like the taste and it's in your budget, forget the math. Another thing to consider is not how long a whiskey has been resting in a barrel, but where that barrel itself had been resting. Changes in temperature and humidity are what make the barrel "work" the whiskey. As the weather gets hot and humid, the wood expands, pulling the spirit though the charred layer and into the barrel's wood, picking up color and flavor. As the temperature cools and the air gets dryer, the wood contracts, squeezing the spirit back through the char. This happens quicker and more intensely in the whiskey regions of the United States, where temperatures can change 30+ degrees overnight.
Now take for example the Islay region of Scotland, which features a constant moist breeze from the Gulf Stream and temperatures never lower than the high 40's or higher than the low 60's. It gives a new meaning to the words low and slow. Have you ever noticed how much darker the average American bourbon is compared to a Scotch whiskey of the same age? It's mostly due to the weather's influence on the oak barrel. For example, a 12-year-old Scotch could have less wood influence than an 8-year-old bourbon. Those age statements are starting to mean a lot less when taken literally and equating them to mean the older the better. As the whiskey maker for the Onyx Spirits Company, I ask myself this question all the time: Is it done? Our whiskeys are never bottled by an arbitrary day on the calendar or at a particular age. I taste and smell and worry over their maturity until I am certain that they are finished. Only the very lucky will hit a target that we cannot see. The barrels and the seasons alone can answer the question of how long is long enough. We have never put an age statement on our whiskeys and if I was ever required to do so, it would be in letters rather than numbers: four of them that would spell out the word DONE.
Kent Harrigan is the distiller and whiskey maker at Onyx Spirits Company in East Hartford, Connecticut. In the beverage industry for over 20 years, Harrigan has traveled the world touring some of the best wine regions, distillers, and breweries the planet has to offer.