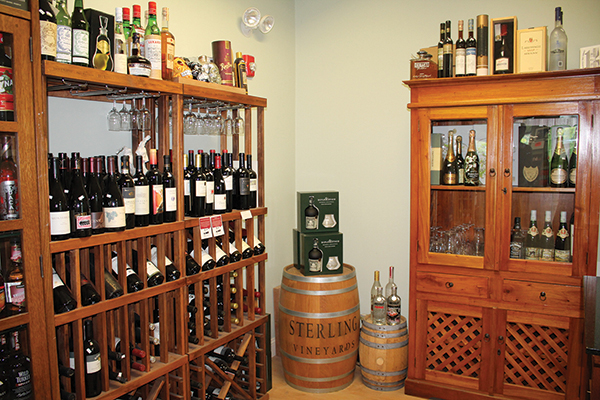 Wickford Package Store
41 West Main Street
North Kingstown, RI
Square footage: 1,800 Years in operation: Since 1934 (six years in new location)
By Savannah Mul
Prohibition ended in December of 1933, making way for Wickford Package Store to open a year later on Brown Street in the Historic District of Wickford. Jeff Ryan, the current owner of this third generation family liquor business, said his grandfather was one of the first in line at the Rhode Island State House to apply for a liquor license. Ryan took over in 2004 and made plans to relocate the business.
Outgrowing the original, historic location and recognizing a need for more customer parking, Ryan and his business partner and co-owner, Mike Sherman, purchased a gas station around the corner from Brown Street. They renovated the building into the new Wickford Package Store, with more retail space and ample parking.
"We doubled the size and we filled it up quick; it doesn't take long," Sherman said. Sherman and Ryan both say that the store's sales are split between beer and wine; however they are seeing a high demand for brown liquors.
"Bourbon is hot right now," Sherman said. "Everyone is into bourbon, and you can't produce it overnight; it's a limited supply. By the time the individual catches up with the demand, everyone will be on to something else." Ryan continued that craft beer has always been a popular seller within the male demographic and remarked more female shoppers are gravitating toward the brews, too.
Along with craft beers, gluten-free beers and hard ciders are popular year-round purchases. The two owners said that ever since Not Your Father's Root Beer launched in Rhode Island, it has been a nonstop seller. Customers use the beverage to make the brand's adult "root beer floats." Sherman also noted that wines from Washington State and Oregon are gaining popularity in the market right now.
The store features a tasting room, where Ryan and Sherman offer Friday night samplings, usually red and white wine tastings. They reach about 500 customers via email, informing them on what products will be featured along with any specials they are offering in conjunction to a particular tasting.
The owners have strong community ties, and Sherman added, "We are part of the community; we collect money for the local food pantry…we know the people in town and we know our customers. It's a personal thing you may not find in the bigger stores."
Wickford Package Store is located between four different marinas. Ryan said there is a huge boating community, but the established, strong local customer base carries them through the winter months, which kick off with a busy holiday season. "There are a lot of obscure liquors people ask for around the holidays," Sherman said.