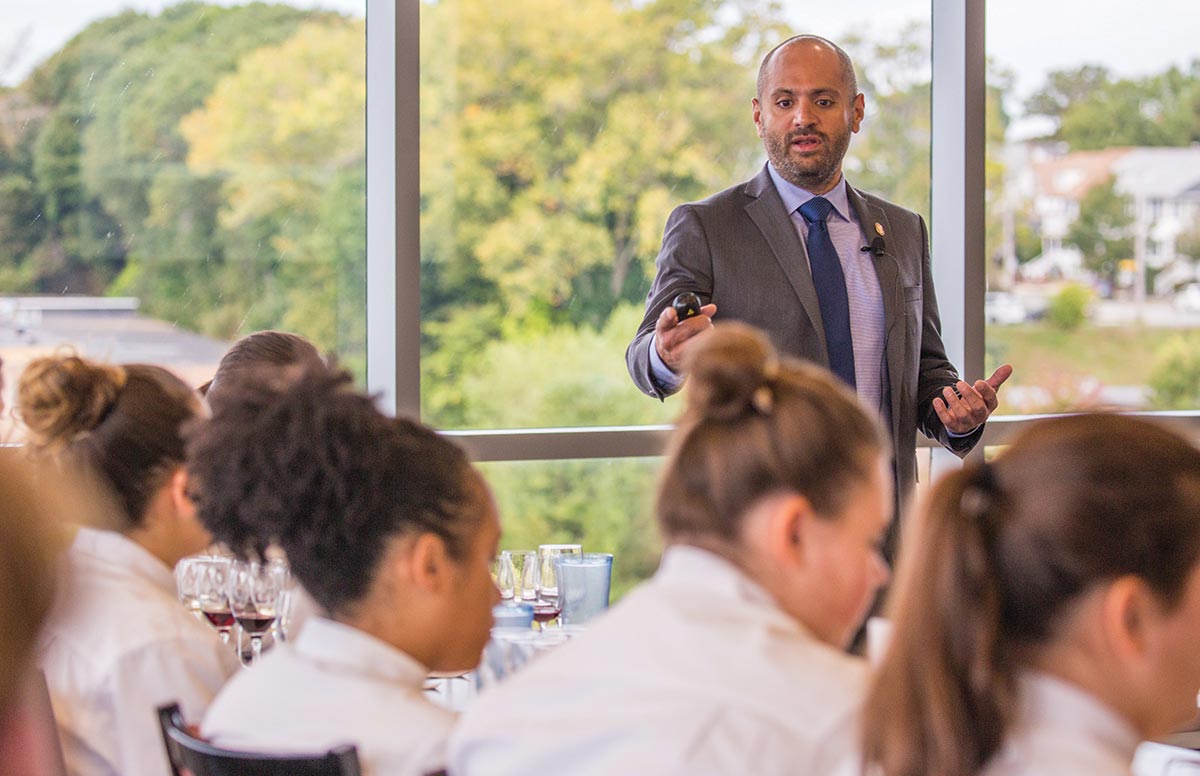 By Edward M. Korry, MA, CSS, CHE, CWE
Master Sommelier Serafin Alvarado, who was Charlie Trotter's Head Sommelier, was honored at Johnson & Wales University's Providence Campus as its 4th Distinguished Visiting Master Sommelier on October 26, 2017.
Alvarado, based in Chicago, Illinois, is one of 11 lead national wine educators for Southern Glazer's Wine & Spirits. His two presentations to students, in the sommelier program and in the College of Culinary Arts, were evocative discussions on communicating wine using music as a metaphor.
Alvarado's premise is based on the observation that almost everyone can relate to music in one form or another and relate to it easily in an emotive way. He views music as the "soundtrack of your life." It is not surprising that music was his first passion and that he plays in a rock group named The Rack and the Riddler, named after the classic sparkling wine method.
While wine is, or can be, equally emotive, the language used to describe it tends to be much more intimidating and less understood by the public at large. Communicating about wine using the metaphor of music can break down descriptive barriers to consumers. Alvarado argued that the two art forms also share terminology making the metaphor more accessible, including accent, composition, expression, harmony, structure, texture, tonality/chords and aesthetics.
Furthermore, Alvarado offered that both share similarities when it comes to composition. Music has percussion, bass, rhythm (chord structure) and melody. Wine has texture that plays the same role as percussion in music. Structure (alcohol, tannins, sweet, acid, bitterness) plays the same role as the bass; fruit elements are akin to rhythm, and non-fruit elements such as earth-mineral or oak notes are the melody of the wine. Lastly, he equated musical tone, which reflects the artist's personal input such as how the musician strums the strings of a guitar, and terroir in wine which gives each wine a distinctiveness all its own.
He had selected eight distinctive wine styles to match to eight genres of music to illustrate his point, which was to get his student audience to think about the wine as a musical form and provide a reason for 'pairing' the wine with a musical genre. It provided them with a different way of thinking critically and applying that thinking to an emotional experience that results in much more effective and deeper learning.
The first wine was a Domaine Wachau Grüner Veltliner from Austria, a medium bodied, medium aromatic, acidic white that has savory notes.
The second was a Cloudy Bay Sauvignon Blanc from Marlborough, New Zealand, and represented a more full-bodied, high acid, and much more exuberantly aromatic style of wine.
The third wine was Sokol Blosser's 'Big Tree Block' Pinot Noir, an Oregon Dundee Hills AVA single vineyard that was dry, had medium plus acidity and layers of fruit and non-fruit aromas and flavors.
The fourth wine was a Château De Pez Saint-Estèphe 2014, a very dry medium plus bodied, more tannic wine with subtlety rather than overt fruit flavors.
In contrast, the fifth wine was a Rosenblum "Rockpile Road Vineyard" Zinfandel from Sonoma County 2013. This big red was a typically juicy intensely fruit forward example with medium plus acidity balancing more intense alcohol.
The next red was a Justin Cabernet Sauvignon from Paso Robles 2015, which was marked by its full-bodied, intense, dark fruit character balanced by high alcohol and medium plus acidity with more complexity than the preceding wine.
The seventh wine was a Tio Pepe Fino Sherry NV that is a somewhat idiosyncratic wine, unique in its flavor profile and has the innate contradictive delicacy and power at the same time. This chamomile, green tea and green olive scented wine is typically very dry with minerally, almost saline, characteristics.
The last wine was a W. & J. Graham's 20-Year-Old Tawny Port. It was sweet, rich, layered with dried fruit and baking spice notes.
The eight genres of music included: country, jazz, alternative, classic rock, rap/hip hop, classical, reggae and blues. While there was no uniformity to the students' answers, they were intensely engaged, providing specific reasons for why they thought a particular wine paired with a musical genre.
In this pairing exercise, I paired the Zinfandel with country music. They both are fairly straight forward with a clear melody and somewhat exuberant. I paired the Dundee Hills Pinot Noir with jazz because they are both moody and complex. Pinot Noir tends to be very individualistic reflecting a sense of place and jazz also allows for improvisation and individualism. I paired the Fino Sherry with alternative rock because both are very idiosyncratic. I matched the Cloudy Bay Sauvignon Blanc with classic rock, although Justin's Cabernet Sauvignon could have fit the bill almost as easily because they are both iconic and universally accepted new interpretations of their respective art forms. The rap/hip hop seemed to pair well with the Grüner Veltliner because of their uniqueness and lack of universal appeal. I paired the Chateau de Pez with classical music because they are both nuanced and classics. The Justin Cabernet Sauvignon I paired with reggae because of their rhythmic intensities. And lastly, I paired the Graham's 20-year-Old Tawny Port with the Blues because they both have a trance-like rhythm, both warming and soothing.
If I were applying such a system to a restaurant staff, I would extend this enlightening experience by defining the music genres and styles of wine for consensus among the staff so that repeat customers wouldn't be confused by differing interpretations by servers. Imagine one week, a sauvignon blanc being described as rap by one server and the next week being described as classical by another.
While this methodology is unique and has great appeal because of the universality of the language of music, for it to be useful in a practical application, use consensus and consistency to avoid customer confusion.
Ed Korry is an Associate Professor and Department Chairman of Beverage & Dining Service at Johnson & Wales University, Providence. He is also serving as President of the SWE and has attained both its CWE and CSS certifications, and holds a WSET certification. Johnson & Wales University offers courses to assist in certification exam preparation.