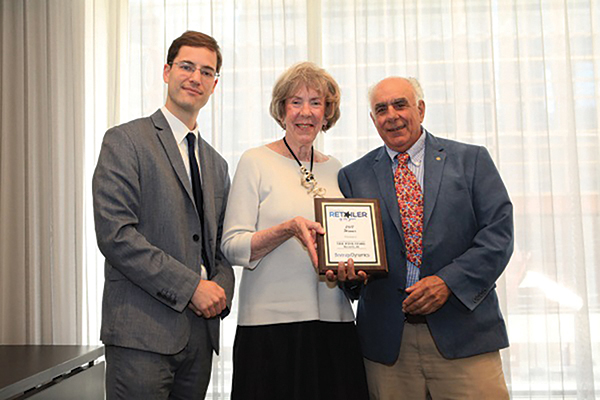 The Wine Store in Westerly was named among 2017's "Retailers of the Year" by Beverage Dynamics magazine. Owners Frank and Donna Celico accepted the award during the inaugural Beverage Alcohol Retailers Conference on June 12-14 in Minneapolis. The Celicos opened The Wine Store in 1985, creating strong ties to the community and partnerships with many local organizations including Stand Up for Animals, the Westerly Library and the Westerly Rotary. The Wine Store was one of 15 retailers to receive the 2017 award.
"Both Donna and I are delighted to accept this award on behalf of The Wine Store and our stellar staff, who bring so much dedication, expertise and hometown pride to our business. Over the past 30 years and more, Donna and I have enjoyed providing our customers with a premier selection of liquor, beer and wine while supporting local organizations that make Westerly and its neighbors a great place to live, work and play," said Frank Celico. The Wine Store was a featured "Retail Review" in The Beverage Journal in July of 2016. The story can be viewed online.
The store also hosted in-store tastings in July featuring Whitehaven Wine of New Zealand and J Vineyards selections from the Russian River Valley. Stephanie Deschenes from Johnson Brothers of Rhode Island poured tastes of Whitehaven Sauvignon Blanc from the Marlborough region of New Zealand, and J Vineyards Pinot Noir and Pinot Gris from the Russian River Valley of California.