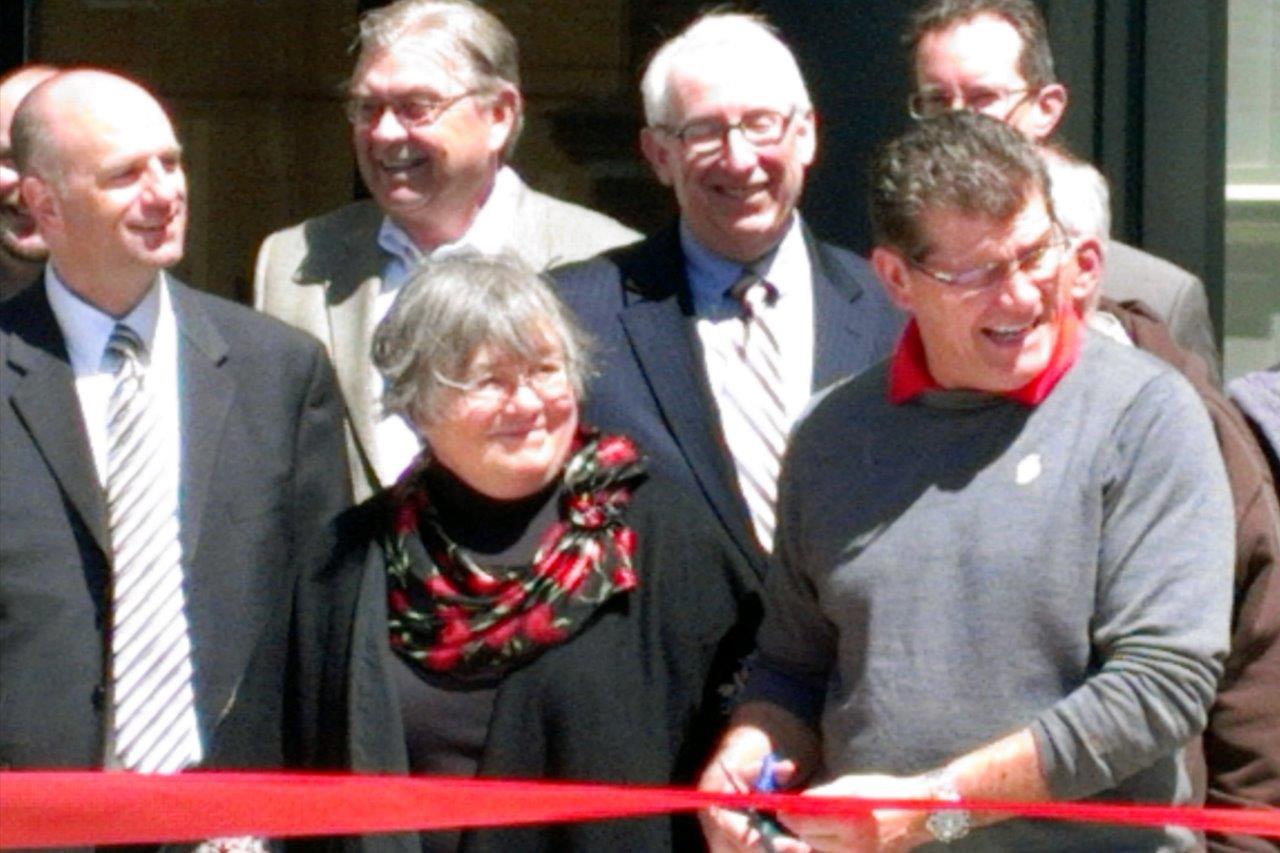 By Bob Sample
At first blush, running a winemaking business might seem a stretch for someone who spends most of his time on the basketball court, right? Not if you're Geno Auriemma, whose two-decade career as head coach of UConn's champion women's basketball team is the stuff of legend.
Auriemma opened his first restaurant – Geno's Fast Break – at Mohegan Sun Casino in 2010, then followed that up last year with Geno's Grille in Storrs Center. In March, Auriemma partnered with Italy's 47 Anno Domani Vineyards to launch a line of signature wines in the U.S.
Most people can't handle one or two jobs – let alone three. But for Auriemma, whose women Huskies continued their winning streak in the 2012-13 season, it's all a matter of picking the right people. "Luckily I've got great people doing all the heavy lifting," Auriemma notes. "It's like anything else: if you have a good product and you surround yourself with excellent people, your business will succeed."
The product part has been several years in the making. A few years ago Auriemma experimented with putting several self-labeled wines on the menu of Geno's Fast Break Restaurant. They were a big hit. Still, his team lacked the know-how and the infrastructure to make them permanent fixtures at the restaurant – or anywhere else.
Enter New England Wine & Spirits, Inc. (NEWS) in West Haven. NEWS, a wine importing company founded in 1983 by Richard Eriksen and Michael O'Hara and purchased by Anthony and Elizabeth Gallo in 2006, identified several contenders for the Auriemma label: Italian vineyards that produce delectable wines at excellent prices. Auriemma traveled to Italy to sample some of their vintages and to tour their vineyards. His ultimate pick was 47 Anno Domini, a vineyard near the Adriatic Sea in northeast Italy.
"The name refers to the fact that the road on which the vineyard is located was built by the Roman Emperor Claudius in 47 A.D.," Auriemma explains. Back home in Connecticut, Auriemma selected a firm to market his new line of wines: Wine By Design, a Napa, California, marketing and promotions company that specializes in building brand loyalty among wine consumers.
With all of these players in position, Auriemma returned to UConn's Gampel Pavilion and coached his team for yet another winning season. In April the Huskies brought home their eighth national title, tying the University of Tennessee for the most wins in basketball history.
Thus far, four wines are available from Geno Auriemma Wines. They are a Prosecco, with a suggested retail price of $13; a 2012 Pinot Grigio, priced at $11-12; 2010 Puglia Rosso, at $15-16 a bottle; and a 2008 Cabernet/Merlot blend, priced at $18-19 per bottle. They can be found on retail shelves throughout the Nutmeg State, and sales have been brisk thus far. For the outset, at least, people seem to purchase the wine out of curiosity because it has Auriemma's name on it. Auriemma wants that to change.
"I want people to buy it because it's great wine and a great value," he said. "In my opinion, Italian wines are the best in the world for taste, variety and value – and my own wines are really, really good. I'm very excited about all this." In fact, Auriemma is already plotting future courses for his upstart company. Ultimately, he hopes to import several little-known varietals from Campania. This populous region of Southern Italy includes Naples, and it's where Auriemma lived until he was seven years old.
There's a particular grape called Aglianico that's only grown in Campania, Auriemma explains. It's the basis for several truly wonderful wines that are almost unknown beyond this region of Italy. "For the most part, wines from southern Italy just aren't as well known or popular as those from northern regions such as Tuscany and Treviso," Auriemma says. "Once Geno Auriemma wines have become well-enough established I can bring over some of the wines that are indigenous to where I was born."
Auriemma began dabbling with winemaking several decades ago, as a hobby. He never dreamed that this private passion would become a growing business venture. "I'm very passionate about everything I do – and I have a lot of energy," he says. "I have a great team working with me on this, and there is no doubt in my mind that Geno Auriemma wines will be phenomenally successful."