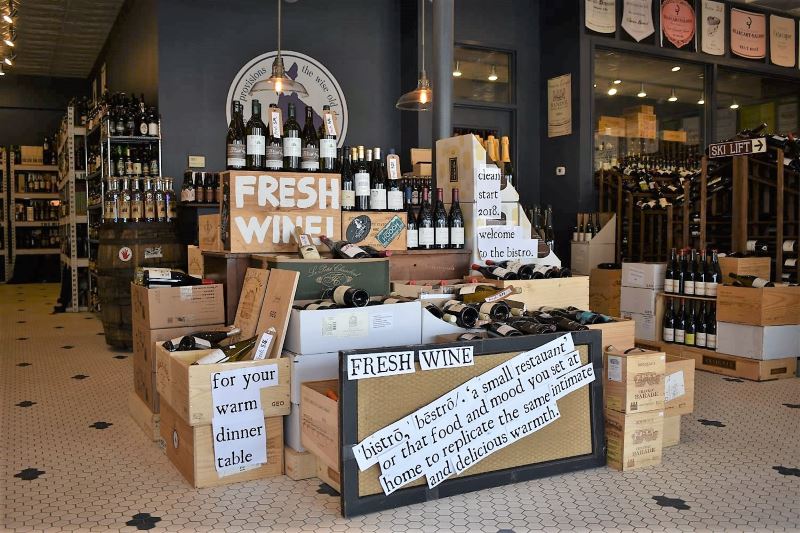 Wise Old Dog
612 South Quaker Lane
West Hartford, CT
Square footage: 2,800
Years in operation: 6
By Sara Capozzi
Wise Old Dog Owner Jacob Studenroth and General Manager and Director of Operations Thomas Hadis admit that they have "a clinical obsession" with their business: wine. Sharing that passion and expertise with their customers is core to their sales approach and success.
"Our goal is to share whatever bottlings, and whatever new regions and food pairings, and flavors we discover," Studenroth said. "Our driving passion to do that makes for a pretty special ongoing relationship with our customers." Both Studenroth and Hadis are dedicated to "superior customer service" and enjoy suggesting wine pairing recommendations when shoppers need an assist.
But first, the name.
The store's name origins go like this: Studenroth, already nurturing a passion for wine and food, imagined he would one day open a restaurant when he retired. He was a litigation attorney, working long hours. As he worked one Saturday with his dog, a Boston Terrier named Duncan, at his feet, he had "an epiphany." While on the phone with his wife and looking at Duncan, he realized the "wise dog" was happy and Studenroth, himself, was not. The decision to leave law and start his own business was sealed; all he knew for sure was that he was going to name "it" Wise Old Dog.
He decided to go with liquor retail after more consideration and made it happen. Studenroth opened Wise Old Dog in May of 2012 at 610 South Quaker Lane in West Hartford. In July 2014, Hadis joined part-time, but soon he too "got bit by the wine bug," and was spending 60 plus hours a week at the shop and getting his CSW Certification. A few years later, after the adjacent storefront became available in 2017, the team moved the store to 612 South Quaker Lane, tripling its square footage. The bright and airy shop is remodeled in a vintage style to suit its 1920s era building.
The store's customer base is varied, with patrons from the neighborhood who walk or bike, drive from surrounding towns or come from as far away as Boston, New York and Philadelphia. "Everyone has a Wise Old Dog routine," said Studenroth.
The "regulars" can be counted on to visit the store after work, selecting from a far-reaching variety: among 2,000 SKUs of wine, 400 SKUs of whiskey, 120 SKUs of gin and an extensive craft beer selection of more than 850 SKUs. On any given day, unique selections include limited-release items and selections from small wineries that can't be found elsewhere, said Studenroth.
There is a temperature-controlled wine room and areas for tastings, which are held every Friday. Wise Old Dog also holds "Cellar School" classes every other Wednesday night led by visiting winemakers. Periodically, the shop hosts "spontaneous events" with industry guests, cocktail mini-lessons or brand-specific showcases.
Between his dedicated customers, store events and partnerships with several local restaurants, Studenroth said he feels "part of such a special and vibrant community of people" who share the same obsession for wine and food. "The love of all of this is so deep," Studenroth said. "It's fun, but we take it super seriously."