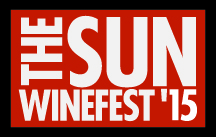 The 12th Annual Sun WineFest was held the weekend of January 23, 2015. The annual gathering of thousands featured beer, wine, specialty spirits and dining by some of the region's – and the world's – most highly-rated and renowned chefs. Jim Beam hosted a Bourbon Tasting for ticketholders the first night of the event. Over 9,000 wine and beer enthusiasts enjoyed over 1,000 brands, as well as many specialty sponsor spirits. Regional restaurants offered fare and the Main Culinary Stage served as the backdrop for two days of celebrity chef demonstrations.
Highlights included two Elite Cru tasting sessions, with the "best-of-the-best" vintages from around the world, led by winemakers and principals. Grand Tastings sessions showcased booths and brands from Allan S. Goodman, Angelini Wines, Brescome Barton, Cellar Fine Wines, Connecticut Distributors, Inc., Hartley & Parker, Slocum & Sons, Winebow and Worldwide Wines among dozens of other local, regional, national and international companies.
The official charity of the Sun WineFest is the Channel 3 Kids Camp. Chefs Georges Mokbel, Sandy Squillante, Betty Fraser and Manovschka Guerriere, as well as a demonstration using Grey Goose, took center stage to raise awareness for this organization. The camp's mission is to provide year-round recreational and educational opportunities to children from Connecticut and throughout New England. It serves 3,000 children each year through a variety of programs.
Photos by Chris Almeida.