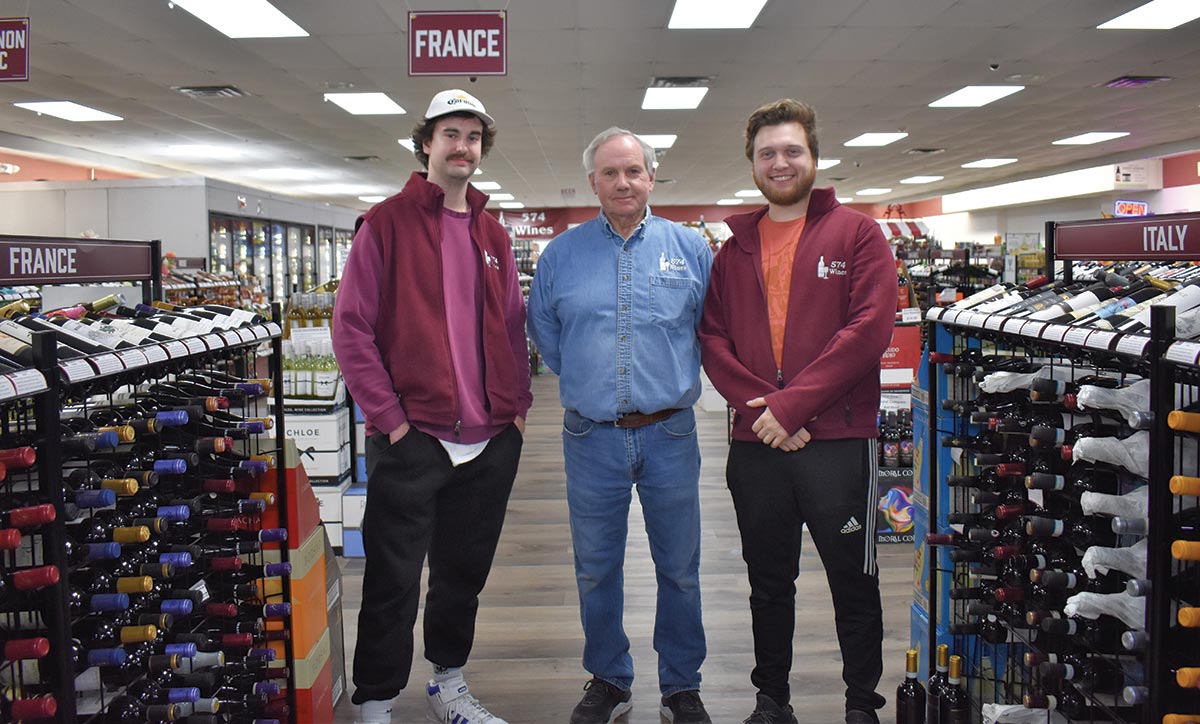 574 Wines and Spirits
574 Monroe Turnpike
Monroe, CT
Square footage: 8,000
Years in operation: 3 years
By Sara Capozzi
574 Wines and Spirits recently celebrated its third anniversary serving the Monroe area. According to Manager and Permittee Ty Nicholson, the store opened to the public on March 6, 2020, shortly before COVID-19 was declared a pandemic. As bars and restaurants were mandated to close, the timing led to a sales boom for the brand-new shop. So much so that, despite more than three decades of industry experience, it was a challenge.
"I didn't know how to buy," Nicholson remembers. "Those two years, '20 and '21, were like Christmas Day every day. It had to take a readjustment on how many cases of vodka do you need. These customers were home; bars and restaurants were closed, so we sold a lot of merchandise those two years." Today, even with a more normalized retail landscape, sales at 574 Wines and Spirits remain strong.
Nicholson has worked in the package store industry since 1989, when a friend told him that a well-known store in Shelton, Cleto's, was for sale. While the idea of package store ownership was not something he had considered as Nicholson had worked in clothing retail for years, he quickly warmed to the idea. "I thought if I could sell a $1,000 dollar suit, I could certainly sell a six-pack of beer," Nicholson said. Within two weeks of hearing about Cleto's, Nicholson had purchased it and began a new path. While he sold the store in 2002, Nicholson has remained in the industry ever since serving as a distributor account representative, among other roles.
At 574 Wines and Spirits, the location itself is owned by Bailey Stewart, in the same building once owned by his grandfather, who ran Walter Stewart's Grocery Store. Bailey went on to run his own grocery store in the space from 1986 to 1995, closing once Big Y came to the area and serving as a site for Goodwill, among other businesses. With Nicholson's experience and Stewart's space, the two began working on 574 together for its 2020 opening.
Customers from Monroe and the surrounding towns of Shelton, Newtown and Trumbull are attracted to the shop through its online advertising and through content on its social media channels, which bring in both returning shoppers and new faces to discover its location. The shop's charitable endeavors have also put it on the map for the local community. "We've been very open to helping the public," Nicholson said. "For the past two years, we've donated one day's proceeds to the Special Olympics."
The shop is predominantly a wine store, said Nicholson, with wine sales accounting for 50% of market share and beer and liquor rounding out the remaining half at 25% each. Nicholson and his team taste about 80% of the wines before bringing them in, ensuring they can speak to the many fine bottles they are selling.
Area shoppers often seek out bourbon, according to Beer Manager Matt O'Neill. "Also, tequila is on the rise," he said. "People, in the same way that they fall in love with bourbon that spends a lot of time in oak, enjoy tequila that spends a lot of time in oak. It is getting really popular." Local craft beer also continues to sell well. "I carry a lot of local craft because I think people tend to enjoy buying beer [from breweries] they can go visit, so I definitely support the Connecticut breweries," he said. "Outside of that, going into the ready-to-drink category, canned cocktails that use real spirits [are in demand]."
To keep customers engaged, O'Neill and Sales Associate Jon Bartek make videos and post them to their social media channels, with content ranging from creating cocktail demonstrations to highlighting new products. "It gets people to try new things or a new cocktail and find other ingredients they wouldn't have otherwise bought before," O'Neill said.