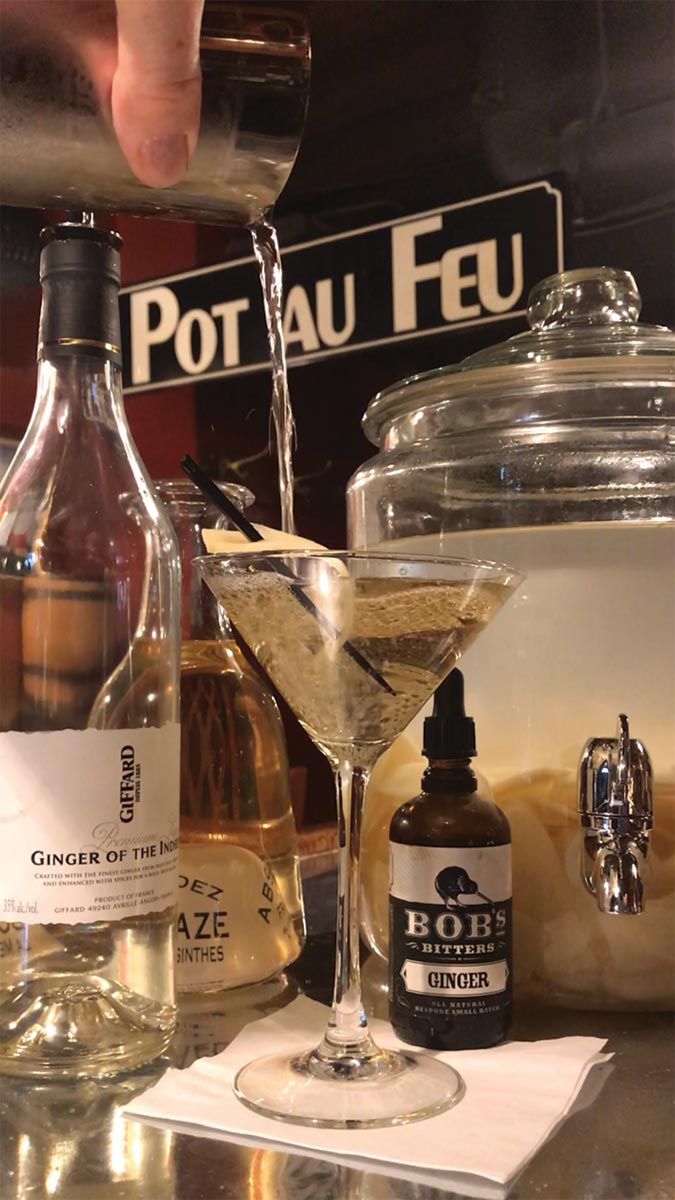 Pot au Feu
44 Custom House Street
Providence, RI
Located in Providence's historic downtown area, Pot au Feu offers guests authentic French cuisine and comfort food in a casual-yet-elegant ambiance. Pot au Feu patrons have indulged in fresh local seafood, steaks, chops, roasts and French specialties like duck confit since its founding in 1972 by proprietor Bob Burke. The beverage program includes an award-winning wine list focused on French wines, sabering Moët & Chandon Champagne for special occasions, a traditional absinthe fountain, Calvados Apple Brandy and French apple port Pommeau. Guests can also enjoy a fun craft cocktail, such as the 5G Martini.
Owner: Bob Burke
Cocktail: The 5G Martini
Recipe:
1.25 oz. Ginger-infused vodka*
3 .5 oz. Giffard Ginger of the Indies Liqueur
 2 drops Bob's Ginger Bitters
 Ginger ale float (vanilla ice cream added to ginger ale)
Garnish with sliced ginger half-moon
Combine vodka, Ginger of the Indies and two drops of Bob's Ginger Bitters into a cocktail shaker filled with ice. Shake vigorously until the outside of shaker is frosted. Pour into a chilled martini glass. Top with ginger ale float. Slice a piece of ginger from the infusion into a long thin strip and make a half moon garnish on a black skewer. Serve immediately. *(Use vodka that has been infused with thinly-sliced fresh ginger for at least two weeks.)
The name for the 5G evolved through the years, Burke said. "The French word for ginger is gingembre. This cocktail started with the nickname 'La GiGi' with two gingers. Two more were added making it the GiGi GiGi. On a visit to Napa, I found Bob's Ginger Bitters and added a fifth Gi," Burke explained. The lore goes on. A customer, upon ordering another, said "just give me that 5G Cocktail," which is its current name. "Because it was a long string of Gi's, it's occasionally called a G-String. As long as you are at the Pot au Feu drinking one, we don't care what you call it," he said.