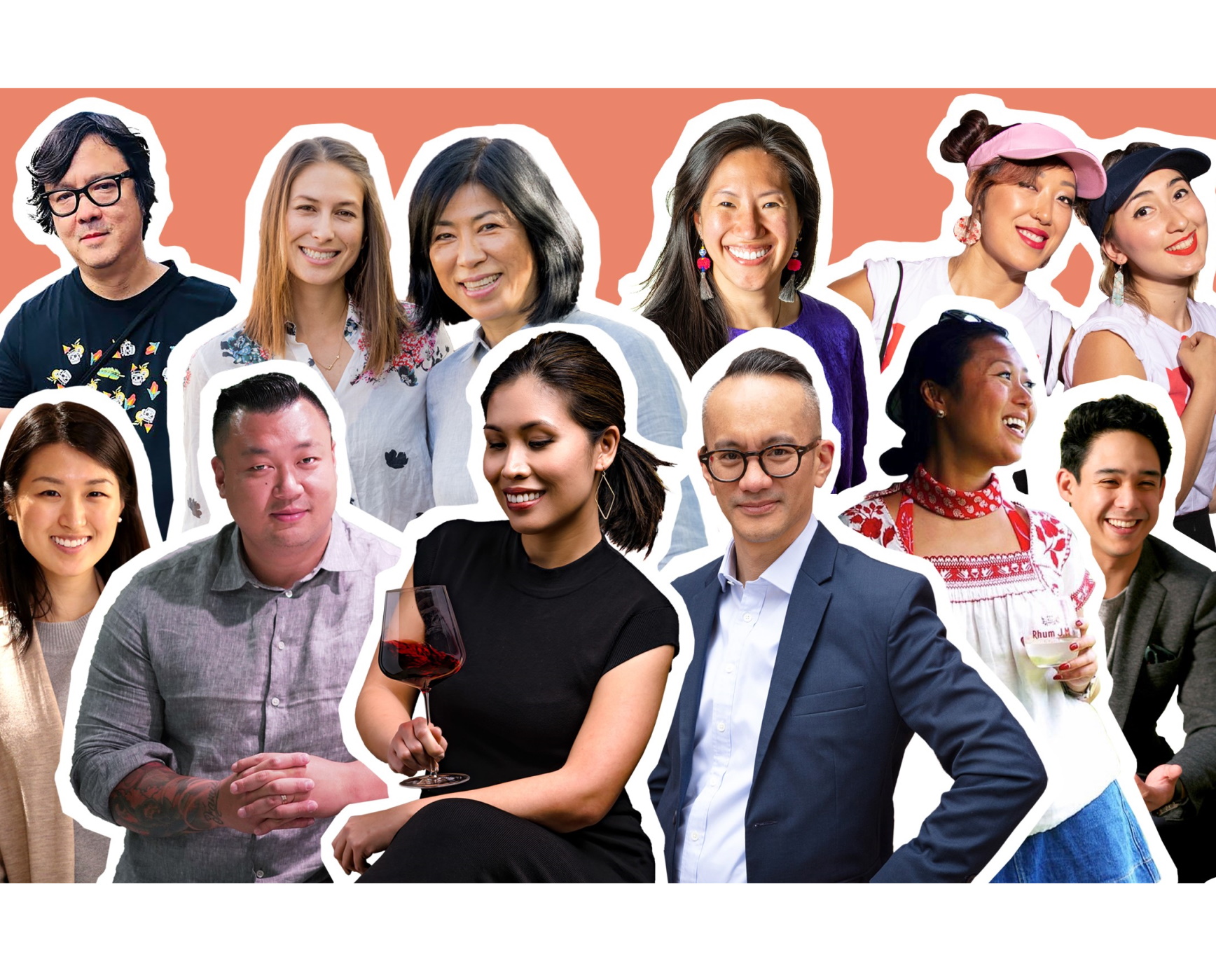 These twelve leaders are shaping the beverage alcohol industry while trailblazing more opportunities for AAPI professionals
By Caroline Shin
---
The overwhelmingly white image of alcohol culture eclipses the work of Asian Americans and Pacific Islanders whose influence rings through all three tiers of the system.
We have our stars: The recently retired Annette Alvarez-Peters, who moved markets from the helm of a $2 billion wine program at Costco; Alpana Singh, the youngest American woman and only South Asian to achieve the rank of Master Sommelier (which she renounced in 2020 in light of sexual harassment allegations in the organization); and Hae Un Lee, who in 1981 opened a small liquor shop in Las Vegas and grew it into the largest alcohol retailer in Nevada—Lee's Discount Liquor.
But beyond these established names, we're shining our light on a new class of AAPI innovators—and their latest innovations. Located across the U.S., these 12 drinks professionals are brand creators, bamboo ceiling breakers, and culture ambassadors, all of them walking uncharted territory as the only one, or one of a few, who look like them in the room.
---
Celebrating Asian Culture Through Cocktail Pop-Ups
Caer Maiko and Sharon Leung, Co-creators, Daijoubu, Austin, Texas
Until bartenders Caer Maiko and Sharon Leung joined forces in 2019, Asian-inspired cocktails in Austin were defined by the overuse of lychee. But at their Daijoubu pop-ups (meaning "it's fine" in Japanese), the veteran bartenders can finally dig into their roots, using childhood ingredients in their inventive concoctions. The Tapioca Express—aged rum, Earl Grey tea cream, homemade Italicus bergamot liqueur-infused boba—and Milk and Hunnay shots—Yakult, vodka, sake, and honeydew melon served inside Yakult cups—have been surefire hits.
A group of Asian guests "saw me pour the shot into a Yakult cup, and all of them gasped. They were like, 'This is my childhood, and now you made it into an alcoholic beverage,' and it gave me this moment of, 'Oh, yes, you feel like you belong. I feel like I belong,'" recounts Maiko.
The pop-ups present a fun and holistic way of celebrating Asian culture and community. Leung and Maiko, who studied and taught at the School of the Museum of Fine Arts in Boston, are masters at taking over a space and creating a vibe whether it's a dance party with fifteen different bamboo plants with giant pandas at a restaurant or a collaborative state-wide tour in their fire engine-red "Bruce the Daijoubus" (named after Bruce Lee) cocktail truck with Indian-, Vietnamese-, and Korean-American bartenders. They're currently saving up for a nationwide tour in 2022.
Guests can feel good about themselves, too. Japanese-American Maiko and Chinese-American Leung have donated $13,000 of their pop-up revenue to AAPI nonprofits like Chinatown Community Development Center and Asian Americans Advancing Justice.
---
Paving the Way for Future AAPI Leaders
Thanh Nam Vo Duy, Vice President, Commercial Development, Moët Hennessy USA
Sixteen years into his career at Moët Hennessy USA, Thanh Nam Vo Duy is now leading a team of over 200 brand specialists, ambassadors, influencers, and merchandisers, which he grew from a third of its size. His trajectory is proof of his leadership skills—double-digit sales growth turnaround for Hennessy, the launch of Hennessy Black, which quickly topped sales projections. Yet he recognizes his path is one not often experienced by many Asian Americans.
Vo Duy admits that "not having a mentor, a role model" particularly stung. A Vietnamese immigrant by way of France, he had to learn to adapt to American culture and "speak up," countering Asian customs of respecting one's elders, speaking only when spoken to, and having a shut-up-and-work mindset.
That's why he co-founded the Asian Employee Resource Group (ERG) in 2020 at Moët Hennessy USA. "None of us could look up to a VP who looked like us, and we had similar stories of how to speak up in meetings and how to advance our career," says Vo Duy. At the ERG, "you talk about those issues with people you can relate to culturally."
The ERG also provides mentorship opportunities, speaker series and celebration of cultural holidays. "I dream of a world where there's more diversity at the top," says Vo Duy. "It happens by us, the people who are in the ERG, doing everything we can to become the people on the top."
---
The Serial Community-Focused Entrepreneur 
Ed Marszewski, Co-owner, Maria's Packaged Goods and Community Bar, Chicago
Chicago would not be what it is today without Ed Marszewski, who has been building a highly synergistic drinks-food empire since 2010. He grew up watching his mother, Maria Marszewski, engage in kye—a private lending circle often used among Korean immigrants—which in 1987 allowed her to save up, buy out, and operate Kaplan's Liquors in the South Side of Chicago.
"To see how all these Korean ladies chipped in money together to help each other run their businesses—that spirit of helping people in your community embedded in me," says Ed. "You know, immigrant families helping each other out."
Inspired by her entrepreneurial savvy and knack for drawing a diverse crowd, Ed started to forge a community-focused, family-owned complex. He converted Kaplan's to Maria's Packaged Goods and Community Bar, a 41-tap "slashie" (liquor store-slash-bar), and built the Marz Community Brewing Co., a brewhouse and taproom whose inventive and conscientious brews are sold at Maria's. Next door to Maria's, Marszewski opened two counter-service restaurants: Kimski, serving riffs on the foods he ate in his Korean-Polish home and Pizza Fried Chicken Ice Cream.
The slashie has long been cherished for its fantastic selection of local craft beers such as Half Acre and Off Color, a range of eclectic ciders, bottled house-made cocktails, and Marz-label CBD-infused sodas and coffees.
Maria's long-running "policy of tolerance and respect for others" is another draw for guests. "We try to be open to all demographics and all people," says Marszewski.
---
Bringing Korea's Oldest Alcoholic Drink Stateside
Carol Pak, Founder, Makku, New York City
Makgeolli isn't yet a household name among non-Korean drinkers, but Carol Pak is trying to change that. The Anheuser-Busch alumna is canning the centuries-old fermented rice alcohol for nationwide distribution with Makku.
Makgeolli's complex personality—milky, fizzy, sweet, and sour—is achieved through a complicated brewing process that America is literally not equipped for. Makku requires a brewery with both sake and beer production capacity, equipment for canning, carbonation, and pasteurization, and the capability to handle a fermentation agent called nuruk that's "uncontrollable like a wild child," describes Pak.
"But no one in all of America that I could find—and I talked to brewers, scientists, founders, everyone I could possibly think of—could figure out how to pasteurize this product," says Pak.
With maxed-out credit cards and depleted savings, she finally drew in Strong Ventures as an investor, teamed up with a brewery in South Korea, and launched Makku in 2019.
For Pak, the trouble is worth it , particularly in a country where cultural appropriation is common. "I'm doing this because I'm Korean, and I'm proud to do it," she says, recalling makgeolli flowing at family dinners in the Korean immigrant enclave of Flushing, Queens. "I'm supposed to be the one who's bringing makgeolli over." She's selling Makku at spots like Momofuku Noodle Bar and Sunac Natural Market and trying to start a new alcohol category for makgeolli while she's at it.
---
Championing Craft Spirits 
Krista Farrell, Spirits Sales Manager for the Northeast and Spirits Specialist, Skurnik Wines & Spirits, New York City
Before Krista Farrell gets behind a spirit, she zeroes in on its production. Was it made in a farm distillery? Is the distillery growing its own grain? Malting it?
"Whether it be in New York or Martinique or Guadeloupe, it's just so cool to see people using what is endemic to their land, supplying their communities and their GDP with their own products," says the Korean-American industry vet who grew up working in a small family distributorship in Martha's Vineyard. "It keeps the craft in craft spirits."
In 2019, she transitioned from Caribbean rum producer Spiribam to one of its distributors, Skurnik, which offered her a more diverse portfolio of wines and spirits to sell from. "As a supplier, it was cool to see a distributor who was mindful about the things that they put in their books and not just picking up things because they could sell tons of volume of it," says Farrell. To her, Skurnik had a tight spirits portfolio that really delved into sustainability practices like farming processes, disposal of distilled waste, energy efficiency, and impact on the surrounding communities.
It was a perfect match for Farrell's farm-first approach. One of her favorite producers is Uruapan Charanda Blanco, an "under-represented, historically significant" Mexican rum that highlights sugarcane cultivation on volcanic soil, and combines sugarcane and molasses in its distillate. Farrell is also helping expand the Skurnik portfolio with more women and BIPOC producers.
---
Building Creative, Cross-Cultural Cocktail Programs
Ran Duan, Founder, Ivory Pearl, Baldwin Bar, and Blossom Bar, Boston-area
Ran Duan spots opportunities that others don't. He seizes them, and then blows them out of the water.
When his dad asked for help with the bar inside the family's Chinese restaurant, he taught himself to bartend and built Baldwin Bar into an acclaimed tiki cocktail destination, drawing bloggers and journalists out to a small suburb outside Boston to pair homestyle Sichuan cuisine with Duan's creative Mai Tais.
For his second act, Duan saw how Latin and Sichuan cuisines overlapped and conceived tropical drinks with the likes of cinnamon and star anise for Blossom Bar, located in his dad's other restaurant.
Duan's latest is an original concept: A seafood restaurant and oyster bar with multicultural flavors called Ivory Pearl that specializes in wine-inspired, carbonated cocktails like the Champagne Papi—a blend of vodka, fermented koji rice, honeydew, and citric acid, sold in both single-serve and large formats.
Fanfare follows all his projects—all undergirded by a deep sense of gratitude to his immigrant father who had sacrificed his passion for opera to provide for the family.
"The American dream for me is being able to set my kids up for success in the future, making sure they don't experience the same struggle as me," says Duan. "We're gonna work as hard as we can until we get there, even if that's seven days a week, twelve hours a day. That's the intelligence my parents were able to put in me. It's all about legacy."
---
Revitalizing a Legacy Cult Wine 
Maya Dalla Valle, Winemaker, director, Dalla Valle Vineyards, Napa Valley
Naoko Dalla Valle, Founder, farmer, and proprietor, Dalla Valle Vineyards, Napa Valley
When the husband-and-wife Dalla Valle team—Japanese-born Naoko and Italian-native Gustav—purchased their eponymous vineyard in 1982, they had no idea their estate would catapult to cult wine status, fetching $500 a bottle.
Dalla Valle's 1992 Maya cuvée, a Cabernet Sauvignon/Cabernet Franc blend, earned a rare perfect score from Robert Parker. The Maya is still considered one of Napa Valley's greatest wines featuring Cabernet Franc.
Since Gustav's death in 1995, Naoko, who lives at the vineyard, has been directing the daily vineyard operations, walking weekly through the vines, and sorting grapes. "We work so hard to grow those grapes and this is the moment of truth," she says. "So yes, I take my pride in touching pretty much all the grapes." She's also ensuring that her daughter Maya, the famed wine's namesake, continues the legacy.
With oenology degrees from Cornell University and Bordeaux Science Agro, stints at renowned wineries like Ornellaia e Masseto and Château Latour, and four Dalla Valle vintages under her belt, Maya is now head winemaker and vineyard director. She has been pushing the company in new directions, by aging wine in clay amphorae instead of oak, and spearheading the conversion to biodynamics.
She's already observed higher vineyard resilience despite the increasingly extreme weather conditions. "One of our biggest issues was trying to protect the vines from the heat," says Maya. "And 2020 was the first year there was no sunburn on the grapes, which is rare." Microbial diversity has also increased with eight different types of naturally occurring yeasts which she employs for native fermentations.
"I really feel like the future is bright. By becoming a winemaker, it's like having your own destiny in your hand, and she does," Naoko proudly says of Maya. "She is the complete picture of the ideal winery owner—everything that's built into her."
---
Setting the Standard for Wine and Korean Food Pairings
Jhonel Faelnar, Wine director, Atomix and consulting wine director, Atoboy, New York City
Pairing wine with Korean food is a relatively new thing, one that's followed the development of haute-Korean, Michelin-starred tasting menu restaurants like Atomix, where Filipino-American Jhonel Faelnar is leading the charge in this front.
"It's almost like open territory where nobody really knows what to pair with miyeokguk (seaweed soup) or galbi (barbecued short ribs) or whatnot," says Faelnar. "So then it becomes a process of experimentation and just, truly, freedom. Scary freedom, but freedom nonetheless."
To pair chef JungHyun "JP" Park's food—heavy on seafood and vegetables, delicate in flavor—the former NoMad sommelier leans on white wines for 60 to 70 percent of the list, along with plenty of Champagne and lighter reds like Pinot Noir and Burgundy.
So for a deep-fried langoustine with doenjang (soy bean paste) caramel, he suggests Champagne from Jacquesson or a slightly off-dry Riesling with 20 to 30 years of age. For a grilled fish with sesame oil: a Godello from Spain by Raúl Pérez. "Actually, when I opened [the Godello], it had a bit of reduction on it, and was smelling a little bit like sesame oil itself."
---
Building a Big beverage Program in a Small Town 
Paula de Pano, Beverage and Service Director, The Fearrington Village, Pittsboro, North Carolina
In a town that doesn't have the buying power of New York, Paula de Pano has championed a high-demand beverage program well-suited for the Relais & Châteaux property Fearrington Inn and Restaurant. The former Eleven Madison Park sommelier negotiates hard for every Champagne and Burgundy in Fearrington's roughly $200,000 cellar of 1,500 unique labels.
De Pano expanded into classic regions like Italy and Spain during her 10 years at Fearrington. "We have a bottle for every person," says thePhilippines-born beverage director.
Though De Pano used to doubt whether her opinions and ideas were worthwhile, finding the courage to speak up has resulted in new and exciting ways of approaching wine. "Suddenly you say [your ideas] out loud and people are like, 'Oh yeah, we didn't think about that,'" she says.
Take the double pairing concept De Pano introduced. "I find wine pairings to be subjective," she says. "What you taste might not be something that I taste."
So she'll serve sea bass with two wines side by side: a Meursault and a Syrah. This way, diners can explore how each wine plays with either the fish or the ingredients in the sauce. Her method also educates guests: De Pano defies perceptions of heavy Syrah with a light-bodied one from Rhône Valley.
---
Bringing Innovation and Diversity into the Beer and Malt Beverage World
Joanie Kwok, Senior Marketing Director, Flavored Malt Beverages Portfolio and National Co-Chair of Pac-Asia, Anheuser Busch, New York City
Anyone who wants to know what's next in the world of flavored malt beverages—and how to market them to a more diverse consumer base—need only chat up Joanie Kwok.
She and her team have launched six brands (with two more on the way) for the Beyond Beer division at Anheuser Busch—a new group formed in response to today's declining beer sales and growing consumption of hard seltzer, whiskey, and tequila.
The second-generation Chinese American brings her lived experiences as an Asian American into the process, helping ensure that the company's products are launched with elevated social impact and culturally inoffensive messaging. For a Budweiser commercial featuring Dwayne Wade and Natalie Johnson, she heightened its impact by helping implement a scholarship to hire more Black brewers. For Super Bowl ads, she guarantees that a diverse list of advertising agency partners is considered.
"I think we're all trying to learn how to sell products in a way that's authentic," says Kwok, noting that contemporary customers are placing more weight on brand values. "There's more emphasis on, 'Who am I supporting and are they then supporting my community back?' What is the quid pro quo?"
Reaching the consumer requires a multi-faceted approach, and for Kwok, that includes fostering an inclusive workplace where employees feel heard and educational conversations around experiences like Black Lives Matter happen—and engaging in a good dose of self-reflection.
"What are my privileges? What are the things that I've been taught that I need to unlearn, and then how do I lend a hand?" asks Kwok. "And everyone has the power [to do so] based on the rooms that they're in."