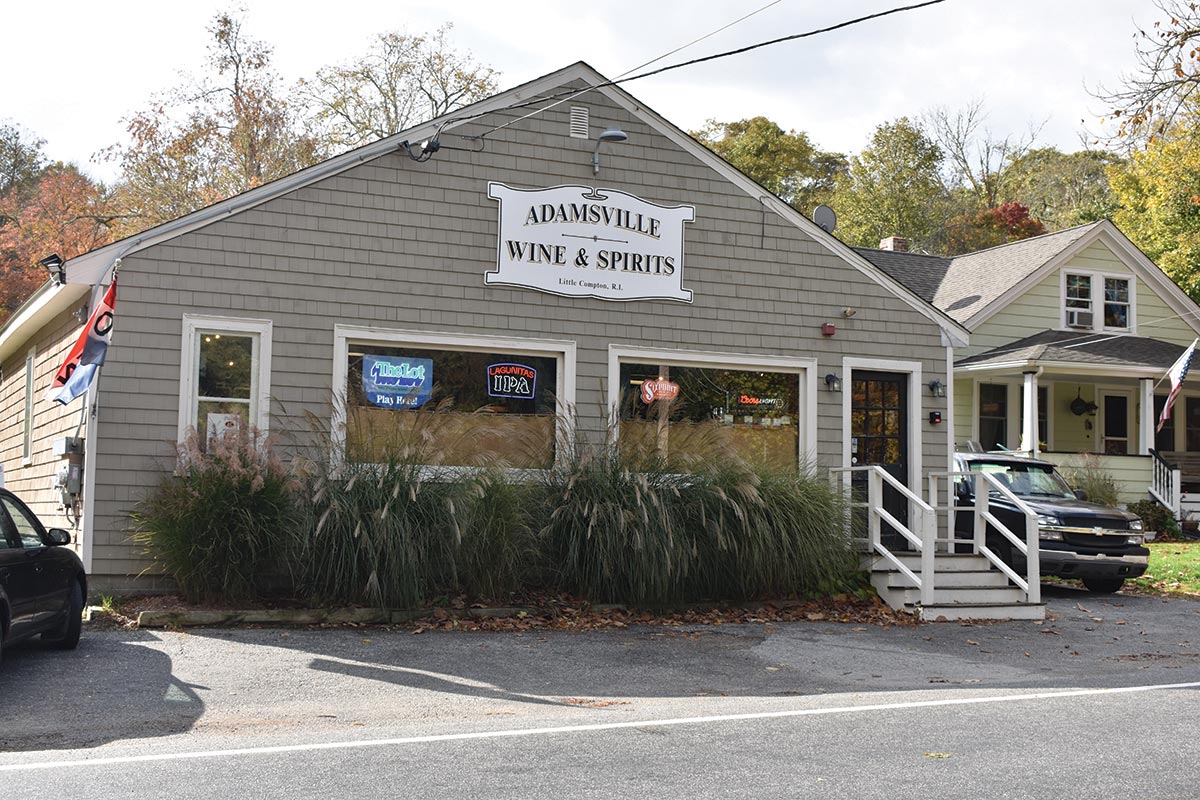 Adamsville Wine & Spirits
81 Stone Church Road
Little Compton, RI
Square footage: 800
Years in operation: 11
By Sara Capozzi
Situated in the rural seaside town of Little Compton, Adamsville Wine & Spirits personifies a cute, country package store from the outside, yet holds a carefully curated collection of beer, wine and spirits on the inside.
Owner Timothy Pitts considered the atmosphere a vital element after purchasing the store and revamping its interior in 2007. "I wanted to go for an old barn feel in here and I built all these," he said, referring to the shop's unique built-in wood shelves and wine racks. "And where we are, I did want it to look like an old barn … cozy."
While the town of Little Compton claims just under 3,500 year-round residents, the population increases substantially in the summer months. Tourists flock to the unique community to take advantage of its hiking trails and the popular South Shore Beach, bringing a diverse range of customers to Adamsville Wine & Spirits. Pitts often sees customers from the nearby towns of Tiverton and Westport, Massachusetts, too, but said it's his regulars that make up a vital part of the store's customer base.
"The local crowd is so nice, so loyal, this is a really unique community," said Pitts. "My regulars keep me going. And it's great everyone likes it that you're on a first-name basis, you know what they like, you know their tastes, you can steer them in the right direction if they're looking for something different. They appreciate it."
The store's ever-evolving inventory of craft beer comprises between 40 and 45% of its overall sales, with IPAs remaining popular. "I do a lot of craft beers, which I just rotate through; I never keep the same," Pitts said. "I try and keep it fresh and interesting and different week to week." Wine and liquor sales make up the rest of business, split evenly, according to Pitts, with bourbon and gin the store's top-selling spirits.
The shop's wine inventory is made up of unique selections that are mostly outside of the mainstream, from smaller vineyards, which enable Pitts to purchase fewer cases, an ideal arrangement for a store of its size. "Instead of having to buy into a 50-case drop of a [larger-volume produce wine], I can go through smaller vineyards, smaller distributors; five, 10 cases here and there," Pitts said. "It's much easier … to rotate stock and … keep things moving.
"You can find some really nice wines in the same price range from lesser-known vineyards and lesser-known distributors and you just get people to try it and they're believers too," he continued.
Adamsville Wine & Spirits hosts tastings every couple of weeks, giving customers the chance to try its newest items. Pitts often just lets customers know about the scheduled tastings via word of mouth when they stop in, keeping with the store's laid-back atmosphere. "A lot of people hang out for a while, chitchat, laugh, we have a good time," he said. "And being such a small community, everyone knows everyone."