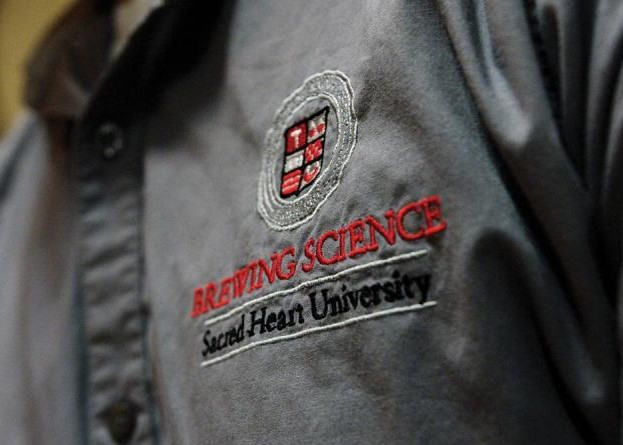 Local craft breweries team with Sacred Heart to open up opportunity
By Sara Capozzi
Amid renewed calls for racial equality and social justice in 2020 and as the COVID-19 pandemic continued, Jamal Robinson, Director of Sales at New England Brewing Co. (NEBCO) in Woodbridge, felt a need to "do something." Robinson and co-worker Greg Radawich, Brewery Operations Manager at NEBCO, along with friend and industry peer Phil Pappas, Executive Director of the Connecticut Brewers Guild, came up with the idea of providing a Brew Science scholarship designed to open doors within the industry.
NEBCO and the Connecticut Brewers Guild already had both a bridge and a familiarity with Sacred Heart University (SHU) in Fairfield, which began its Brew Science certificate program in 2019. A program graduate was already employed with NEBCO and Pappas serves on the university's Brew Science program's advisory board. The team reached out to Geffrey Stopper, Associate Professor of Biology and Director of SHU's Brewing Science program, who "put us in touch with the right people at Sacred Heart to get the ball rolling," Robinson said.
The Connecticut Brewers Guild African American Brewing Scholarship was born from both the desire to help and the already established connections with the university. The scholarship will be available beginning in 2021, with NEBCO fundraising for the $15,000 annual scholarship for the 11-month Brew Science certificate program. The Connecticut Brewers Guild, a nonprofit dedicated to promoting the interests of craft brewers in the state, has initiated an endowment fund with SHU, which, once it is built up, will allow the scholarship to be issued in perpetuity.
"The scholarship is a personal passion for me," Robinson said. "It's just looking for ways to make this industry more inclusive and more diverse in a way that is equitable and creates qualified individuals of color. I think this is a great way to help foster education in the industry along with qualifications in the industry."
"There is far less diversity in the brewing industry than there is in society," Stopper said. "That points to an inequity somewhere in the system leading to careers in the brewing industry. I don't think we have direct access to the levers that will fully fix that system, but I do think we can do something to make real progress to increase diversity in the brewing industry."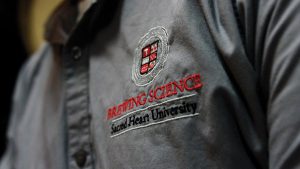 Stopper is hoping the scholarship guarantees more representation from within the African American student pool. "Our Brewing Science program provides a broad education in brewing business and technology rooted in brewing science. The certificate serves as a solid foundation for anyone to enter the brewing industry or to bolster the resumes of early career brewers. It includes several official safety and alcohol certifications, classes on brewery business and management, sensory analysis, sanitation and safety, courses with hands-on brewing and a brewery internship," he said.
Involvement in the scholarship is one piece of NEBCO's ongoing diversity initiatives. The brewery began its own Equality Committee in 2020, which focuses on charity work and donations to causes supporting people of color and other efforts for more inclusivity in an industry that is historically made up of a majority of white males. An internal committee of NEBCO employee volunteers are continuing to develop scholarship partners in the community.
According to the group's fundraising page, the craft beer industry in the United States represents $83 billion and more than half a million jobs, yet there are fewer than 5% of people of color represented within its ranks. "Craft beer is an enormous sector of the American economy and intrinsic to its culture. It is crucial that we collectively do better in helping the industry reflect the actual diversity within American society," the site states.
"It's a [Connecticut] brewing industry fight and we are the leaders for the Connecticut craft brewing industry, so it's something that does mean a lot to me, as well as something where I do see a much-needed gap to be filled in our industry," Pappas said. "If we can provide an opportunity through that, where someone doesn't have to worry about the financials behind it and can just really focus and concentrate on the Brewing Science program, that's all we can ask for."
Along with Pappas of the Connecticut Brewers Guild, a newly formed committee includes representatives from state breweries, including 12 Percent Beer Project, Two Roads Brewing Company, Great Falls Brewing Company, Rhythm Brewing Co. and NEBCO, along with representatives from Sacred Heart, who will work together to get more breweries involved in the initiative and find fundraising opportunities.
Committee member Alisa Bowens-Mercado, who is the owner of Rhythm Brewing Co. and is known as the first Black woman in Connecticut to own and operate a craft brewery, said, "It's great to sit on the committee because now I can reach out to people that have reached out to me that are people of color and are interested in becoming brewers. A lot of people didn't even know that people of color brewed or that they were in the industry, so it's amazing to have the opportunity to sit down with people like Jamal or Phil from the Guild to really see how we can culminate this and put this together."
Bowens-Mercado said she likes the design of the scholarship, the outreach that comes with it and the tools it will give aspiring brewers to succeed in the industry.
"I'm just excited about how I'm going to get more people that look like me involved in this amazing industry and … I'm encouraged now with the scholarship that there is that diversity, there is that inclusion, there is what we want the industry to look like, a melting pot of people and opportunities. We want more people of color in taprooms, we want more people of color brewing, we want more people of color as consumers, so this scholarship is going to lend itself to a ton of open doors for people of color in the industry on all different levels."
Reflecting on the unprecedented events of 2020, Robinson said: "With everything going on, it's cool to see that out of those bad seeds some good things can grow … and this [scholarship] has come directly out of all the things that happened this year, they've helped spark the conversations to get something like this going, and the need for this in general." Learn more at crowdfundingsacredheart.amploadvance.com.