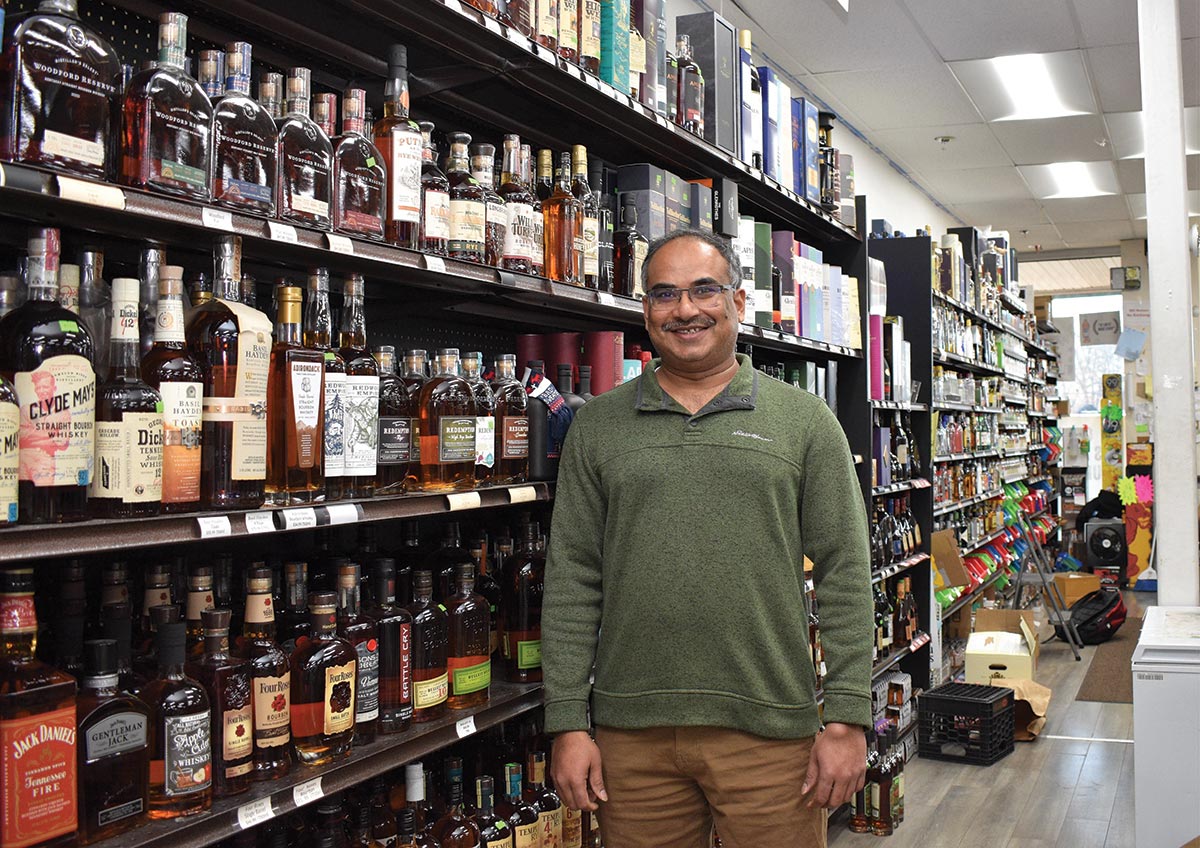 Airport Liquors
1800 Post Road
Warwick, RI
Square footage: 3,800
Years in operation: 4
Sridhar (Sri) Devineni had a career in IT when he purchased Airport Liquors in 2018, intending it as a side business. When the pandemic began in spring of 2020, he decided to leave that field and work at the package store full-time.
Devineni, formerly a software engineer by trade, has spent the last few years learning the intricacies of package store ownership, such as when to order inventory, dealing with product shortages and how best to cater to customers, particularly as COVID-19 impacted the business landscape.
Devineni's IT skills have proven useful at the shop as customers embrace more technology in ordering and delivery, which became even more popular when the pandemic began. "When I started, I didn't predict this online thing," he said. "But now I can see that people are not coming to the shops anymore; they want to order from home."
Shoppers' increased use of technology has had its pros and cons, he noted. For instance, it has led to greater price transparency for customers. "People have gotten used to working from home and shopping online," Devineni said. "So, you need to make your prices competitive. In the old days, no one could see prices of other stores. Nowadays, customers can just use their phones [and] they can compare your prices with those of your competitors easily."
As technology keeps changing, "You have to step up," Devineni said, which includes keeping Point of Sale (POS) equipment up to date so that customers can easily check out. Many of his customers order using the Drzly app, or by simply calling their order in for pickup or delivery.
Devineni is currently designing his own store website to give customers even more choices across platforms when looking to order. He said the online presence also helps to bring customers in on foot, too, as shoppers are able to not just compare prices but also make sure the product they're looking for is available before they set out.
Being in close proximity to T.F. Green International Airport helps the store bring in a unique clientele, including travelers who are visiting nearby family and friends. Many of these customers come in searching for gifts, so bottles with decorative glass, interesting shapes or labeling tend to sell well, such as Gerard Bertrand Côtes des Rosé, Champagnes and collectible bourbons. Out-of-towners often request locally made brands, such as wines from Newport Vineyards.
Airport Liquors' top sellers are Scotches and bourbons, local craft beer and seltzers. Devineni said he is continuing to build up his wine selection, adding organic, low-calorie, low-alcohol and alcohol-free selections to the mix, as those continue to increase in popularity.
Devineni said he prioritizes making the shopping experience convenient for each customer, keeping the store neat with clear signage, which helps his clientele find what they're looking for quickly. Whether they're from the neighborhood or farther afield to enjoy the state's many attractions, Airport Liquors creates a welcoming stopover.