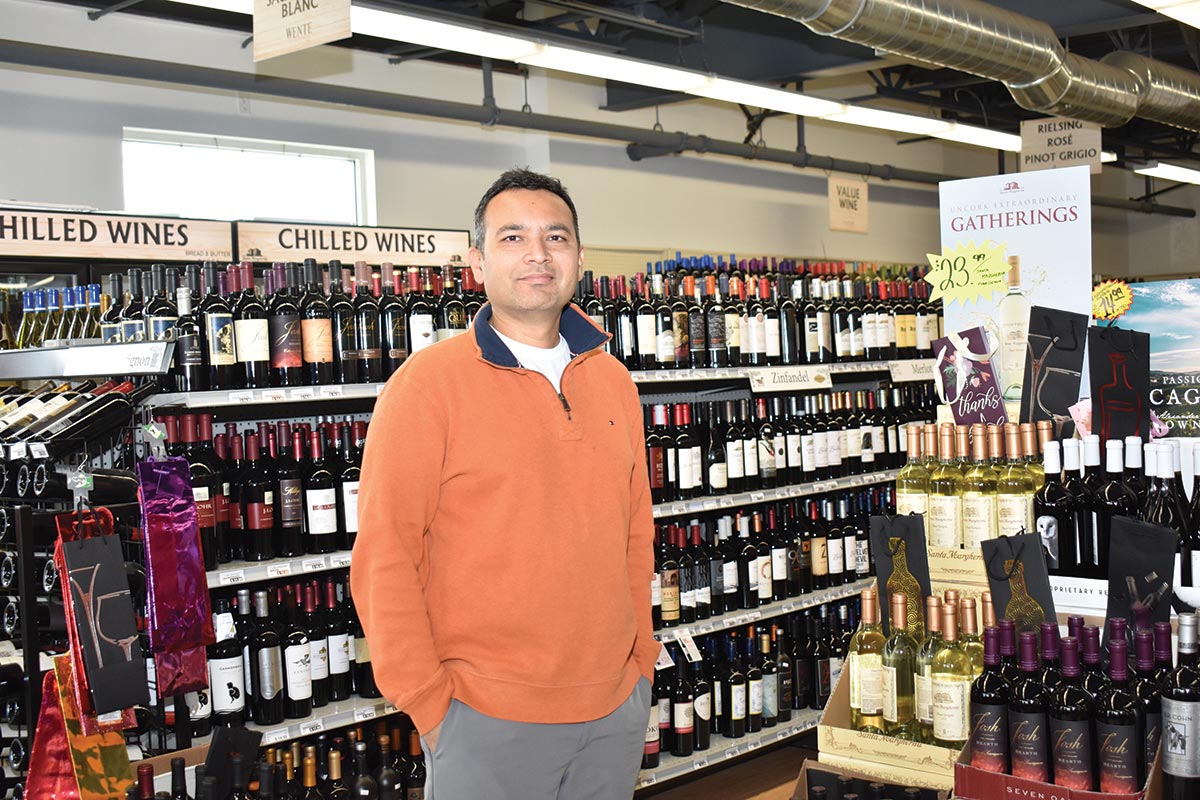 Alpine Wine & Spirits
1 Starline Way
Cranston, RI
Square footage: 4,000
Years in operation: 6 months under current ownership
By Sara Capozzi
Located just off Route 14 in Cranston's Alpine Estates neighborhood, Alpine Wine & Spirits offers locals a convenient stop as it anchors the corner's crossroads. New Owner Vishal Modi spends his days getting to know his customers and making sure to stock noted preferences, all while adding in new items to keep category selections varied.
Modi, who had retail experience managing convenience stores, decided to get into the package store industry about seven years ago. "I was managing a convenience store and I thought there's something I could do that's different," he said. "I decided to try [the industry] and began managing a liquor store." Once he learned the business, he started looking for an opportunity to purchase his own store and found it at Alpine Wine & Spirits.
"I wanted to have my own business from the very beginning and I had the experience. I decided to explore trying to be an owner," Modi said. "It's a good feeling. That's where my expertise is so I had to jump when this opportunity came up."
Modi likes the location: The 4,000-square-foot shop is nicely situated on a side road, Starline Way, and offers plenty of convenient parking for shoppers. "I like the neighborhood, it's quiet and people are nice here," he said. "There are a lot of hardworking [guys] who come in."
Since taking over the business, Modi has installed new shelving and a new POS system. He also began to supplement the store's inventory with selections according to his customer's tastes. Alpine's client base is mostly employees of nearby businesses, many of whom work in the local factories, he said, along with residential customers from the neighborhood. The neighborhood is also home to a lot of Italian Americans who gravitate toward Italian and French wines and varietals such as Cabernet Sauvignon.
In response to the local customer base, Modi has been expanding the shop's wine selection to include more bottles in the $10 to $20 price range. "The previous owner had more fine wines, so I've kept the fine wine, but I've tried to get more day-to-day wines [in price point] like Josh Cellars and J. Lohr," he said. "That's my idea … to expand that category because customers want more of those."
Alpine offers a large selection of craft beer with a focus on local brands from Rhode Island, Connecticut and Massachusetts, which have proven popular with shoppers. Modi also continues to increase the store's selection of ready-to-drink cocktails and seltzers along with his tequila and bourbon offerings.
As a new business owner, Modi said he plans to spend his first year working daily to learn more about the needs of his clientele and their buying behavior during each season and holiday by tracking it in his new POS system. "It gives me a better idea [of what to order] and I can communicate better with the customer [if] I know what they're looking for, what they want and what I can provide," he said.
In the near future, Modi plans to continue to expand selections at Alpine Wine & Spirits and potentially use his expertise to manage and grow other package stores too.