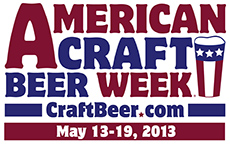 Beer connoisseurs and beginners alike will come together to celebrate the eighth annual American Craft Beer Week®  (ACBW) from May 13-19. ACBW events and celebrations are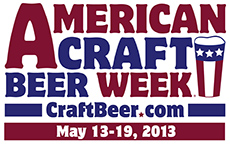 expected to be held across all 50 states.ACBW is an opportunity to toast the more than 2,400 small and independent American craft brewers who continue to make the U.S. the world's most diverse brewing destination. Once again, ACBW celebrations are expected to be held across all 50 states.
"The popularity of American Craft Beer Week is indicative of the craft beer renaissance that continues to captivate the U.S.," said Julia Herz, publisher of CraftBeer.com and craft beer program director at the Brewers Association. "This week is about uniting for a common cause: support and celebration of our nation's small and independent brewers and the millions of beer lovers who have helped evolve an industry and put the U.S. on the brewing map."
New for 2013 is the American Craft Beer Week Coast to Coast Toast. For the first time ever, ACBW will be commemorated by a simultaneous toast. At 8:00 p.m. ET/5:00 p.m. PT on Thursday, May 16, small brewers and craft beer lovers nationwide will raise a glass of their favorite craft brewed beer to toast ACBW and the delicious beer that it celebrates. To find a toast location near you, visit the official American Craft Beer Week events page, hosted by CraftBeer.com.  Untappd, the mobile-based social network that connects breweries with craft beer lovers, is also offering an American Craft Beer Week Badge for users who check-in during ACBW events.