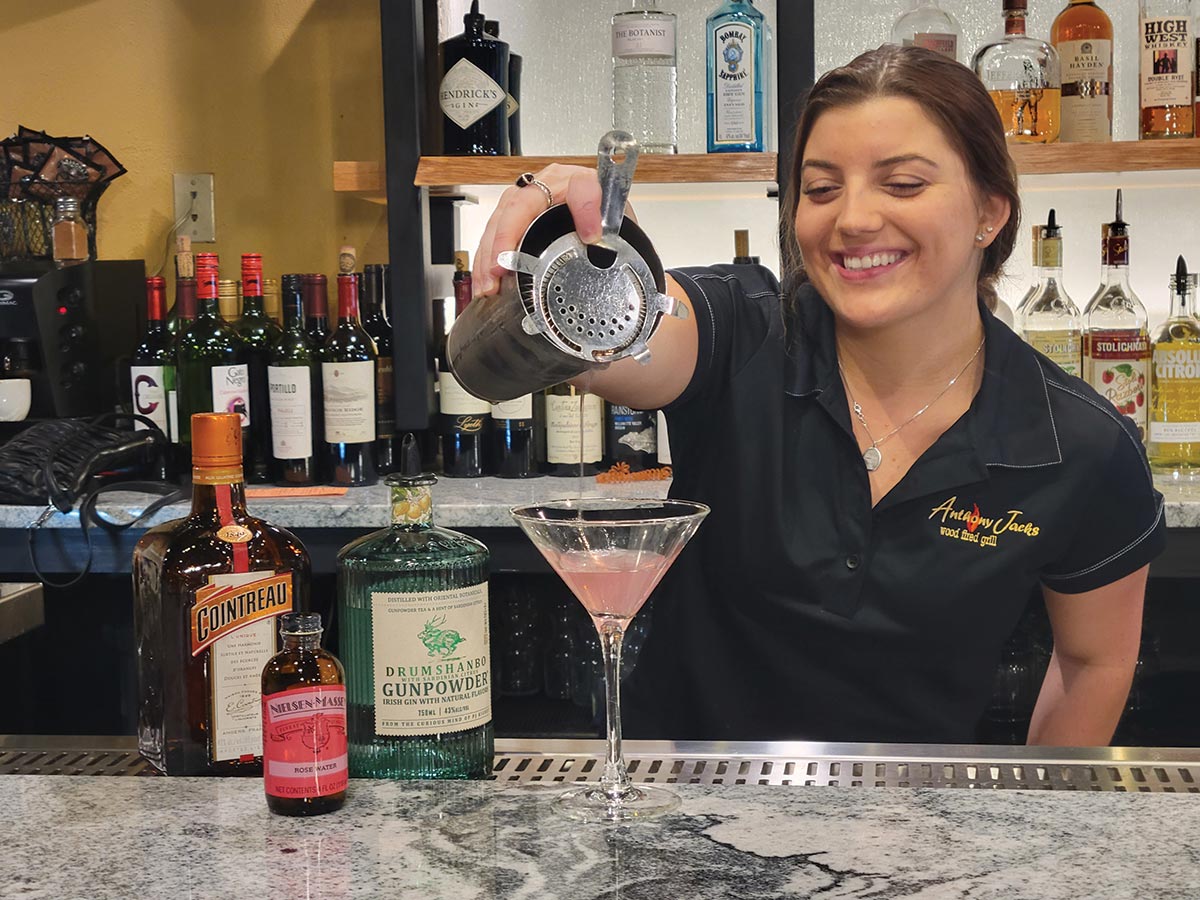 Anthony Jacks Wood Fired Grill
30 Center Street
Southington, CT
Serving the central Connecticut area since 2001, Anthony Jacks Wood Fired Grill has been voted Best American Restaurant for more than 10 years in a row in the Connecticut Magazine Reader's Choice poll. The venue boasts a newly updated décor, as owners Cheryl Moran and Barry DePaola recently transformed the restaurant's interior with a $250,000 remodeling project, renovating the interior and bar area. With its wood-fired meat and seafood entrées a draw, guests can also dine al fresco on the venue's lively patio overlooking the Southington Green. Anthony Jacks offers conviviality and creativity to its guests in both cuisine and beverage offerings. To drink, a large selection of fine wines by the glass or bottle awaits, along with select beer brands and original craft cocktails. One such specialty concoction is the Guns & Roses Gin Cosmo, created by General Manager Margaret Fernandes, a signature favorite.
Bartender: Natalia Giacco
Cocktail: Guns & Roses Cosmo
Ingredients:
» 1 ½ oz. Drumshanbo Gunpowder Irish Gin Sardinian Citrus
» 3 drops Nielsen-Massey Rose Water
» ¼ oz. Cointreau
» ¼ oz. Cranberry juice
» Splash of fresh lime juice
» Garnish: lemon twist
Method: Combine gin, rose water, Cointreau and cranberry juice in a shaker over ice. Shake and pour into a martini glass. Garnish with a lemon twist.
"Making gin approachable was my goal in crafting the Guns & Roses Gin Cosmo," said Margaret Fernandes, General Manager, Anthony Jacks. "The aromatics of the Drumshanbo Sardinian Citrus Gin paired with subtle floral notes of rose, mixed with Cointreau, make a very smooth and vibrant Cosmo. It has been referred to as smooth and 'slam-able'. Guests love it. Non-gin drinkers claim they will try gin after the Guns & Roses Cosmo."