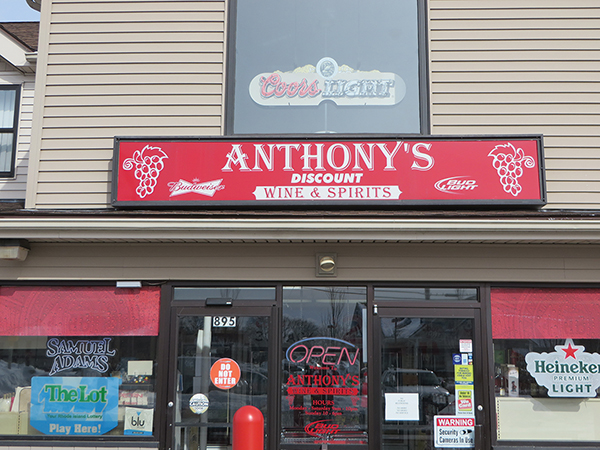 Anthony's Wine & Spirits
895 Tiogue Avenue
Coventry, RI
By Bob Sample
Square Footage: 2,500
Years in Operation: 22
Anthony Petrarca, proprietor of Anthony's Wine & Spirits, never complains about a snowstorm. His rationale: inclement weather is invariably good for his business. This winter was no exception. The storms that dumped record amounts of snow on the Ocean State also increased sales at Anthony's Wine & Spirits.
The 2,500-square-foot store was founded in 1993 by Petrarca's father, Anthony Senior. The building has been in the family for much longer. Several years before it was a liquor store, Petrarca's mother and father operated a unisex hair-styling salon at the site. The elder Petrarca retired 10 years ago. Petrarca's wife, Carla, also manages the store part-time.
Beer is the store's mainstay, accounting for approximately 60 percent of sales. The rest is evenly divided between wine and spirits. "Beer is always our most popular seller," said Petrarca. "When the economy moved downhill in the last decade, a lot of the higher end wines and spirits fell to the wayside, but our beer sales held steady."
With the growth in popularity of craft beer, the market has shifted from a handful of dominant brands to many smaller ones. Keeping up with trends and ensuring the store's mix meets public demand is the job of Tamara Mageau, who is Petrarca's niece. "She does all the purchasing for our microbrew section, and she's very dedicated," said Petrarca. "She goes to all the major beer expos and other industry events. When a new craft brew comes out, Tamara will often do a demo herself. She'll educate customers on the history of the company that makes it, the type of beer, and other selling points."
The store makes equal effort on its wine offerings. Petrarca said the hottest sellers right now are blended wines. In addition, most red wines sell particularly well during colder months. During summer, beer and wine tastings take place at the store each week; in the winter that scales back to every two weeks. The store does occasional spirits demos as well, which are hosted by distributors. The hottest current trends are flavored bourbon and Scotches.
With several larger stores nearby, Petrarca also works especially hard to keep prices competitive. A 2,500 square foot building next door serves as a warehouse. "Having that additional storage space helps us to buy in larger volume – and we pass the savings along to our customers," he said.
Two important success factors for any business are to get to know customers by name and to take an interest in what's going on in their lives, said Petrarca. "Here, everyone knows everybody else," he continued. "In fact, we still have people who come in and remember my dad or mom cutting their hair 30 years ago."
Another important consideration is to provide something extra to keep customers coming back. This includes helping customers to their cars with packages and other services. "We get lots of compliments on our customer service," he said.