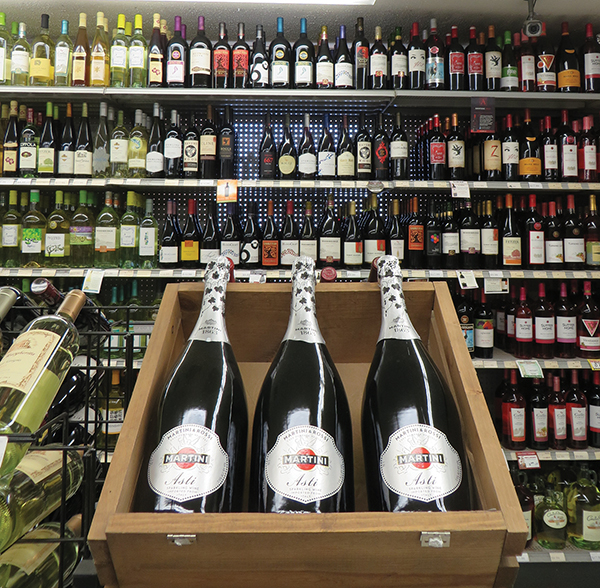 V-Town Package Store
144 Main Street
Voluntown, CT
By Bob Sample
Square Footage: 3,000
Years in Operation: 40
How do you keep a family business going strong for three generations? Hard work, dedication to customer service and a willingness to try new things, say Paula and Spencer Grillo of V-Town Liquor in Voluntown. This mother-and-son team runs the V-Town Package Store fast by the Rhode Island border. It bears little resemblance to the store Paula's dad, John Wood, Sr., purchased in 1975. Nonetheless, the same friendly atmosphere prevails – and Paula and Spencer both work hard to keep it that way.
"It was a tiny shop when Dad started, with about 1,500 square feet of floor space and a potbellied stove," Paula recalled. "Dad also purchased two lots behind the store, then rebuilt and extended the store building during the 1980s."
More recently, the store expanded sideways into a former office space, adding even more room for product expansion. It was perfect timing. Big-name domestic beers were the store's largest sellers as late as the 1990s, but the increased space allowed V-Town to embrace the upcoming deluge of craft beer.
"We now carry between 350 and 400 different SKUs of craft beer," said Spencer, who began working at V-Town in 2008 and has boosted selection by approximately 40 percent since then. "While we've continued to carry the standards, people began asking for new things, and we want to satisfy them. Once we increased our selection, new customers began coming to the store to shop."
The hottest store beer trends have been IPAs and other brews considered "hoppy" by aficionados. In addition, beers with higher alcohol content have come into vogue. Beer now accounts for about 40 percent of the sales, with liquor accounting for 30 percent and wine 20 percent. The remainder consists of bar accessories and tobacco products. The added space also enabled the store to offer more wines and spirits.
Wines in the $10 to $15 range are the strongest selling, but the store also carries bottles costing hundreds of dollars. Reds dominate during winter months, while preference tilts toward lighter, sweeter white wines during warmer weather. Flavored whisky and bourbon are also popular customer picks, mirroring the national trend. "People are now focusing on high-quality brands of Scotch and bourbon, and even rare brands," said Spencer. "They want to see variety and we try to give that to them."
"One important advantage is that we sample everything we sell," Paula added. "So when we tell the customer what an item tastes like, he or she knows we are truly knowledgeable about our products." About 75 percent of the store's customers greet the staff by name. This includes the campers and hunters who descend on the area in droves during warmer months. "People come from all over the U.S. and they shop here year after year," said Paula. "Owning a store involves hard work and long hours, but [serving] people and providing good service is something we all enjoy."